Role model, family man, NRL legend.
Thirty-two-year-old NRL legend Johnathan Thurston may have just punted the winning goal for the Cowboys in a thrilling Grand Final.
He may have cemented his place in sporting history as one of the greats.
But it was this moment with his daughter Frankie that really made Australia take notice last night.
The photo was taken just moments after Thurston's team The Cowboys won the NRL grand final.
Thurston, who won the game with a swift right footer in extra time, rightly could have been been screaming and showering himself with a magnum of champers at this moment.
But instead, it was time for his little girl.
@NRL @lazyleyther what a fantastic photo, dolly and all. Brilliant.

— Sheila Hibbs (@sheilahibbs) October 4, 2015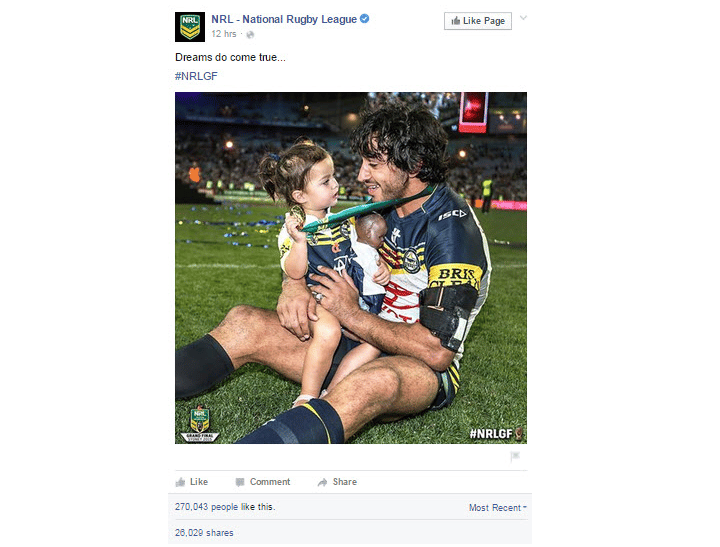 Thurston also took home the Clive Churchill Medal for best on ground yesterday, it was one of the only times that both the AFL and NRL's best Grand Final performers have been Indigenous Australians.
The Norm Smith Medal was won by Hawthorn's Cyril Rioli on Saturday.
Dare to Dream #Thurston @NRL #Rioli @AFL Inspiring to so many kids around the country! #Aboriginal #Represent pic.twitter.com/omvr0FYQOg

— Senator Nova Peris (@NovaPeris) October 4, 2015
This was the first NRL grand final between teams with two Indigenous captains.