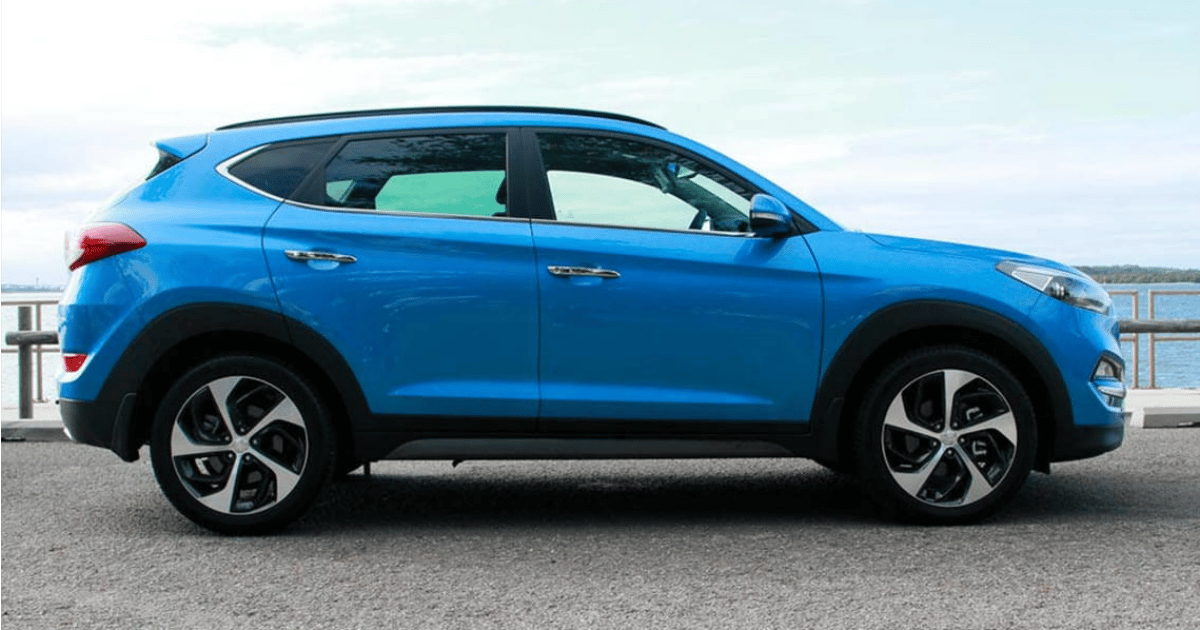 Peter Anderson road tests and reviews the Hyundai Tucson range with specs, fuel consumption and verdict.
In 2015, Hyundai dropped a bomb in the medium SUV market with the all-new Tucson. Replacing the flawed but much-loved (and much-bought) ix35, the new Tucson arrived to market in a state preceding Hyundais weren't always in when launched – finished.
Not only was it finished, it was good. Very good. It looked great, had an excellent interior, appeared well-made and rode and handled like no Hyundai SUV before it. It also came with a few pieces of in-car technology that wouldn't be matched for almost 18 months by other makers. With a range stretching from $27,990 to $47,450, the Tucson covers a lot of bases for a lot of buyers in a rapidly growing market sector – the medium SUV.
Does it represent good value for the price? What features does it come with?
There are four grades of Tucson – Active, Active X, Elite and Highlander, and across the range are three engines and three transmissions. All Tucsons have five seats, five doors, bluetooth, touch screen infotainment (sizes vary between 7.0 and 8.0-inches), a six speaker sound system, AM/FM radio, and CD player, reversing camera, rear parking sensors, cruise control and roof rails.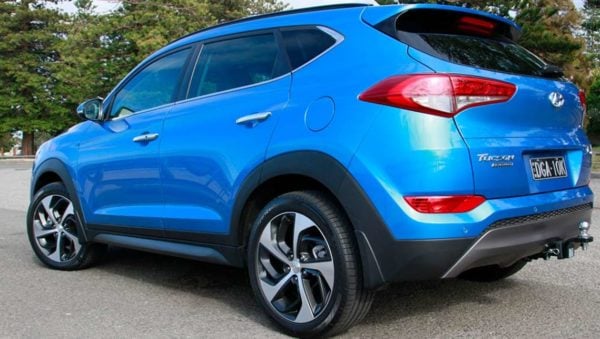 Active and Active X have the best iPhone and Android integration, featuring Apple CarPlay and Android Auto in a 7.0-inch touch screen. Elite models and above go without these, using a different head unit with its own software which does include GPS sat nav and basic music integration via USB and Bluetooth and is run from a larger 8.0-inch touch screen.
All prices are RRP unless specified and being Hyundai, drive-away deals are commonplace. Let's work our way through a model comparison by walking up the price list.
The range of Hyundai Tucson models kicks off with the Active manual and automatics, priced at $28,590 and $31,090 respectively (although $27,990 and $29,990 drive-away seems to be the go). The Active's basic features include 17-inch alloys, air conditioning, cloth trim, cruise control and a full-size spare.
The second tier in the range - and the biggest seller, swallowing over half of all Tucson sales, is the Active X. The manual transmission will cost you $31,150 and the automatic $33,650 ($29,990 and $31,990 drive-away). On top of the Active spec, you get 18-inch alloy wheels, a mix of real and synthetic leather seats, remote central locking, front LED fog lamps and folding heated mirrors. The six speaker stereo is the same as the Active with the Apple and Android integration.
Those in the back also get a rare treat - air conditioning vents at floor level.
Moving on up the price range we reach the Elite, which is available in front-wheel drive (FWD) with the 2.0-litre MPI motor and in all-wheel drive (AWD) with the 1.6 turbo petrol and 2.0-litre turbodiesel.
For MY17 The FWD Elite has the same 2.0 GDI engine as the Active X and will set you back $36,750. The wheels rise to 19-inches and the screen size up to 8.0-inches. You get keyless entry and start, electric tailgate with hands-free operation, sat nav, dual-zone climate control, LED headlights and a few other trinkets.
Add a 1.6 turbo engine and AWD (they come as a package) and the price rises to $39,750. The AWD diesel is pricier again at $41,750, and both pick up rain-sensing wipers.
The top-of-the-range Highlander comes in 1.6 turbo ($45,450) and 2.0 diesel auto ($47,450). Also rolling on 19-inch wheels, the Highlander has a bigger colour screen in the dash, LED lighting inside and out, heated and cooled electric front seats, panoramic sunroof and a huge boost in safety features with AEB, blind spot detection, lane change assist and rear cross traffic alert.
Colour choice is partially dependent on how much you want to spend, both on the base car and the paint itself. Metallic paint is $595 extra. There are eight colours to choose from in a fairly conservative palette. Having said that, cardigan wearers miss out on beige, but hippies with a penchant for purple, green, gold or orange are also out of luck. Available shades are in fact, 'Ara Blue', white (solid), black, grey, 'Ruby Wine' (a maroon-ey/red colour), 'Polar White' (metallic), silver and brown (not as bad as it sounds).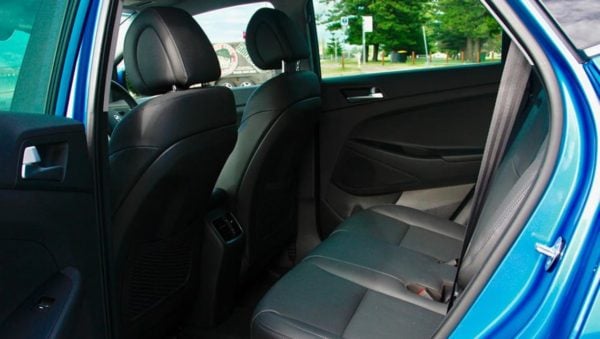 How practical is the space inside?
The Tucson range has slightly differing cabin storage options but they all share the same headline figures of 488 and 1478 litres of cargo space, the latter figure for luggage capacity with the rear seats folded. There are a couple of underfloor cubby holes in the boot space, too.
Beyond the boot size, they've all got four bottle holders and four cupholders as well as a good-sized centre console bin under the armrest. Beneath the air con/climate controls is a tray that will fit your smartphone without drama and also houses the USB port and two 12 volt outlets (although the Active X has only one 12 volt outlet). All have a 12 volt point in the boot.
In terms of interior dimensions, rear legroom is good for people over 180cm tall as long as the driver doesn't think they're Stirling Moss and have to sit as far back from the steering wheel as their straightened arms will allow. You can thank the 2.65m wheelbase for all that room. Those in the back also get a rare treat - air conditioning vents at floor level and additional knee level ones in the Elite and Highlander.
The Tucson is 4.475m long, 1.85m wide and 1.65m high (with roof rails).
Is there anything interesting about its design?
The Tucson is a terrific-looking car. Hyundai's styling has matured hugely in the last few years and the Tucson is a pointer to the brand's future - classy, Euro-influenced and with a strong personality linked to newer Hyundais as they roll through.
The lines are sharp, the headlights slim and the unpainted plastic applied around the wheelarches is just right - it doesn't look either penny-pinching or self-consciously masculine. It's also a cohesive exterior design, with links between the front and rear, a strong feature line to draw the two ends together and some great surfacing. Upper-spec models gain some chrome, most obviously in the grille.
Perhaps the only real criticism (and this is obviously subjective) is the chintziness of the alloys and cheap exterior detailing on higher models.
As out interior images show, the inside is lined with mostly good materials and plastics. The leather trim is a moving feast, with a mix of real and synthetic upholstery depending on build location (South Korea or Czech Republic) and model level. There's nothing wrong with the synthetic stuff, which is quite soft and resists heating up too much in summer.
What are the key stats for the engine and transmission?
Hyundai provides a choice of petrol and diesel engines but no full gas or petrol/LPG option.
In terms of engine specs, the Active, Active X and Elite FWD are available with the 2.0-litre four-cylinder GDI developing 121kW/203Nm. Pretty handy diesel specs. You've a choice of six-speed manual or automatic of Hyundai design and manufacture, but they're FWD only.
Early versions of the Active and Elite ran the older GDI engine until specifications changed in mid-2016.
Elite and Highlander AWD petrols pack a 1.6 litre turbo four-cylinder producing 130kW/265Nm, driving all four wheels through a seven-speed dual clutch transmission, again a Hyundai design. These are good power and torque specs for this engine size and is related to the Veloster Turbo's powerplant, but much more refined in the Tucson. Just a shame it isn't available in FWD Tucson models, even as an option.
All petrol engines get by with standard 91 RON unleaded and fuel tank capacity across the range is 62 litres.
A startlingly good feature across the entire range is the ride and handling.
The Elite and Highlander CRDi AWDs are powered by Hyundai's R-Series 2.0-litre four cylinder turbo-diesel, producing 136kW and a strong 400Nm, which is channelled to all four wheels via a six speed automatic transmission.
None of these engine and transmission combinations have stop-start technology to reduce consumption, but competitors, like the CX-5 and Tiguan, do.
It would be fun if the AWD system had more of a rear-wheel drive (RWD) feel, but alas, you can't have it all.
Towing capacity ratings are identical from Active to Highlander - 1600kg braked, 750kg unbraked.
The 1.6 and 2.0 petrol engine specs  have an oil capacity of 4.0 litres, the 2.0 diesel 7.6 litres. The specified oil type is mineral, with a 15W/40 rating for both fuel types.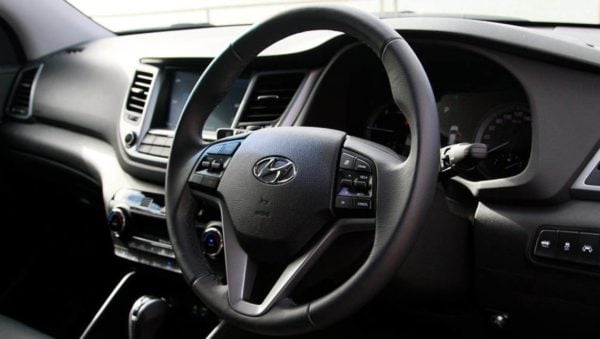 How much fuel does it consume?
CarsGuide's Richard Berry is running a Tucson Active auto with the 2.0 GDI on long-term test and so far it's returning 9.5L/100km against the claimed 7.9L/100km (manual and auto) in a mix of long highway runs (Melbourne to Sydney) and city running. For those who prefer to invert the standard measure to km per litre, that claim is 12.7km/L.
The Active X has the same claimed combined figure of 7.9L/100km. I ran a Tucson Active X automatic for six months and never bettered 10.5L/100km on standard unleaded in a mix of regular 80km/h running, lots of suburban battling and a little freeway work.
Hyundai reckons you'll get 7.7L/100km on the combined cycle with the 1.6-litre turbo GDI, and on our most recent test in a Tucson 30th Anniversary, we got 9.2L/100km, despite a 145kg weight increase over the GDI. Richard also managed 9.1L/100km in an Elite AWD 1.6 turbo.
For the 2.0-litre R-Series turbodiesel, Hyundai claims 6.8L/100km on the combined cycle. CarsGuide's last week long test yielded an impressively close 8.0L/100km, which is pretty good mileage, especially when bashing around town.
What's it like to drive?
The Tucson is a good car to live with. Like most Hyundais it is unusually easy to set the right position behind the wheel, with an excellent relationship between the pedals, wheel and the hip-point of the driver's seat. There's tons of adjustment to ensure you hit the spot.
Vision is good in almost all directions, apart from over the shoulder on the driver's side where the closing glass line tightens up. It's not an especially high car but feels high enough that you're above the traffic.
Although this isn't specifically an offroad review, ground clearance is 182mm with nothing on-board and you could almost u-turn in a normal suburban street with a turning radius of 10.6 metres.
A startlingly good feature across the entire range is the ride and handling.
Like Mazda, Hyundai has punted on buyers liking a multi-link rear rear suspension. It means a better balanced chassis (when done right) but more importantly, impressive ride compared to a couple of the segment's other cars which have cheaper, more compact torsion beam rear ends.
Multi-link-equipped cars cost more, but it's worth it. Australian Tucsons have individual spring and damper settings from Hyundai's very own local suspension tuning team.
The only bugbear with the FWD cars is an over-enthusiastic propensity to centre the steering wheel if you give it a little too much throttle exiting a corner.
Each Tucson has its own distinct driving character according to engine and transmission combination.
The Active and Active X are roughly the same from behind the wheel, with just nuanced differences to do with the different wheel sizes. In both cases the six-speed automatic is a good choice, with a finely-judged shift quality and the ability to work out what you're up to. As it's only FWD, it's not an off-roader, although the curious inclusion of hill descent control suggests it might be. Then again, on the supplied tyres, perhaps not.
The GDI motor is quiet unless provoked to the redline and returns fair fuel economy around town, lacking as they are in stop-start or energy recovery. In fact, no Tucson features stop-start, the only real glaring spec omission. Performance figures aren't particularly quick, the GDI managing a 0-100km/h time of 10.2 seconds.
Moving up the range, and with the addition of a 1.6-litre turbo petrol and seven-speed dual clutch transmission, are the Elite and Highlander AWD models. The 1.6 turbo is very much at home in the Tucson, with a small bump in power from the Active X's 121kW to 130kW but a 20 per cent jump in torque to 265Nm. While the front drivers are the best handlers, the turbo 1.6-powered cars have the best engine.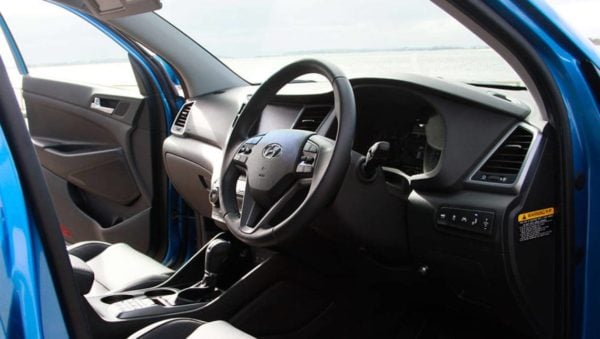 It's a smooth, happy unit, hauling the Tucson around with vigour. The dual-clutch transmission isn't perfect, with hesitation at low speeds and a frustrating inability to quickly shift from D to R to D when you're in a hurried three-point-turn manoeuvre.
Apart from that little drama, this combination does turn the Tucson into a more relaxed car in traffic as that nice stream of accessible torque means fewer revs needed to make things happen and it's less sensitive to heavy loads.
The turbo petrol cars also very effectively mask the weight increase of around 145kg over the FWD models, with stronger acceleration from step off and in the gears. Four fatter tyres handle getting the power to the road and all the good bits of the Active X's ride and handling are transferred to AWD petrols, meaning a good change of direction and best-in-class ride.
The final combination is the AWD 2.0-litre turbo diesel found in the Elite and Highlander diesels. Reverting back to the six-speed automatic found in the naturally aspirated front drivers, the diesel is a very strong performer and, like the petrol 1.6, is a relaxed car in daily driving.
Only the CX-5 matches the Tucson for handling but it can't touch it for overall ride quality or road noise levels.
It is almost 200kg heavier than the Active and Active X, but the 400Nm of torque - almost double - means you can load up and still get around swiftly. Performance figures from 0-100km/h are similar to the 1.6 petrol (just over nine seconds for the diesel, and a tick under for the petrol) but in the gears acceleration is mighty. The diesel is the one for towing.
As in the petrol, the CRDis have plenty of grip on loose or wet surfaces and handle well in the dry, with good steering and a keen change of direction for a mid-size SUV, especially consi dering the further weight gain of the diesel engine. The diesel only comes with 4 wheel drive and any of the all-wheel drivers will tackle moderate off-road challenges.
Only the CX-5 matches the Tucson for handling but it can't touch it for overall ride quality or road noise levels, despite a similar rear suspension set-up. The Tucson is also exceptionally quiet for a car in this class, especially for front seat passengers.
Rear seat passengers enjoy a good ride, although the middle seat is quite firm for backsides of any size.
What safety equipment is fitted? What safety rating?
Tucsons are fitted standard with six airbags, ABS, stability and traction controls, emergency brake assist, brake force distribution and reversing camera.
With these on board, the Tucson scored a maximum five ANCAP stars at its second attempt in January 2016 after an initial problem with footwell deformation. Hyundai sorted this problem soon after release, with all vehicles built in South Korea from mid-November 2015 and Czech Republic-built cars from mid-December 2015 carrying the five star rating.
Frustratingly, only the top-spec Highlander has a lengthier list of standard safety features, with items unavailable lower in the range even as options. To the list above you can add AEB, blind spot monitoring, lane change assist and reverse cross traffic alert.
It would be nice if AEB was standard across the range (as it is on CX-5) with rear-cross traffic alert available as an option at minimum.
Kids are looked after with three child seat anchors and two ISOFIX points, one for each outboard rear seat. Rear parking sensors are standard on all cars while the Highlander also picks up front parking sensors, but park assist is not available.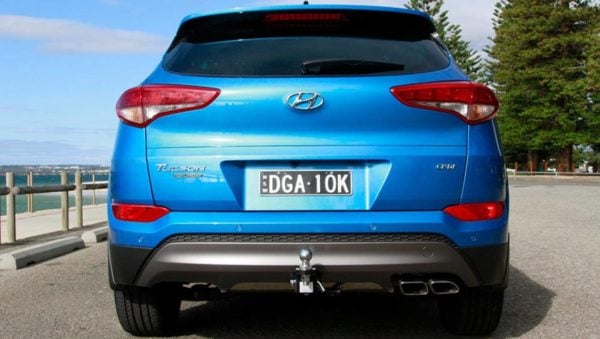 What does it cost to own? What warranty is offered?
Hyundai offers a fairly comprehensive after-sales agreement which starts with a five-year/unlimited km warranty and roadside assist for the duration, extendible to 10 years.
Hyundai provides capped-price servicing for the lifetime of the car, with the website listing every service up to 34 years/510,000km. Without wishing to be rude, it's unlikely it'll last that many years, but would probably survive that many kays in a shorter time period.
Service intervals and pricing differ depending on the engine and transmission.
According to the owners manual, the 2.0-litre in both MPI and GDI forms will bring you into a dealer every twelve months or 15,000km.
Service costs appear to be $269 until four years/60,000 when it jumps to $399 with subsequent services ranging from $269 to $480 up to 10 years/150,000km. After 15 years (!) an additional service level is available called 'iCare Essentials Plus' which is more rigorous and costs more if you so choose.
Most owners are pleased with the value of the car, the standard features and if there was a problem or complaint with their vehicle, it was quickly resolved.
For the 1.6-litre turbo, most services appear to be either $189 or $289 with the odd jump to $399 and $475 at the major 120,000km service. Hyundai wants to see you more often with this engine, every six months or 7500km, so it is more expensive to service.
The diesel bounces back to the 12 months/15,000km pattern of the 2.0 petrols, with services running at $379 until four years/60,000km when it spikes to $499. After that, expect to pay between $379 and $695 (eight years/120,000km).
All available engines make use of a timing chain rather than a timing belt, so there won't be any surprise replacement costs unless something goes very horribly wrong.
Resale value seems to be going okay for private sales. A 2015 Active X Auto sold for $32,990 and can fetch $23,200-$25,700 privately (70-78 percent). Dealer trades are less strong at between $18,900 and $21,400 (57 and 65 percent). It's still early days for the current Tucson, though.
The reliability rating of the Tucson seems good, with a dip into the usual forums here and overseas to explore common faults or issues yielding nothing concerning or widespread. In those same forums, most owners are pleased with the value of the car, the standard features and if there was a problem or complaint with their vehicle, it was quickly resolved.
There are no signs of automatic transmission problems but the dual clutch had a short-lived problem in the US that was fixed with a software flash for affected users and fixed in production. Australian-delivered cars were not recalled or mentioned as being affected.
There appear to be no turbo problems or clutch problems either.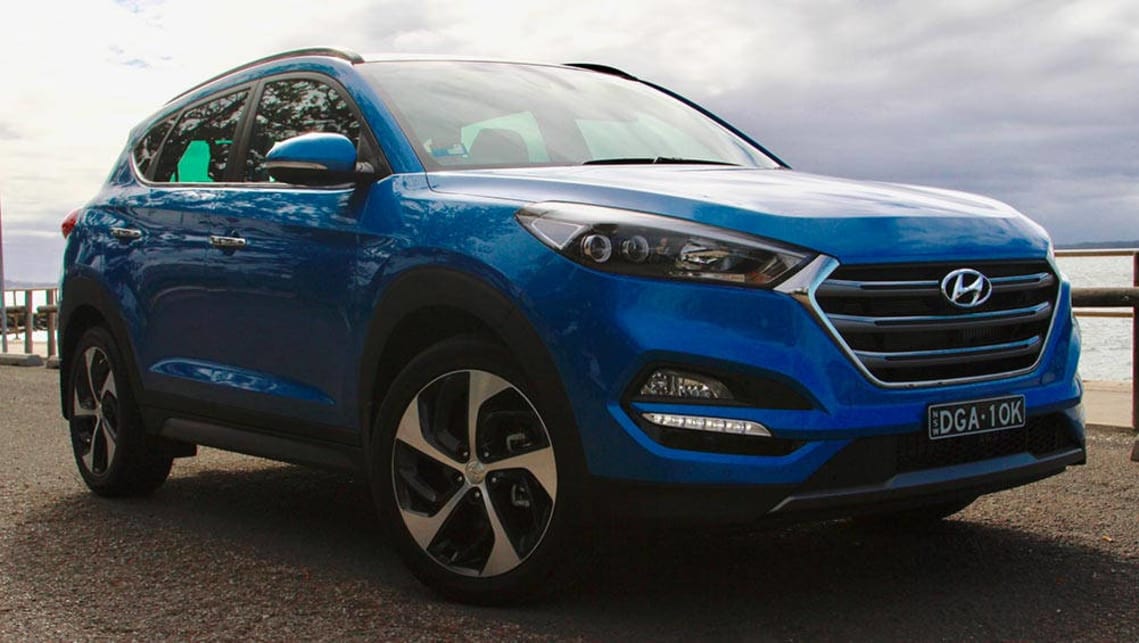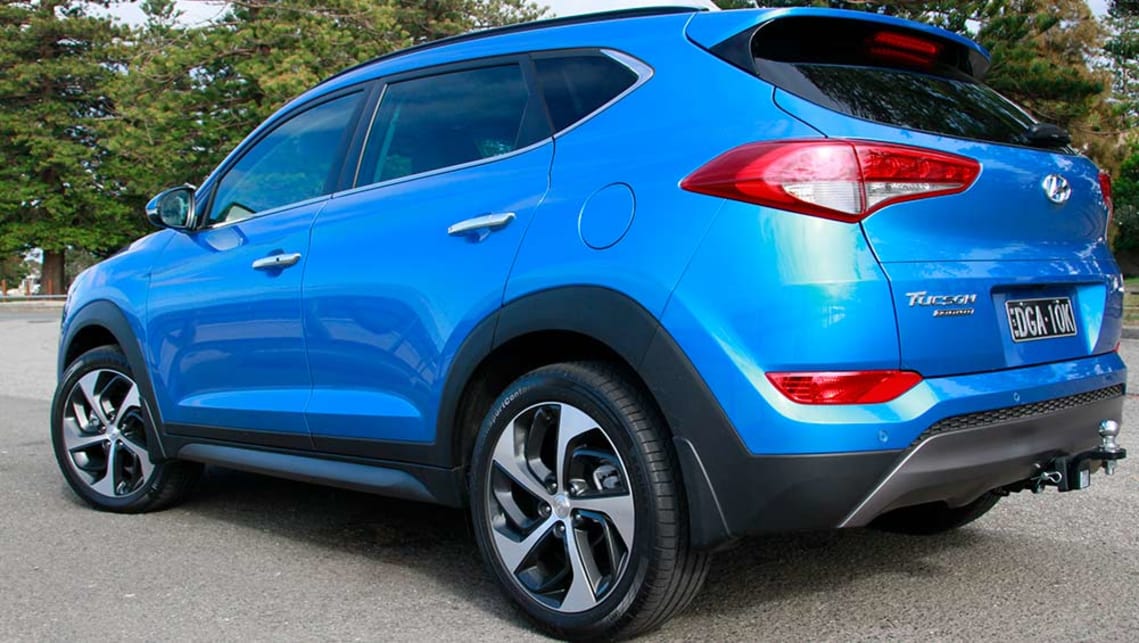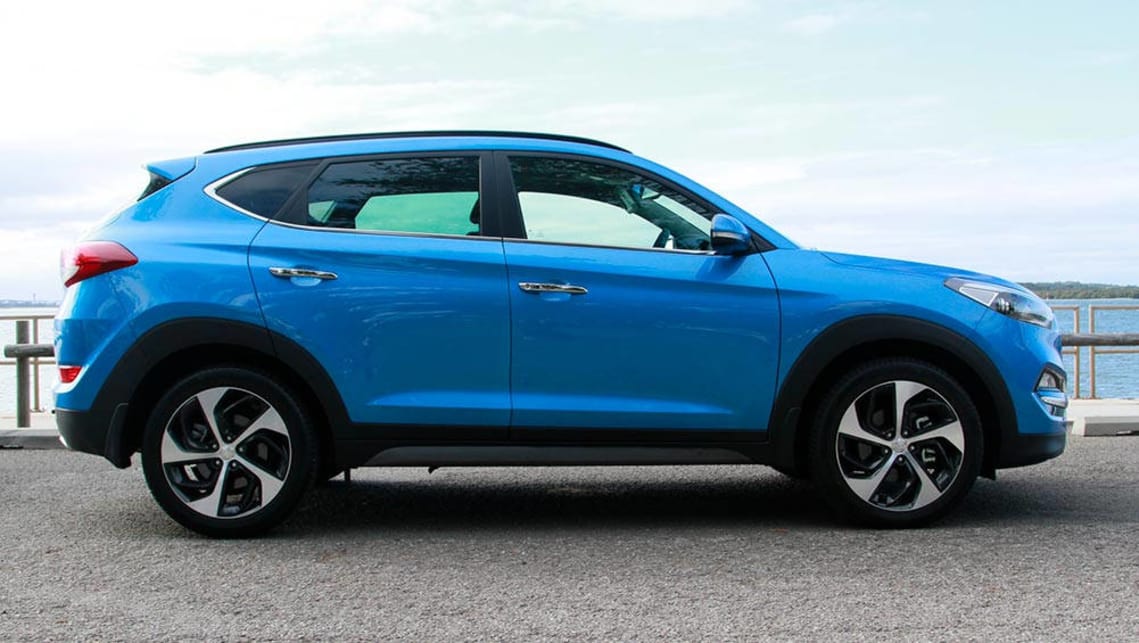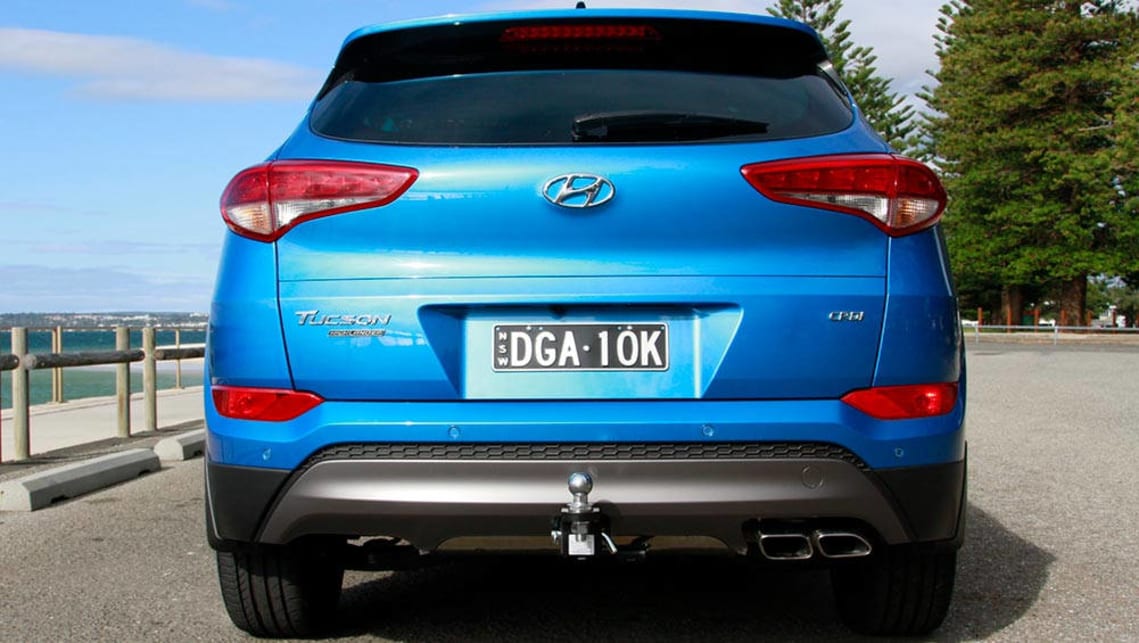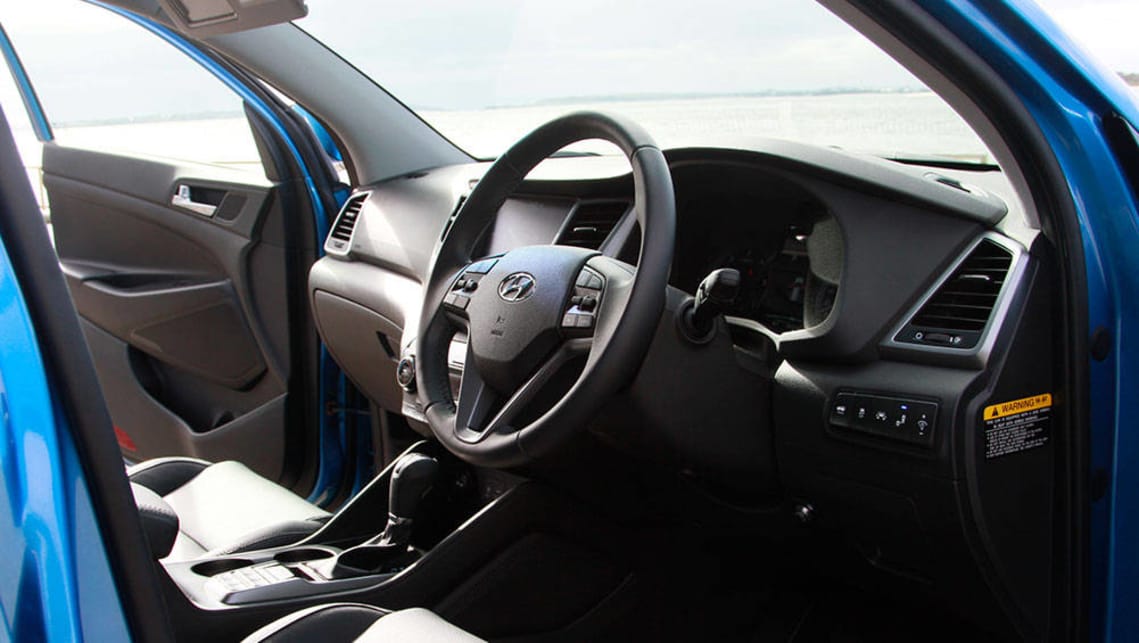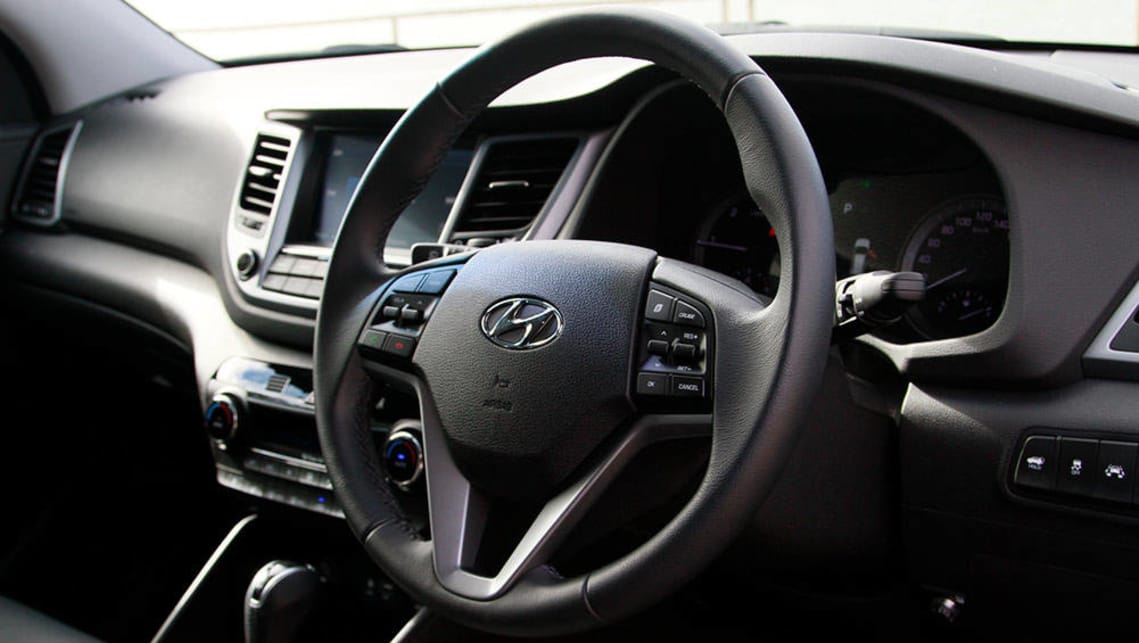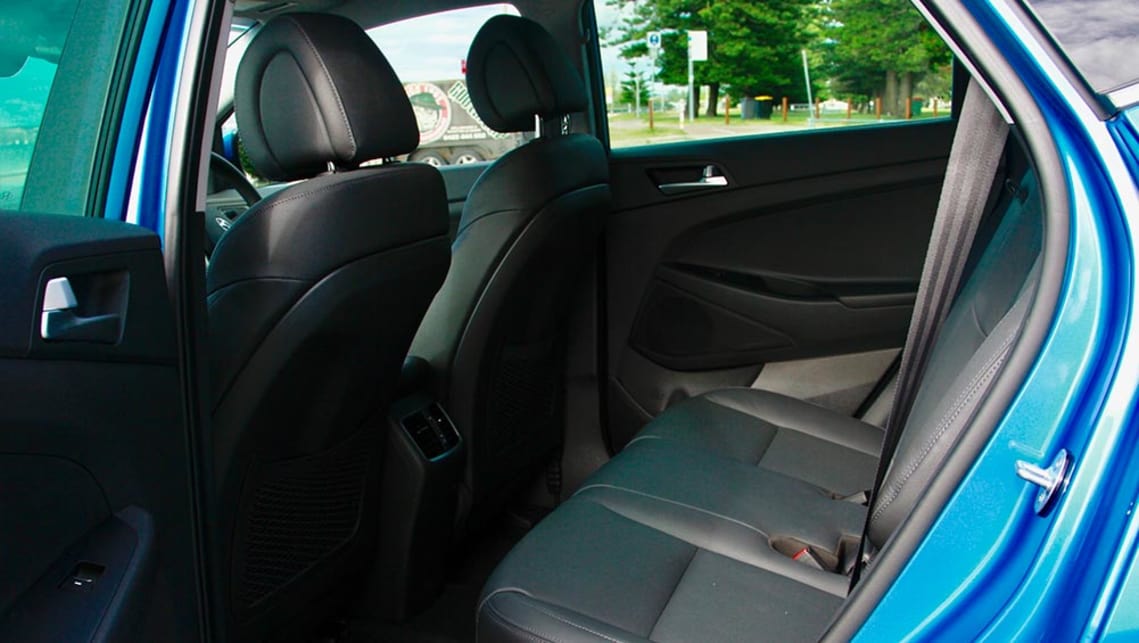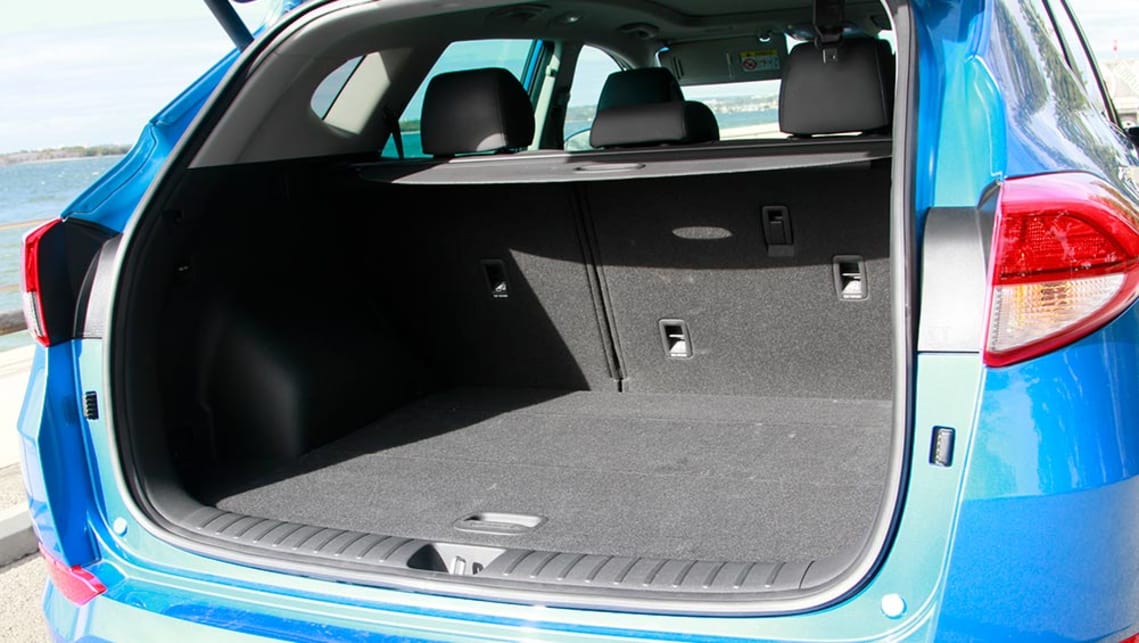 Verdict
The Tucson is an very capable all-rounder with few weak spots, particularly after a little tidy-up of the Active and Elite trims in the middle of 2016. It's a strong proposition in a very crowded part of the market dominated by a resurgent Volkswagen Tiguan and the Mazda CX-5 (with a facelift due for release this month).
The Active X is the best value for money Tucson as long as you don't need AWD (there are the occasional special editions based on its spec, though, like the Tucson 30th Anniversary) or extra grunt.
The Tucson's roomy, good-looking, well-built and rides and handles as well as anything else in the class. It's a difficult car to fault, even when it's been in our hands for lengthy periods. The fact it has squared up to the Japanese and Germans and held its own means it has to be very good, indeed.
Would you pick a Tucson over a CX-5 or Tiguan? Tell us what you think in the comments below.
This story originally appeared on CarsGuide