You've probably noticed Heather Anderson kicking around the footy field these past five weeks.
She's pretty hard to miss.
The Adelaide Crow's defender has become a bit of a cult star in the AFL Women's league because of her distinctive headgear, which is bloody bright pink.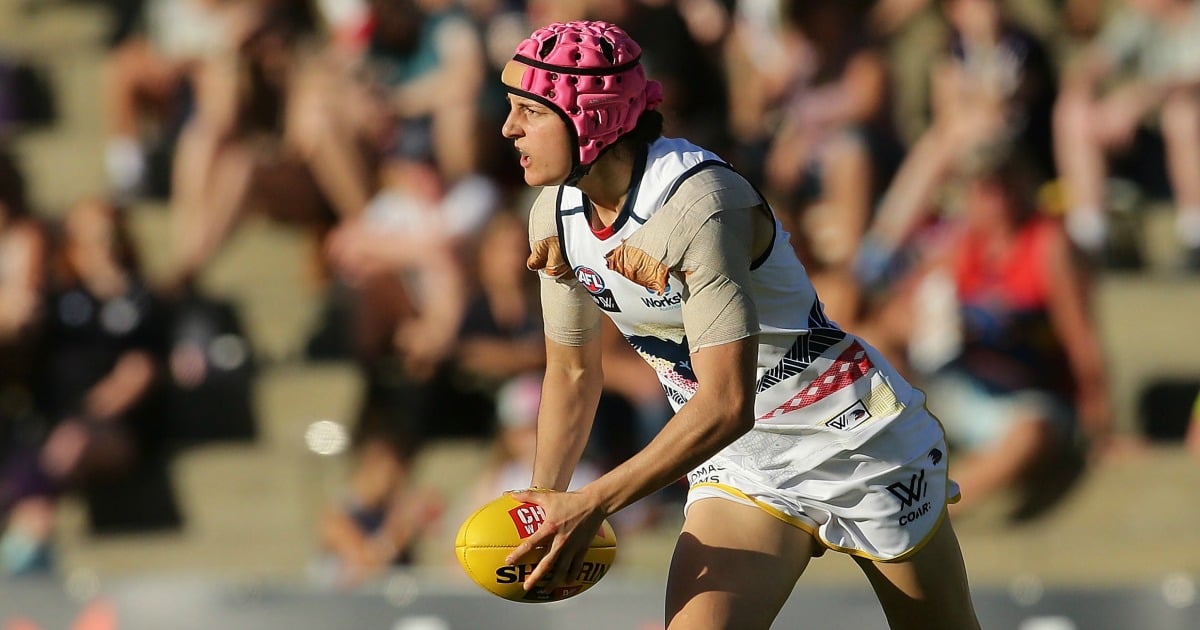 It's a bold look for the lifelong tomboy, who doubles as a medic in the Australian Defence Force, and one that only came about in the last few years.
Anderson had worn a black helmet since she started playing rugby at age five with the exception, of course, of a brief period on the netball court after relocating from Canberra to Victoria as a kid.
Netball -- much like the colour pink -- wasn't for her, however.
"No contact, too many skirts," Anderson explained to Mamamia.
Here's what went down in Round 5 of the AFLW over the weekend:
When Anderson discovered Aussie Rules, she quickly fell in love and played with the boys until her 15th birthday when -- like many other girls -- she made the switch to a fledgling women's team.
In October 2016, she was drafted as the second pick by the Crows and overcame a serious shoulder injury to play in their starting line up.
Somewhere along the way -- a couple of years back now -- her helmet turned from black to pink, but it took a bit of coaxing from her vision-impaired mum.
"She hated watching me get smashed and she couldn't really see me play in the field," Anderson explained.
"I hated pink and anything girly, so she would joke, 'Maybe if you spray painted your helmet pink, I'd come and watch you play.'
"So I bought one in a sports shop as a joke and said, 'Now I've got one you've gotta come watch me play'. It just sort of went from there.'"
True to her word, the 22-year-old's mum is a regular at her games and has even flown to Adelaide a couple of times to watch her daughter in the AFLW.
Anderson will be a little harder to spot this week, as she's planning to swap her trademark pink for a more subdued camouflage for Saturday night's game in Darwin.
It's for a good cause, though. She's trying to raise money for Soldier On, a service supporting veterans who have been physically or psychologically affected by their service, many of whom she's come into contact with through her work.
"It's something I'd very much love to bring awareness to, to reduce the stigma and raise a few funds to help people with that recovery," she said.
"As entry to the games is free, I'd love it people could donate a small amount."
You can make a donation to Soldier On here -- we're sure they'll be tickled pink.
In 2017, Mamamia is committed to covering all aspects on women's sport. Check out more of our sports stories here.