A video of ballet-dancing dads has gone viral, after a US dance centre invited fathers to join their children during a Valentine's Day lesson.
The footage has been watched 16 million times on Facebook and the ballet centre owner says the memories made will last forever.
"I wanted them to learn and experience the work, effort, and dedication their kids bring to class nightly," Philadelphia Dance Center owner, Thom McIntyre, told Mamamia.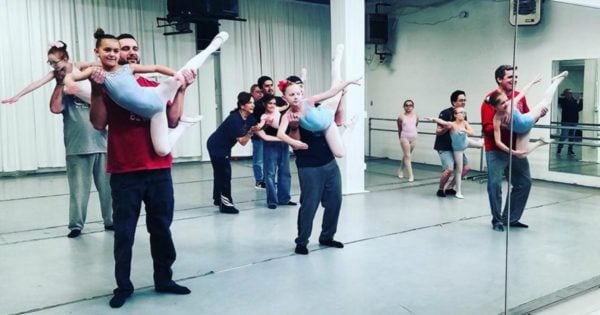 Some of the tutu wearing dads were said to be a little sore after the hour-long class.
"The kids had so much fun but took their class seriously and helped correct their dads on their form," said McIntyre.
While the dads were invited for the ballet class, mothers were also invited for the hip-hop class.
"We had mums who came in for the dad class and dads who came in for the mum class. It is very family friendly. It was open to whichever adult the student wanted to bring," he said.
The Philadelphia centre hopes to run the class every Valentine's Day - just to break our hearts.
It's not the first dancing dad video to go viral, last May a baby-wearing dance craze was a hit on Facebook.
Most of the men in the video had never danced with their baby before.