Warning: photos in this story may be distressing for some readers.
British mum Charlotte Szakacs was 20 weeks into her pregnancy when she and her husband Attila received devastating news. Their unborn daughter had a hypoplastic aorta, a condition that affects blood flow, and she also had a small, underdeveloped brain. There were endless hospital appointments.
"We was also asked to terminate on countless occasions but we knew she was already worth every bit of life!" Szakacs wrote on a Facebook page devoted to her daughter.
Baby Evlyn was born on December 13 last year. Doctors discovered she also had problems with her lungs that made it hard for her to breathe. She spent four weeks in the hospital, on a ventilator, before her parents decided to "let her go peacefully" in a hospice.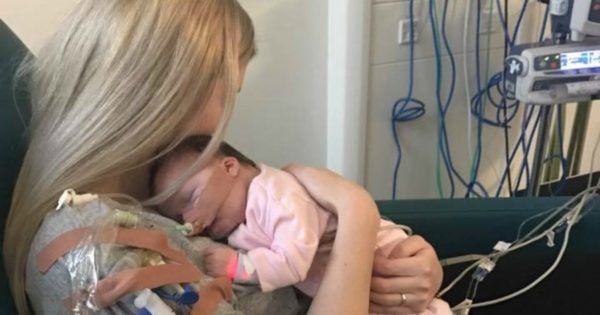 Charlotte Szakacs and baby Evlyn in hospital. Image: Facebook.
"We got to hold her and cuddle her properly for the first time for an hour before they turned off the ventilator," Szakacs reveals in the Mirror.
"She passed away just a couple of minutes after they took out her breathing tube. She was so weak she didn't take a single breath.
"I was holding her in my arms as she went and her dad had his arms around us both."
The couple stayed at the hospice for 12 days with Evlyn in a refrigerated "cuddle cot". They took her out of the cot to hold her, and they were also able to take her for walks.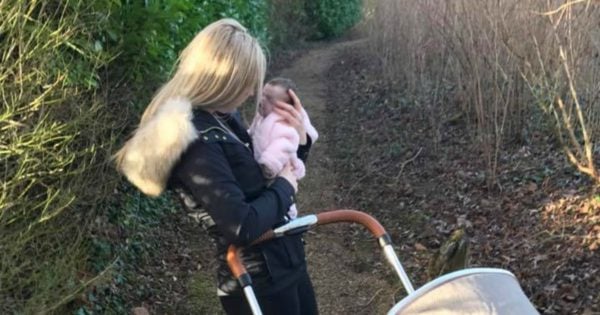 Mother and daughter on a walk. Photo: Facebook.
"So many people have never heard of parents being able to spend that time with their babies, and other mums reached out to me saying they think it would have helped, so I really want to raise awareness," Szakacs says.
"I know it might not be the best option for everyone, but for us it was so important to be able to have that family time - and just properly cuddle our little girl.
"Being able to do so many of the things you imagine, like taking her out in her pram, it really helped emotionally."
Four days before Evlyn's funeral, her parents took her home, along with her cuddle cot.
"Her last night she slept in her actual cot we had got for her in our room."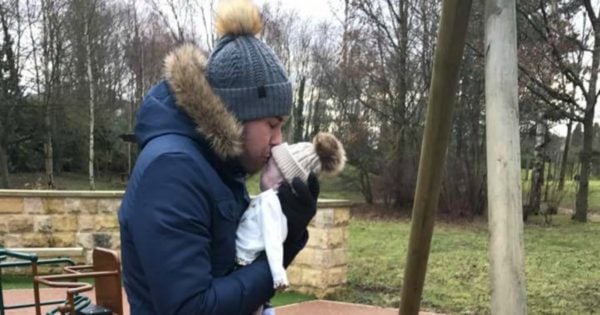 Dad Attila with his baby girl. Photo: Facebook.
Evlyn's funeral was held on January 26. Szakacs describes it as "the most heartbreaking and beautiful service".
A crowdfunding campaign paid the funeral costs, with Evlyn's parents donating leftover money to the hospice. They are continuing to raise money for the hospice.
Szakacs has shared photos of her daughter on the Facebook page devoted to her, Evlyn's Story. She's received a huge amount of support, but also some criticism.
What do you say to someone who's lost a baby? Post continues after audio.

"So I just want to say to the negative people, if you don't like seeing photos of my daughter then don't follow her page," she wrote. "Simple.
"I carried her for 37 weeks, I gave birth to her, I sat by her side for four weeks in the NICU whilst she was fighting very hard for her life, she lost her battle, I've lost a baby, everything we wanted and loved in our life has gone, and now I'm allowed to make memories with her, and I'm going to post it as part as her journey.
"Until you've been in our position, you'll never know how it feels to lose your child. Imagining it isn't even half of the pain."
You can follow Evlyn's story on Facebook.
If you've lost a baby and need support, you can call Sands on 1300 072 637.