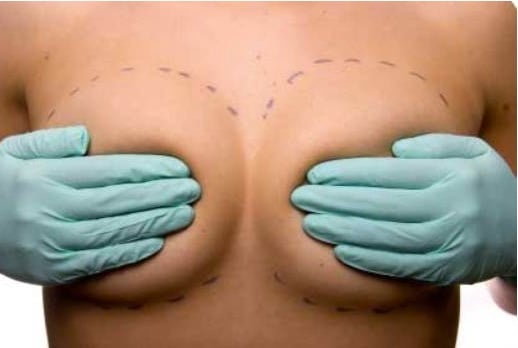 UPDATE: Australian health authorities have decided against recommending the removal of breast implants which have been linked to increased rates of rupture and a rare form of cancer.

This comes despite news that France and Venezuela have agreed to foot the bill for women who have been fitted with PIP implants to have them removed.
This from the SMH:
The Therapeutic Goods Administration said last night there was no evidence in Australia of particular problems with the French-made Poly Implant Prothese silicone-gel implants.

The statement came after TGA officials met for three hours with the Australasian College of Cosmetic Surgery yesterday to discuss whether a national warning was needed.

The TGA advised there was no evidence in Australia to support "increased rupture rate for PIP implants in this country".
And here's our original cheat sheet:
Is there a link between breast implants and cancer? That's the question thousands of women around the world will be asking today after news that the French Government is considering paying for 30,000 women to have their breast implants surgically removed because of fears the implants could be linked to a rare form of cancer.
It's not just France that's affected. Women all around the world – including 4500 in Australia – have been fitted with implants made by a company called Poly Implant Prostheses (PIP). That's 300,000 women in total. And the major concern? The company was shut down last year after being caught using industrial, not medical, silicone in its devices to save money.
To help you understand what's happening and answer any questions you might have, we've put together this cheat sheet.
What's happening in France?
There's a criminal investigation underway into the implant manufacturer, Poly Implant Prostheses. French authorities have serious concerns after reports of a high rupture rate of the implants, which were some of the cheapest available. Eight cases of cancer have been reported in patients with PIP implants. This from The Australian:
The French National Cancer Institute has been asked to report by the end of the week on whether the gel can cause cancer, after the implant was linked to the death of one woman and cancer cases in a handful of others.
It's still not known whether the implant has a direct link to the rare form of cancer – anaplastic large-cell lymphoma (ALCL) – but patients in France have been told to contact their doctors to check the make of their implants.
Some doctors in France are adamant that all women with the implants should have them removed. This is from the ABC:
Laurent Lantieri, one of France's best-known cosmetic surgeons and a member of a health department committee on the issue, told Liberation there was no choice but to order the implants' removal.

"We all agree on the necessity of this decision," he said.
PIP, the company in question, went into liquidation last year and the product was removed from the market. Another company took over control and it's still not known if that company will be responsible for any legal action.
The president of the now bankrupt company has admitted PIP knowingly used inferior silicone products. Speaking through his lawyer, Jean-Claude Mas said higher quality implants were used for wealthier clients, while industrial-grade silicone was used for other clients.
He said the product "did not formally receive approval, and in this regard there was a violation of regulations".
"Why did this company use this kind of product? Because it was a corporation with economic objectives and because of corporate management that tried to get the best cost," he said.
"There was a basic product and a high-end product, for people in the 16th [arrondissement] for example."
What about in the UK?
In the UK, 250 women – some with ruptured implants and some who are just worried – have launched legal action against the clinics that supplied the implants. The British media are reporting that 10 per cent of the implants are rupturing in their first year. But the UK health authority, MHRA, has told British women they have tested the filler of the PIP implants and found no cause for concern and no association with cancer.
This video is from UK Sky News:
What's happening in Australia? Should I be concerned?
4500 Australian women were fitted with the implants in question between 2004 and last year, when the product was removed from the market. At the time
But the Australian Society of Plastic Surgeons says those women should not worry. And there's similar advice from Australia's medical safety authority, the Therapeutic Goods Association. It says PIP implants supplied in Australia from 2004 until 2010 met international standards and there have been no reports of the cancer in Australian women with implants made by PIP.
More from The Australian:
Australia's medicines and devices watchdog, the Therapeutic Goods Administration, says it has received reports of 39 devices rupturing inside Australian women since they came on the market seven years ago. However, the TGA tested the PIP devices for strength last year and found the rupture rate was low.
If you have implants should you panic?

If you have concerns, see your doctor to have your implants checked and sign up to an existing Breast Implant Registry. That's the advice from the Australian Society of Plastic Surgeons, who said Australian women should not rush to have their implants removed for peace of mind.
The voluntary registry is a database of women with breast implants, put together so the society can distribute information. Last year when the implants were taken off the market the plastic surgery society put out a press release with this info:
"My advice to patients with PIP breast implants is no different from the advice I would give at every surgical consultation… Patients should see their surgeon if there is any discomfort, change or swelling to the breast post operatively. The surgeon can then make an assessment" President Peter Callan said.
Should all women with implants be worried about a link between breast implants and cancer?

Doctors are still trying to find out if there is a link between all implants and this particular form of cancer.
Plastic Surgeons' Society spokesman Graham Sellars said 80 cases of the cancer in women with implants had been reported worldwide, including seven in Australia. This is from The SMH:
In many cases, the cancer was found in scar tissue around implants after women complained of pain in their breasts. The implants in those affected included both saline and silicone varieties. ALCL is estimated to affect about one in 500,000 women each year.

Dr Sellars said that given an estimated 5 to 10 million women had had implants globally, women should not panic about the risk, but rather talk to their doctors and, if necessary, have their implants checked.
France is considering removing the implants altogether. Why isn't Australia?
This is a tricky one. While one country is seemingly in panic mode, others are less so. Australia's medical authority says the PIP implants fitted to Australian women have previously met international standards.
It's now a case of more information needed.
Do you or anyone you know have implants? Are you concerned?