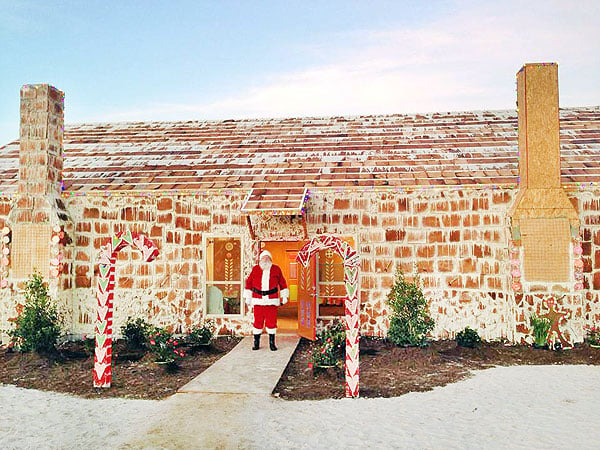 The phrase "Bigger than Texas" took on a whole new meaning for me when I spotted this full-sized house made from gingerbread in my Facebook feed.
Traditions Club and St Joseph Health System of Bryan, Texas, have spent the year working to beat the Guinness World Record for the World's Largest Gingerbread House.
The result is a structure that's more than 6m high and 18m long, which packs a whopping 35,823,400 calories.
The structure has a wood base, but has been topped with more than 800kg of butter, 7,200 eggs, 1360kg of sugar and 3265kg of flour. Then more than 22,000 pieces of candy were added to its facade.
Visitors can even tour the house and get their photo taken with Santa there for a small fee, with proceeds going to a local hospital. More than $150,000 has already been donated to the trauma centre.
Yep, officially gob-smacked.
Have you ever successfully made a gingerbread house? My sole attempt a few years ago with an IKEA kit collapsed in a sugary heap. 
With their jellybean-shingled roofs, licorice chimneys and royal icing details, there's nothing cuter around the holidays than gingerbread houses. But these masterful creations are a world away from the pre-fab kits we all grew up assembling. Prepare to be amazed by these 26 incredible gingerbread houses (that we'd never, ever make)