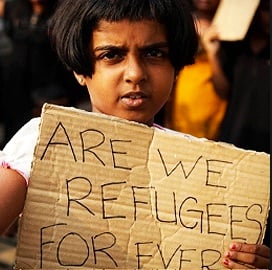 1. Asylum Seeker health
The Abbott government has disbanded a key group that provided advice on the health of asylum seekers in detention.
Members of the Immigration Health Advisory Group received letters late on Friday telling them the group would be dissolved and replaced by just one adviser, Dr Paul Alexander, the group's chairman and a former head of Joint Health Command in the Defence Force.
Meanwhile, in the latest edition of the Medical Journal of Australia, research has been published revealing that 50.1 per cent of immigration centre detainees in Darwin had visited the Royal Darwin Hospital emergency department at least once in 2011. This included 46 attendances by children, of which 15 were for self-harm
2. Mandela funeral
After ten days of intense mourning Nelson Mandela has been laid to rest alongside family members in open fields by the village of Qunu, his childhood home.
The service was attended by 4500 guests including Prince Charles, Rev Jesse Jackson, Gerry Adams, Oprah Winfrey, the Clintons, Archbishop Desmond Tutu and many African leaders. Mandela's widow Graca Machel, Winnie Mandela and the entire Mandela family were there.
It was broadcast on state television and conducted in accordance with the Methodist church.
Then there was a private, traditional burial in the presence of his family and tribal leaders.

 3. New Ambassador for Women and Girls
Former Democrats leader Natasha Stott Despoja will be announced today as Australia's Ambassador for women and girls. The Australian has reported that she will be only the second ambassador in the role – created by former Labor Prime Minister Julia Gillard.
 4. Federal budget woes
The midyear budget papers will be released tomorrow with financial markets bracing for a flood of new commonwealth debt following a budget update that will spark renewed Coalition attacks on the "extent of Labor's fiscal disaster" when they were in Government.
Federal budget deficits for the next four years are set to double to more than $100 billion.

 5. Not lean enough for Football league
An athlete has been rejected from the Legends Football League, Australia's version of the controversial American Lingerie League, after being told she wasn't lean enough. 18-year-old Mikaila Perrett told the Advertiser. " I was not lean enough so I trained my arse off and dropped another five kilograms, but apparently it was still not enough."
"I cried, bawled my eyes out. It had already affected me and the looks component was in my mind but this has kind of affected my self-esteem and I'm not so confident anymore."
6. Saying sorry
Childcare educators are debating the value of children saying 'sorry' with calls for the word to be dumped, as children don't know what it means.
For more read this post here " Saying sorry"
 7. India Rape
On the anniversary of the Delhi gang-rape and murder of 'Nirbhaya' or 'the fearless one', who was gang-raped, beaten with rods and left for dead after she boarded a bus home from the cinema with a male friend on December 16th last year, the campaign group Action Aid has revealed new figures which revealed reports of rapes had doubled in the Indian capital since the attack.
The number of reports of sexual assaults had quadrupled. Reports of rape had increased from 706 last year to 1,330 in the first nine and a half months of 2013.

 8. Reece and Katie
The potential love story between New Zealander Reece McKee and his mystery woman Katie continues.
The Daily Mail located Katie in a town in the south of France. Katie told the paper that said a date with McKee is possible, but not definite. "I haven't made up my mind yet about whether I like him or not. I'm still waiting for him to get in touch."

9. Children's lamp recall
A major retailer has recalled a children's lamp throughout the world after a 17-month-old baby choked on the light's cord and died. 23 million of the Ikea SMILA' lamps have been recalled. The product has been sold between 1st April 1999 – 11th December 2013.
10. Vicar in trouble
In the UK a vicar has been forced to apologise after claiming at a primary school assembly that Santa does not exist and recounting the gruesome story of Saint Nicholas.
Reverend Simon Tatton-Brown infuriated parents by questioning the existence of Santa.
He told children that Santa was based on a grisly legend about Saint Nicholas, who bought three murdered children back to life, saying the kids were killed by an evil butcher and placed in a barrel to be pickled and sold as ham.
Parents complained when their children, aged between five and 11, came home shell-shocked and the vicar has now apologised.
11. Smith Family appeal
The Smith Family Christmas appeal say they are suffering this year from a shortfall in donations. They have made a call for Australians to dig deep in the last week before Christmas. Donations for 2013 are sadly down about 10 per cent compared with this time last year.
To donate go here.
In brief:
Young drivers should be banned from using hands-free mobile phones because they are too distracted, academics have warned.
Actor Peter O'Toole , who starred in Lawrence of Arabia, has died aged 81
In Syria government air raids have killed at least 22 people, including 14 children, in the northern city of Aleppo.
In cricket it is day four of the third test and Australia are 3/235. Steven Smith 5 (26) Shane Watson 29 (66)
 What news are you talking about today?