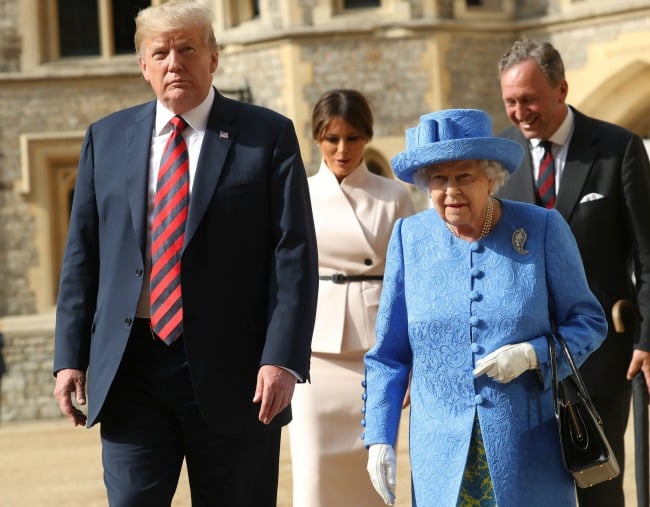 President Donald Trump's visit to the UK last month was definitely not short of controversy.
From huge protests to the famous Trump baby blimp, the Brits certainly weren't happy with the President's visit.
But worst of all, on one of his last days in the UK, Trump broke not one but three royal rules when he met Queen Elizabeth at Windsor Castle.
Not only did Trump turn his back on the Queen and fail to bow his head when he met her, he also arrived 15 minutes late – which is a big no no when meeting the Queen.
Now, in typical Trump fashion, he's claiming it was all fake news, saying that the Queen herself kept him waiting…
Despite the fact that there's video footage of the Queen impatiently checking her watch TWICE before the President finally arrived by helicopter.
Ah, okay then…
Just turned on the news to see the Queen awkwardly waiting for Trump, who is late. Can someone remind me why we are putting ourselves through this national humiliation ? What do think we are going to gain.

— Malcolm Turner ???????? (@TurnerMalcolm) July 13, 2018
Speaking at a rally in Pennsylvania on Thursday night, Trump claimed that he was early to meet the Queen.
"I was asked to have tea with the Queen, who is incredible, by the way. Incredible. I landed, I'm on the ground, and I'm waiting with the King's and the Queen's Guards, wonderful people. I'm waiting," he said, according to The Guardian.