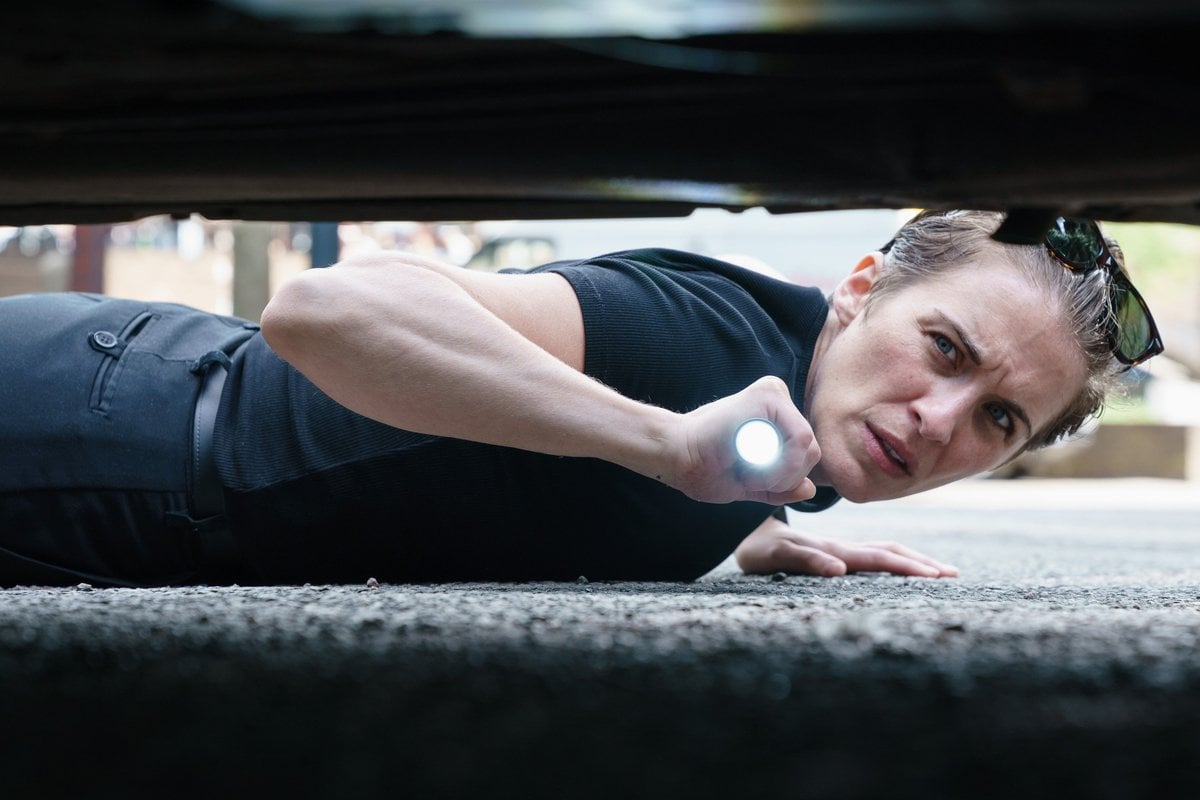 The new Stan series Trigger Point is not for the faint-hearted.
The six-part thriller is the latest offering from Jed Mercurio, the executive producer behind other tense-yet-brilliant TV favourites Line of Duty and Bodyguard.
Trigger Point stars Vicky McClure as Lana Washington, an ex-military bomb disposal operative (referred to as an Expo) who is part of a team who regularly risk their lives on the job and who become embroiled in investigating a terrorist campaign threatening London. 
The 38-year-old actress, who also worked with Jed Mercurio during her time on Line of Duty as Kate Fleming, said she was drawn to working on Trigger Point because it involved a complex female character doing a life-threatening job that's rarely explored in TV shows.  
"I was fascinated by it," she told Mamamia. "Because bomb disposal is an area that I don't know very much about and something I don't think we've seen an awful lot of on-screen, apart from if people have seen The Hurt Locker, which is a great film. 
"I'll take any opportunity to work with Jed, not only because he's a friend, but also because he's incredible at what he does. It's dynamic, it's action-packed, it's full of brilliant characters and it will put you on the edge of your seat waiting for the next explosive situation."
"When it comes to bravery, you're talking about Lana," she continued, describing her character. "She's carrying trauma and her life is pretty messed up, which is really appealing as an actor because you want to play real, layered characters. 
"As we go through the series, she becomes more lost as she tries to work out who is planting these bombs and why it's getting closer to home.
"The way in which the story unfolds is quite surreal."
Take a look at the trailer for Trigger Point on Stan. 
One of the reasons why Trigger Point is such a compelling watch comes down to the fact that each episode is packed with nail-biting action scenes and stunts, which Vicky admitted were quite a punish to film.
"I was really keen to do the action scenes that come with the show, and I knew that playing an expo would be quite a challenge physically," she said. "I didn't actually expect it to be quite as challenging as it was, but I got through it and I did most of it myself. I was really game. 
"The few things that I didn't do are mainly scenes with erratic driving because of COVID restrictions, even though I always say, 'Didn't see me in Top Gear? I know what I'm doing!'
"Physically, it was a challenging job - when you see me running from a bomb I haven't just done it once, there have been many takes!" she continued. "People will tell you that I'm not a gym fanatic by any stretch of the imagination, so when I'm out of puff on screen that's genuine.
"In some ways, it's nice to see that on telly, because what I did learn is as even though expos are heavily trained and Lana is fit, there's not a lot of activity every day - a lot of time is spent sitting around and waiting for that call.