With a literal olive branch, it would appear the feud between Taylor Swift and Katy Perry has been cancelled forever.
Posting on Instagram stories on Tuesday in the hours before the opening night of her Reputation stadium tour, Swift showed her 107 million followers a gift she had been given from "Katy".
Inside the gift was an olive branch and a letter that was partially obscured:
"Hey Old Friend — I've been doing some reflecting on past miscommunications and hurt feelings between us," the letter appeared to read, before going on to say she was "deeply sorry" and wanted to "clear the air".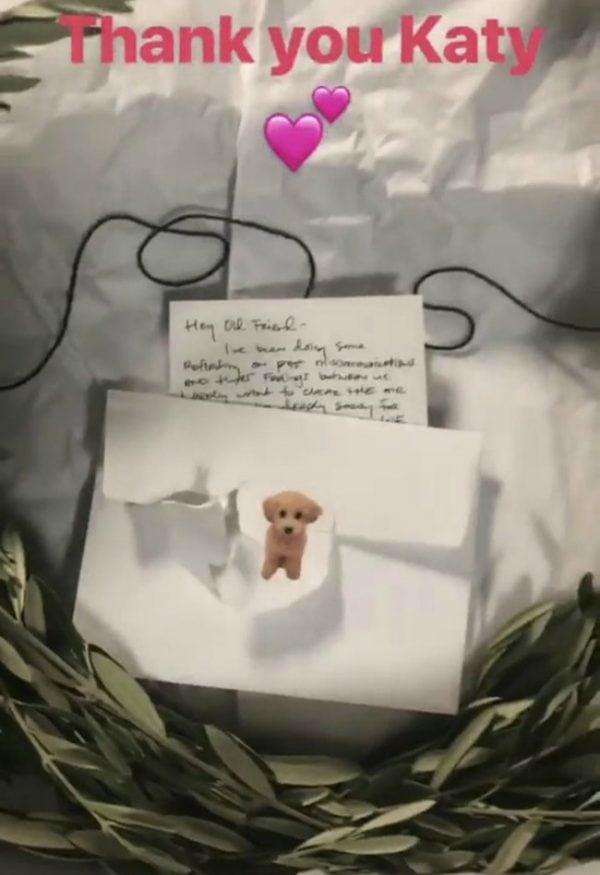 "Just got to my dressing room and found this actual olive branch. This means so much to me," Swift said in the video.
In an interview on The Thrive Global Podcast last year, Perry said she was ready to let the feud go.
"I am ready to let it go," Perry told host Arianna Huffington. "I forgive her and I'm sorry for anything I ever did, and I hope the same from her … I love her, and I want the best for her. And I think she's a fantastic songwriter."
In a March episode of James Corden's Carpool Karaoke, Perry said, once again, she was finally ready to "pull the beef off the grill".
"There's a situation," Perry explained. "Honestly, she started it and it's time for her to finish it."
The 32-year-old went on to explain the source of the so-called 'situation'; a trio of backup dancers who went from Perry's California Dreams tour to Swift's Red World Tour then jumped ship when the former wanted them back.
"It's so crazy," she said. "I tried to talk to her about it and she didn't speak about it.
"I do the right thing any time that it feels like a fumble. It was a full shutdown and then she writes a song about me, and I'm like, 'OK, cool, cool, cool, that's how you want to deal with it?' Karma!"
First South and North Korea, now Taylor and Katy.
Is this what world peace looks like?

Taylor Swift has a new image, and we're not sure it's a positive one. The Mamamia Out Loud team discuss.