Back in June, Kevin Spacey used his opening monologue while hosting the Tony Awards to celebrate Broadway… and himself. The one-time Tony and two-time Academy Award winner took the occasion — entertainment's gayest night of the year — to lampoon longstanding rumours about his sexuality. I was disappointed, to say the least.
"I'm coming out," he sang, launching into a Sunset Boulevard number. Pause. "No, wait, no," he continued.
At the time, I wrote a HuffPost essay, criticising Spacey for turning what for some is still an angst-filled gay rite of passage into a joke. If someone with his level of success is afraid to declare, "Yep, I'm gay," or "No, I'm not," but rather dances around the subject with a mix of shame and disdain, what does that say to young gay people who are struggling with whether to come out?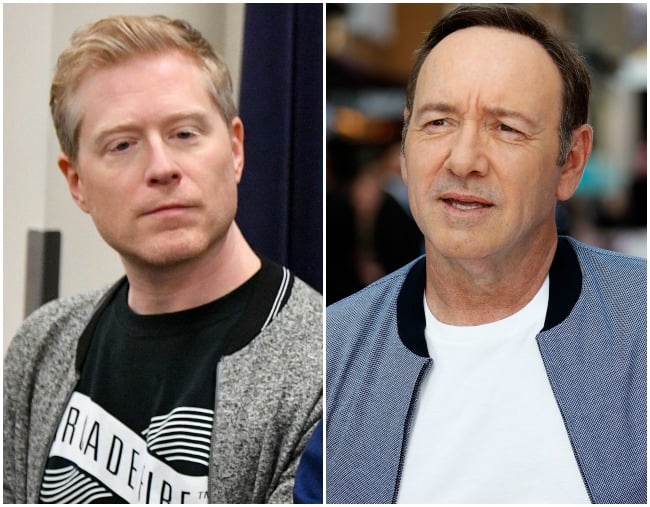 The comments to my essay were merciless. I was excoriated on Facebook for suggesting that a person's sexual orientation is even relevant to anyone else. His sexuality is his business. I should mind my own. Yada, yada, yada.
Now that Spacey, 58, has made it everyone's business on Twitter, I wonder what those commenters would have to say.
In an October 30 BuzzFeed article, veteran Broadway actor Anthony Rapp (Rent, Six Degrees of Separation), 46, alleged that Spacey made sexual advances toward him in 1986 when he was 14 years old and co-starring in the Broadway play Precious Sons.
In response, Spacey both tweeted a semi-apology to the alleged incident and came out of the closet. Finally. All it took was an accusation that he, like many Hollywood players before him, had used his position of power to solicit sex.