Back in June, Kevin Spacey used his opening monologue while hosting the Tony Awards to celebrate Broadway… and himself. The one-time Tony and two-time Academy Award winner took the occasion — entertainment's gayest night of the year — to lampoon longstanding rumours about his sexuality. I was disappointed, to say the least.
"I'm coming out," he sang, launching into a Sunset Boulevard number. Pause. "No, wait, no," he continued.
At the time, I wrote a HuffPost essay, criticising Spacey for turning what for some is still an angst-filled gay rite of passage into a joke. If someone with his level of success is afraid to declare, "Yep, I'm gay," or "No, I'm not," but rather dances around the subject with a mix of shame and disdain, what does that say to young gay people who are struggling with whether to come out?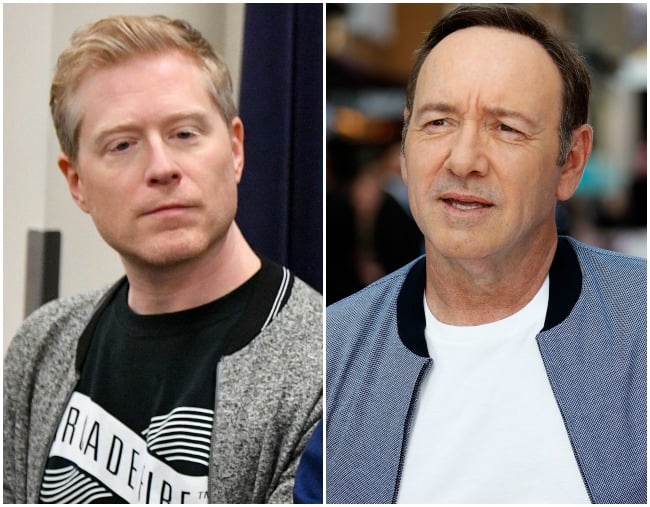 The comments to my essay were merciless. I was excoriated on Facebook for suggesting that a person's sexual orientation is even relevant to anyone else. His sexuality is his business. I should mind my own. Yada, yada, yada.
Now that Spacey, 58, has made it everyone's business on Twitter, I wonder what those commenters would have to say.
In an October 30 BuzzFeed article, veteran Broadway actor Anthony Rapp (Rent, Six Degrees of Separation), 46, alleged that Spacey made sexual advances toward him in 1986 when he was 14 years old and co-starring in the Broadway play Precious Sons.
In response, Spacey both tweeted a semi-apology to the alleged incident and came out of the closet. Finally. All it took was an accusation that he, like many Hollywood players before him, had used his position of power to solicit sex.
When I suggested that Spacey come out in lieu of dropping hints at the Tonys, this is not what I had in mind. Coming out only when you feel forced to do so does more harm than good. It suggests: "I was caught with my pants down. Oops. Can't hide it any longer." That's just what a teenager trying to figure out what it means to be gay needs. (Yes, I'm using Spacey-style sarcasm here.)
The negative implications of Spacey's message make my head hurt.
It only reinforces the negative stereotype of the sad gay man who spends his entire life publicly living a lie while pursuing sex in the shadows. Meanwhile, by linking his coming out to an alleged assault of a minor, he's inadvertently promoting the misguided notion that gay men are sexually obsessed deviants who chase after underage boys. Couldn't he just have come out at the Tonys and be done with it?
Spacey's timing is only part of the problem. The larger issue is that he allegedly did something that so significantly altered a teenager's life, yet he says he doesn't even remember the encounter.
As a sexual abuse survivor myself, I recently Googled the doctor who assaulted me 26 years ago and came across a photo of him and his wife. They looked so happy.
I'm sure he doesn't remember assaulting me either.
I was 22 when the doctor manhandled my genitals. As difficult as it was for me to process what had happened, I was mature enough to work my way through it. Rapp was only 14 at the time of the alleged incident with Spacey. Judging from his comments in the BuzzFeed article, his scars might cut deeper than mine.
Listen: The women of Mamamia Out Loud talk about what is happening in Hollywood...

It will be interesting to see what happens to Spacey's career now. It was recently announced that the sixth season of his Netflix series House of Cards will be its last. I've never watched the show, so I have nothing invested in its departure.
But I have a lot invested in the gay community and how others see us. The alleged sexual abuse is the big story here, the real tragedy. But by tying it to his coming out, Spacey has made a dangerous connection. He's given homophobes ammunition. Yes, straight men face such accusations too (we see you, Harvey Weinstein…and James Toback…and Roman Polanski…unfortunately), but we all know how hypocritical bigots can be.
For me, Spacey will always be the guy who came out not because he was proud of who he is but because he was embarrassed by what he's accused of doing.