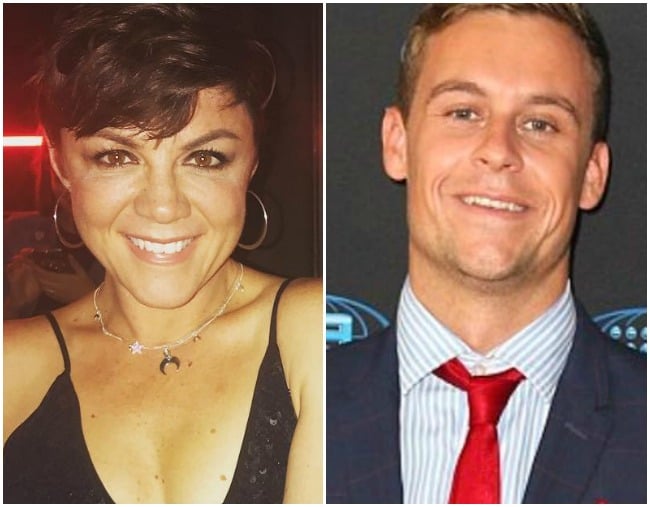 1. Married At First Sight's Ryan just got roasted by Em Rusciano and good lord we feel awkward.
When Davina's ex-MAFS husband Ryan Gallagher went on 2DayFM's Breakfast with Em, Grant and Ed to promote his upcoming comedy show in Melbourne, his interviewers were quick to dish out some 'tough love'.
A little bit of context first…
After choosing to switch careers from tradie to reality TV star to professional funny man, Gallagher is now nationally touring his Looking For Love tour, which plays in Sydney this Friday night.
Explaining that he's always been "that general idiot trying to make people laugh," Rusciano pushed back.
"Do you think that makes you a comedian though?" she pressed. "You know, everyone thinks they're funny … do you think after two months you get to say, 'I'm a stand-up comedian?'"
Trying to explain himself, Ryan admitted that it was a, "pretty touch gig".
Things then plunged about 43 levels of awkward with Rusciano replying, "Oh, is it? Sheez, I wish I understood. I have no idea what you're talking about … I've only slogged it out for a decade."
The co-host also said she thought it was just a bit weird for a "newcomer" to be given a national tour.
While Rusciano did concede her terse words were a bit "mean," she remained certain on one thing, warning him to "hold off on calling yourself a comedian for a bit."
Ouch. But also… totally fair enough.
2. Zoe Foster Blake on the "disgusting texts" she found on her ratbag ex's phone.
The saying goes you have to kiss a few toads before you find your prince, and Zoe Foster Blake has shared her experience with one such amphibian before meeting her husband Hamish Blake.
The 37-year-old author and beauty guru, who has just released her latest book Break-Up Boss, told OK! magazine she broke up with one of her ex-boyfriends when she found out he was cheating on her. And that would have been bad enough, if they hadn't have just arrived at the place they were going on holidays together.
"I found some truly disgusting texts to another girl in my then-boyfriend's phone," she explained.
"We had just arrived at our holiday destination and there were no flights home for a few days, so I made him sleep outside on a banana lounge until I could get out of there."
Awkward.
Speaking of breakups…
3. Ariana Grande and Mac Miller have broken up after two years together.
Ariana Grande and her boyfriend of two years, US rapper Mac Miller have split, according to TMZ.
The celebrity news site says "sources close to the two" told them the breakup was due to clashing, busy work schedules.
But as with most celebrity couples, Ariana and Mac are still "best friends" and "love each other dearly".
Is it bad that we wish just once a celebrity couple would say they broke up because they can't stand each other? That is bad, isn't it? Well, we're bad then.
4. Excuse us, Kris Jenner is releasing her own makeup collection and it honestly deserves a round of applause.
All hail Queen Kris.
The glue that binds the Kardashian/Jenner clan together, Kris Jenner, is jumping on the cosmetics bandwagon, and it's actually glorious.
First of all, she's taken over Kylie's @Kyliecosmetics Instagram account (because Mother's Day) and is releasing a limited-edition collection for the holiday. Oh, and it's momager themed.
From her Instagram stories, we can tell that there'll be a face palette, a range of liquid lipsticks (which includes the shade 'Middle Finger'), an eye shadow palette and two traditional lipsticks, the tubes of which are covered with a metallic, middle-finger print.
It looks like the products are dropping on Mothers Day's in the US, which given the 17-hour time difference means Aussies will have to wait until late evening to be able to hit 'add to cart'.
That's if it won't be an instant sell-out.
5. Blake Lively's hidden message for Ryan Reynolds and their two daughters at the Met Gala.
The Versace gown Blake Lively wore to the Met Gala had her on everyone's best-dressed lists, but a detail on her clutch went unnoticed until the fashion designer who created it posted a close up on their Instagram.
Hidden on the actress' custom Judith Leiber Seamless Sacred Heart clutch was a nod to her family. The design included a bejewelled version of the Reynolds family crest, with the initials of Blake, Ryan, and their daughters James and Ines.
To get a closer look, check out our full story.
For our list of the 'best dressed' from the 2018 Met Gala, watch below - a world of sequins, head dresses and embellishments await: