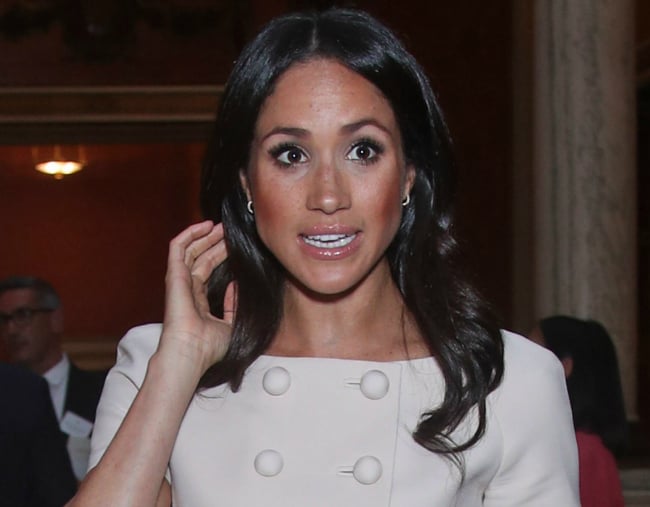 You might have seen the viral video of Meghan Markle greeting fans in which she allegedly sounds "British".
In the video, which was posted to Twitter on June 14, the Duchess greets her fans with a handshake, saying royal things like "thank you, I appreciate that" and "Good to meet you too, what's your name?" and while it's all very lovely and gentle, the internet suddenly made a bold observation: that she was speaking in a British accent.
yo meghan markle is losing her american accent omg

— sam (@skyvaIkers) July 3, 2018
I just watched a video that showed Meghan Markle starting to have a british accent and I'm so here for it you have no idea. ????????????

— M'lyn Miller (@mlyn_miller) July 5, 2018
Then, of course, people got mean about it.
Meghan Markle's fake British accent makes me so uncomfy.

— Kiara Provenzano (@Kiara_Pro) July 7, 2018
Meghan Markle is 100% faking that accent ????

— Danielle Hare (@daniellemhare) July 6, 2018
Meghan Markle is a lil phony for that fake British accent coming through

But if I became British royalty you'd see me day 2 saying pip pip cheerio

— Shan (@shoy_7) July 5, 2018
But there's just one problem: Markle's accent doesn't sound British. At all.
Listen closely:
Meghan said my name, that's me done???? pic.twitter.com/167F2ubjUh

— Aya El Zeiny (@elzeiny99) June 14, 2018
TELL ME WHERE SHE SOUNDS BRITISH. WHICH WORDS ARE PRONOUNCED IN A BRITISH WAY?
Here is what's really going on: Meghan Markle appears to be gentle by nature, and she is greeting these people in the soft, kind way that royals tend to. The internet, however, has made the mistake of conflating gentleness with Britishness, but anyone who's been to an English football game knows this isn't the case… at all.
The next mistake everyone seems to be making is that Meghan Markle should sound American. While she has, of course, been painted as the glamorous American actress marrying into the royal family, she's actually been living in Toronto, Canada filming Suits since 2011. So she isn't going to sound American, or British. She's most likely going to sound Canadian.
If you don't believe me, here is actual footage of an English person and a Canadian having a conversation.
Meghan Markle sounds a LOT like the Canadian, and absolutely nothing like the British person at all.
She hasn't adopted a British accent so soon, and it's definitely not on display in this recent viral video.
Sorry.