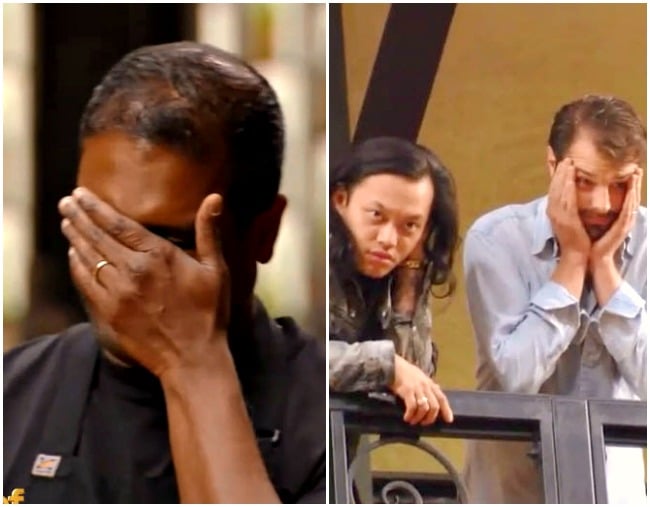 Pressure tests aren't called pressure tests for nothing, and Monday night's Masterchef elimination episode saw tensions literally on fire.
Fan favourite Sashi Cheliah was competing against fellow contestants, Chloe Carroll and Jess Liemantara, for a spot in the final four. And in a stressful moment, the 39-year-old set the fifth page of his recipe on fire, and wasn't allowed a second copy.
The cook-off dish, titled Sherried Marron, was set by chef Ashley Palmer-Watts, who works as the Chef Director of Melbourne's Dinner by Heston Blumenthal, highly regarded as one the best restaurants in the world.
The 10 page recipe for the marron, smoked mushroom and consomme dish (which looks like a clear soup) featured a taxing 90 steps and contestants had four hours and 45 minutes to make the intricate dish with the set amount of ingredients given. No more, no less.
However, 16 minutes into the episodes, disaster struck when a page of Sashi's recipe was set alight on the stove top.
You can watch the nail-biting moment here:
It was a tense moment for fans with many sharing their panicked states on Twitter.
#MasterChefAU @sashi_cheliah's recipe on fire. pic.twitter.com/jvpLdVT3dC

— Kym Spicer* (not an octopus or Sarah) (@KymSpicer) July 23, 2018
I hope Sashi kept pg 6 of his recipe away from the ad break fire blast… #MasterChefAU

— Dean Koorey (@deankoorey) July 23, 2018
Sashi setting his recipe on fire is the most exciting thing that's happened in the kitchen this season #MasterChefau

— Nez (@fraggle73) July 23, 2018
Telling myself that Sashi is so confident in his abilities to beat Jess and Chloe that he purposely set the recipe on fire to make it a challenge #MasterchefAU pic.twitter.com/4QR5bL7UHO

— Mark Cecil (@SucCess0783) July 23, 2018
Literally watched the @masterchefau result tonight through my hands like this ???? And after that recipe on fire.. literally! @sashi_cheliah don't do that to us again! Phew! Now go win it! ????????

— Nidhi (@Happy_kiddo) July 23, 2018
"Did you need that?" – Ben asking a pressing question on @sashi_cheliah's burnt recipe.

No Ben… Why would he need part of the recipe?#MasterChefAU #bensays

— Kym Spicer* (not an octopus or Sarah) (@KymSpicer) July 23, 2018
@masterchefau @sashi_cheliah OMG….. your stress levels?? What about us? You can set a recipe on fire and still succeed? Thank you!

— Muscalex (@Muscalex) July 23, 2018
Omg I just turned the tv on and Sashi's set the recipe on fire!!! What the hell is going on? #MasterChefAU

— True Krys (@heartmadeofsoul) July 23, 2018
If Sashi goes out on the back of having to cook the dish with half a recipe, then I'm boycotting #masterchefau forever

— Lynn Kyaw (@lynnskyaw) July 23, 2018
I hope Sashi smashes the 2 with half a flipping recipe. #MasterchefAU

— ViVi B (@ViVi_RFObsessed) July 23, 2018
Ok fess up…Who was the show runner that nudged Sashi's recipe under the burner after instructions from the producer.

— Marko (@AusLoafer) July 23, 2018
Fans were angered further when it became apparent that Sashi would not be given another recipe. Luckily, fellow contestant Jess shared her page of the recipe, which meant Sashi was able to finish his mushroom consomme, earning her the praise of fans watching at home.
Hey @masterchefau, why can't @sashi_cheliah get another recipe? It's not breaking any rules by giving him a new one. #WhySoStingy#ItsJustAPcOfPaper#MasterChefAU
Good luck Sashi pic.twitter.com/eYsLFg1Kud

— Jade é Rabbit (@JadeZRabbit) July 23, 2018
Why is it allowed for Jess to get reminders from the gantry, but Sashi not allowed another copy of the recipe? #MasterChefAU

— Amanda (@tartanthermos) July 23, 2018
It's an elimination and there's still great team spirit with @_jesslemon_ giving @sashi_cheliah a recipe page to look at!! Much respect ✊ @masterchefau

— Shannen Elliott (@shannen_elliott) July 23, 2018
In the end, Sashi's flavourful broth managed to keep him in the competition and Chloe was sadly eliminated. Fans immediately shared their relief on Twitter.
I think the entire fanbase took a massive sigh of relief today #MasterChefAU

— Anika (@anika_gupta) July 23, 2018
@sashi_cheliah CONGRATS MATE! You better win this thing! Pls don't burn any more recipes. I nearly had a heart attack. ???? #MasterchefAU

— Nish (@nishyjay) July 23, 2018
@_jesslemon_ thank you so much for sharing your recipe with me today you are an amazing human being with great personality. https://t.co/HrNcHz9hG9

— sashi_cheliah (@sashi_cheliah) July 23, 2018