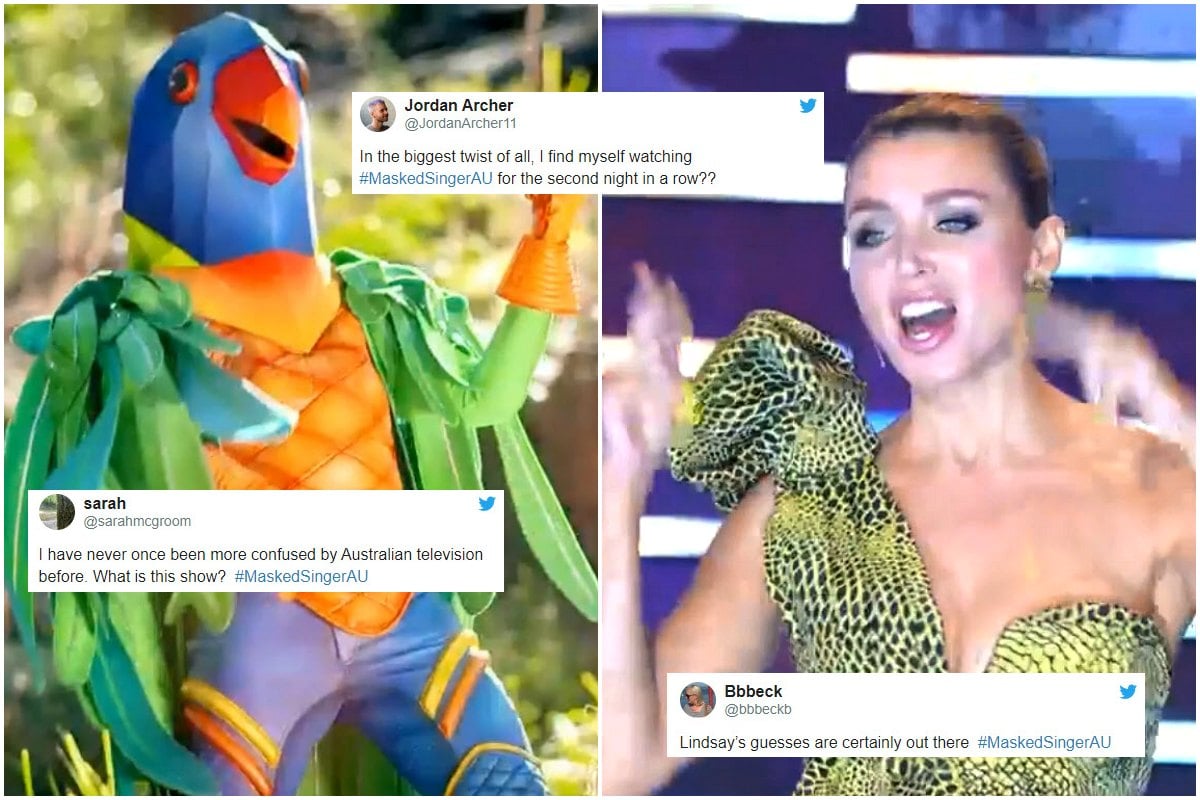 Forget about rose ceremonies, tribal council and mystery box challenges, Australia has a new favourite pastime.
And it's watching The Masked Singer.
It involves quite frankly ridiculous disguises, undercover celebrities known only as Lion, Parrot, and Dragon, and an unlikely friendship between international actress, Lindsay Lohan, and our very own Dave Hughes.
It's weird – we know – but we like it a lot.
Watch Parrot sing 'What's My Scene' by Hoodoo Gurus. Post continues below.
In the second episode of The Masked Singer we watched another six, masked celebrities sing their heart outs. Dragon sang a fiery rendition of Sheppard's 'Geronimo', however he was bested by Monster, who dazzled with 'Think' by Aretha Franklin. Spider's mysterious performance of Britney Spear's 'Toxic', reigned supreme over Parrot, who busted out the Aussie pub rock classic, 'What's My Scene' by Hoodoo Gurus, and Lion singing 'High Hopes' by Panic! At The Disco ensured her rise to victory, meaning Rhino's cover of 'Shotgun' by George Ezra just didn't cut it.
Ultimately, Parrot was eliminated and forced to reveal their identity. It was none other than Aussie cricket star Brett Lee, and you better believe Australia was shook-eth. The 42-year-old was known as Australian's fastest bowler – meaning that Dannii Minogue and Dave Hughes were pretty close with their guess of Shane Warne.
This is how the nation responded.
In the biggest twist of all, I find myself watching #MaskedSingerAU for the second night in a row??

— Jordan Archer (@JordanArcher11) September 24, 2019