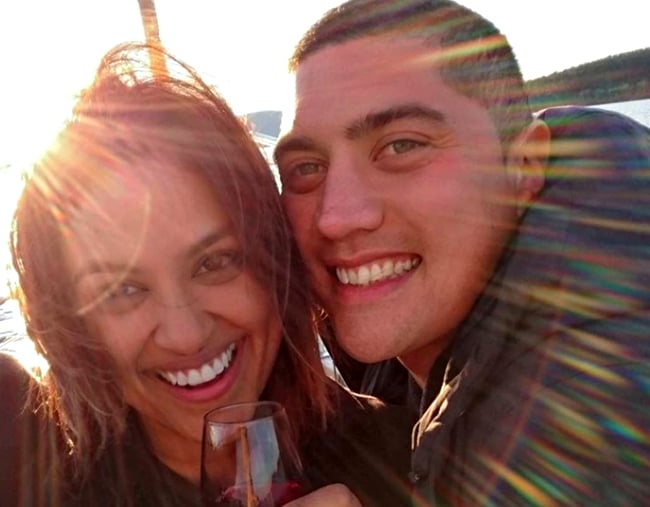 1. One Married at First Sight couple is (probably) planning to get married for real and HALLE-FREAKIN'-LUJAH.
It turns out all those months of emotional energy invested in this years' season of Married At First Sight weren't for nothing.
In other words, it would appear just one lone couple (couple swaps don't count) has come out the other side of the reality TV dating show without hating each others' guts. In fact, they might be planning a real-life, legally binding wedding. Maybe.
That couple would be John and Melissa, the legends.
After returning to MAFS for a second chance at love (because unfortunately he is not Polynesian), John (54) was matched with Melissa (53) who he has described as being the "woman of (his) dreams".
But in spite of whispers of a breakup, an insider has told Woman's Day the pair, who have both been married before, are considering making their 'fake marriage' official.
"Marriage was never really on the cards for John and Mel again, but after the show they've really started to consider the idea," they, whoever they are, said.
As for where this alleged wedding would take place? The insider said the Mornington Peninsula would be their dream destination. Lovely. Just lovely.
Although neither John nor Melissa have confirmed this wedding news, gee we hope it's true.
Please.
2. We're only one night in but Flo may or may not have been kicked off Bachelor in Paradise.
Sooo we're only one night into Bachelor in Paradise, but arguably the most popular person on the island Florence 'Flo' Moerenhout may or may not have been kicked off.
A source has told New Idea (we know, we know) that in footage we're yet to see, security were called in to escort the former Bachelor contestant off the island after a particularly traumatic meltdown.
"This is nothing like the Florence people have seen before," the source said. By 'people', we assume they mean those of us who watched Flo being a legend on Matty J's season of The Bachelor last year.
The source went on to say this alleged meltdown took place because of her history with fellow contestant Jake Ellis. As in the 'everyone has a Jake Ellis story' Jake Ellis.
"I think she thought they would just take off where they left things, but that didn't go her way," added the source, claiming "tears and name calling" were also involved in said meltdown.
To be honest, none of this would surprise us if it does turn out to be true.
Partly because, don't all meltdowns include tears and name calling? But also because, well, did you watch last night's episode? We'd 100 per cent throw some coconuts if we were Flo too.
Side note – here's a throwback of all the current Bachelor in Paradise contestants. Just because. Post continues after video.
3. New details emerge surrounding Steve Jacobs' ugly split with wife Rose.

We don't even know where to start with this one.
So much has happened since Steve Jacobs and his wife of eight years, Rose Jacobs, announced their split last week.
From everything we've heard so far, the split has, uh, reportedly not been a nice one. Rose was forced to take out an AVO against the 51-year-old, after they moved to Vanuatu in 2016, and now new details have emerged about what was contained in the court documents.
According to Daily Mail, friends of the couple told Woman's Day that Steve was allegedly extremely controlling and aggressive throughout his marriage to the 39-year-old.
"He's changed passwords on her phone, stolen her diary and chased her down the street in Coogee. He controlled all the finances," claimed a source.
According to the court documents, Steve's behaviour ultimately forced Rose and the couple's two young daughters out of their family home, and prompted her to take out an AVO against him.
While exchanging care of their daughters last year, the former Today weatherman reportedly told his wife, "You're poison."
He's also alleged to have gotten into a fight with Rose's new partner, Canadian soldier Dylan Nash, at a Vanuatu gym.
"The gym was pretty busy and Dylan was standing there talking to someone when all of a sudden Stevie came up to him," a source allegedly told Daily Mail.
"Dylan's well over six-foot and Stevie's obviously much smaller, but he went up to him and shouted something about moving in on his wife."
The story continues to develop, but it's been a heartbreaking one so far.
4. We knew it, another Married at First Sight couple – Patrick and Charlene – have confirmed their split.

They insisted they were still together during an appearance on the AFL Footy Show, but it turns out Married At First Sight's Patrick Miller and Charlene Perera are no longer a thing.
Patrick confirmed the pair's split on Instagram, writing:
"Charlene – my heartfelt wishes for you on your journey for love as we embark on our lives post MAFS… as also the journey for love will also continue in mine… I wish nothing but the best for you and your future."
Patrick's post comes days after Charlene appeared to confirm the breakup, also on Instagram.
"Patrick, we did so well, what an a amazing team we were! Thank you for this incredible ride – looking forward to a lifetime of friendship," Charlene wrote.
Again, this is even more reason John and Melissa should get married for real.
5. All the juicy bits from Stormy Daniels 60 Minutes interview about her alleged affair with Donald Trump.
In a highly-anticipated 60 Minutes interview with Anderson Cooper that could cost her millions in legal fines, 39-year-old porn actress Stormy Daniels has revealed all about her alleged relationship with President Donald Trump.
And it's bloody juicy. And X-rated.
Speaking to Cooper, Daniels said she had unprotected sex with Trump and spanked him with a Forbes magazine that had his face on the cover, even though she wasn't physically attracted to him. Yeah.
Daniels first met Trump at a celebrity golf tournament in Lake Tahoe in 2006, not long after Donald and Melania Trump's son Barron was born. According to Daniels, Trump said she was "special" and "reminded him" of his daughter, Ivanka, because she was "smart" and "beautiful".
Speaking of Trump's efforts to keep her quiet, Daniels said she agreed to sell her one-night-stand story to In Touch Weekly for $15,000 USD in 2011. That is, until she was threatened.
"A guy walked up to me and said to me, 'Leave Trump alone. Forget the story'," she said.
"He leaned around and looked at my daughter and said, 'That's a beautiful little girl. It'd be a shame if something happened to her mum'," she recalled.
In 2016, just days before the presidential election, Daniels was also offered $130,000 in hush money. She signed the deal as she feared for her family and their safety.
And so the Trump plot thickens. If that's even still possible at this stage.
P.S. We unpacked a hectic week which saw Trump fire Andrew McCabe, and congratulate Vladimir Putin on his 'election win' below.