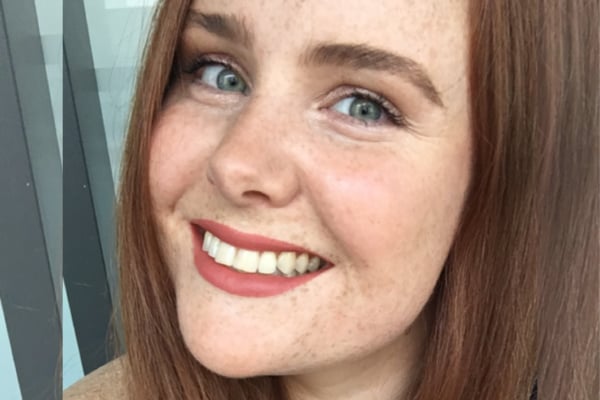 This wonderful nugget of beauty wisdom comes courtesy of Mamamia's beauty podcast, You Beauty. 
For this week's In Her Bag, Leigh Campbell rummaged through Amy Clark's beauty bag to find out what products she loves.
Amy Clark is a Lifestyle Content Producer here at Mamamia. You'll often find her face on the website road testing new and interesting beauty products, and ~attempting~ the latest hair and makeup trends to see how they look in real life.
Listen to Amy's full interview on You Beauty below. To ensure you never miss an episode, listen to You Beauty here for free. It's a blast.

As a redhead with a face full of orange freckles, redness is my biggest skincare concern. I really don't need anymore red on or around my face than what's already there, you feel me?
Hence, I've tried a lot of colour correcting creams (CC creams) in an effort to knock the redness out of my cheeks. And chin. And nose.
When my boss, Mamamia's executive editor and beauty journalist Leigh Campbell, interviewed me on the You Beauty podcast, I was delighted to share the anti-redness primer a.k.a the green CC cream that  I use to fix my red face every day, along with the other beauty products I tend to reach for.
Now, I'll proceed to refer to myself in the third person to recap the beauty products Leigh found when she went rummaging through my beauty bag.
Amy's go-to beauty products.