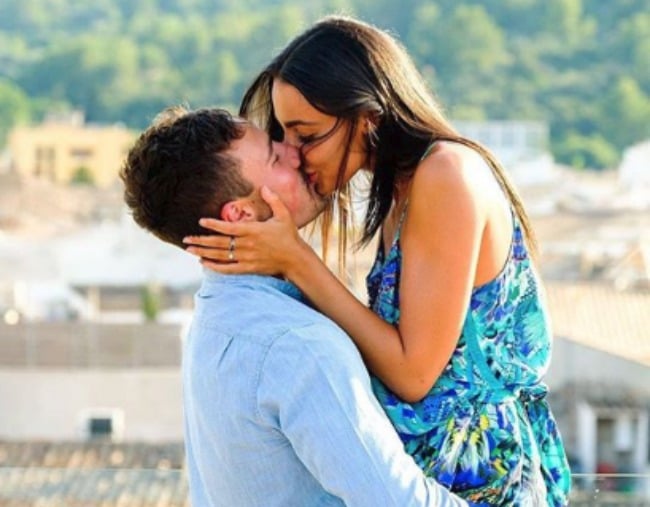 After just one week and six days together, Love Island Australia winners Grant Kemp and Taylor Damir have split up.
Announced yesterday on an Instagram post shared by Love Island Australia, Grant commented, "This is news to me??".
Uh, awkward.
Grant, 22, was rumoured to have a secret girlfriend outside the Spanish Love Island villa, leading fans to believe that this may have been the cause behind the couple's immediate break-up.
But speaking to Kyle and Jackie O on KIIS FM's breakfast show this morning, Tayla and Grant each had a very different idea of what had caused the relationship to end.
"We had a little argument that eventually blew out and unfortunately, it's come to this," Grant said on air this morning.
Grant said that while the argument had blown out of proportion, he thought he'd be able to work things out with Tayla – hence his surprise when he saw Tayla's Instagram post just 24 hours after their argument.
"It's broken my heart, it's a bit unexpected but what do you do," he said.
According to Grant, his ex-girlfriend was one of the reasons behind the couple's arguments but he maintains that he wasn't with her when he entered the villa. He says he hasn't been able to get in contact with Tayla since the break-up.
"I wish I could call her and talk to her… it's bloody hard," Grant told the radio hosts.
"I still do love the girl… I will try my best to win her back."
While Grant says he is heartbroken and hoping to 'win' Tayla back, she shared a completely different story to what happened behind the break-up.
"I've tried to contact him… he's ignoring my messages," the 21-year-old said on air.
She later added that Grant, who she says is a compulsive liar, has even blocked her on Instagram.
Watch: All the best moments from Love Island Australia.
"I'm the heartbroken one considering it's me that's been through the ringer… I've given him the 10 days to try and repair it and it hasn't been repaired," Tayla said.
"It's really sad that he has to continue to hurt me."
Tayla admitted to Kyle and Jackie that there was an ex-girlfriend in the picture, adding that she had been "running [Grant's] business while he was on the show".
"I am now looked at by so many young girls," Tayla continued. "I'm not gonna teach these girls that its okay to be lied and manipulated… it's not normal to go through something like that."
The couple took home $50,000 earlier this month when they were voted Australia's favourite couple on Love Island.
What do you think? Is Grant full of Crapp or is it Tayla that's lying?
Thank you - just by clicking on this and other content on Mamamia, you are helping to fund education for some of the world's most disadvantaged girls.
Together with our commercial clients and charity partner Room to Read, Mamamia's goal is to be funding 1,000 girls in school each and every day, by June 2020.
Learn more here about our ongoing mission to make the world a better place for women and girls.