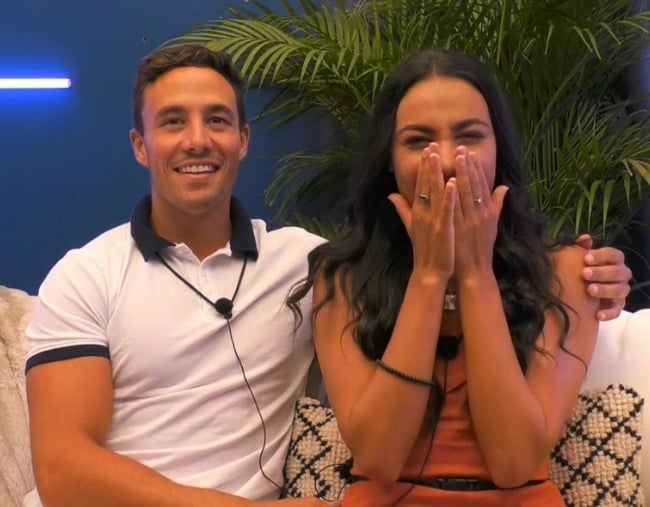 They're the newly crowned winners of Love Island, and emotions are still running high for Tayla Damir and Grant Crapp.
Speaking to Mamamia, the couple said they were not expecting to take out the number one spot, with Tayla saying they were still "pinching themselves", while Grant called it "surreal".
But with Grant, 22, currently based in Canberra, while Tayla, 21, lives over in Perth, many are probably wondering how they'll make their long distance relationship work outside of the villa.
Tayla said it's something they discussed early on in their relationship.
"We had that discussion pretty early. We were like, if we're going to do this and it works and we end up falling in love, what's our plan?" she explained.
"We went through it all and had pretty in-depth conversations. We're just excited about the future."
Grant and Tayla said they've both decided to relocate to Sydney, as it makes the most sense for them.
"We've decided on Sydney. I want to get some work in Sydney. I've got a degree in broadcasting journalism, so something presenting-wise, and I think Sydney is a great place to be for that," said Tayla.
"I'm an electrician, and I've also got my own clothing brand, so I can go anywhere," added Grant.
The couple said their prize money will also come in handy whenever they're feeling a little bit homesick.
"Some of that money will be for us to go back and forth, visiting family, and so that we can meet each other's friends and see each other's lives," said Tayla.
While they're not sure exactly when they'll make the big move, Grant is keen for it to happen as soon as possible.
"As soon as we get out of here," he said.
"I want to try and make that happen as soon as we can."
And if you're thinking it's all happening a little bit fast, the couple said the experience of being on Love Island has prepared them for anything that might come their way.
"If we didn't move in together, we'd feel like we were going backwards," explained Tayla.
"When I say one day feels like a week in the villa, I'm honestly not exaggerating. It is crazy how much can happen in a day. It feels like we've already been together for a year now."
Grant said the show "tested" everyone on it, while Tayla said "emotions are heightened".
This may explain fellow contestant Erin Barnett's backhanded comments about brunettes with small boobs being "ugly".
"I think it was aimed at Millie [Fuller], and Millie knew that as well. But I'm proud to be part of the itty bitty titty committee!" laughed Tayla.
"Everybody makes comments at times, and if she wants to bag people out for having brunette hair and no boobs, then go for your life! I'm confident in what I look like."
Speaking of boobs, Tayla said she may have inadvertently flashed everyone during the excitement of winning.
"There was a moment straight after we won where Grant ripped my dress. Out of excitement, he busted my dress, so that was fun for everybody to see," she explained.
"Typical Grant. I told him all night, 'Babe, you've got to be so careful of my dress.' He behaved all night, and then all of a sudden, he picked me up and I was like, 'Noooo! My dress!' I think I grabbed it pretty quickly, but the audience that was there would have definitely seen a nip slip.
"But who cares, because apparently I've got no boobs anyway!"