Eagle-eyed fans are convinced that Khloe Kardashian is hiding her engagement ring.
Just two months after Tristan's controversial cheating scandal broke, the pair have reportedly been spotted at a friend's birthday dinner with Khloe sporting a huge diamond ring on her left hand.
It's not certain, however, whether the bling was an engagement ring, a gift for Khloe's birthday earlier this week or simply a new piece of jewellery the reality star bought herself.
But there's one factor that makes the mystery behind Khloe's new ring all the more suspicious.
As People pointed out, just days after being papped in Los Angeles wearing her new ring, Kim Kardashian shared a picture of the two of them together with Khloe's daughter True, five weeks old, and Kim's daughter Chicago, five months old.
In the picture shared to Instagram, Khloe appears to cover up her left hand, while holding her daughter and niece together – conveniently hiding her ring finger.
It's not the only time Khloe has concealed her ring finger since the papped photos were released.
At her 34th birthday celebrations with family and friends, Khloe didn't show her left hand at all.
In a photo shared by Kendall Jenner from Khloe's birthday, Khloe's hands were cropped out altogether.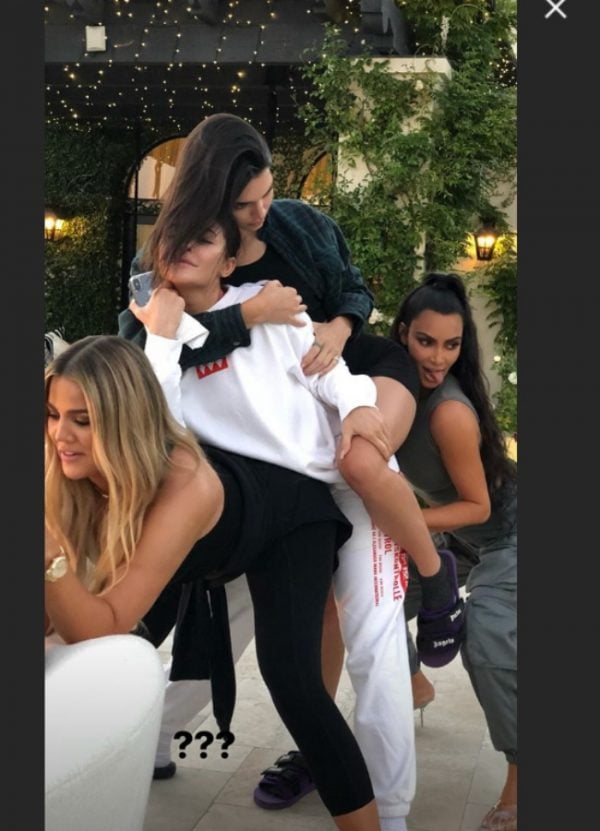 And in another clip posted to Kim Kardashian's Instagram story, Khloe opened up a gift, a new Balenciaga handbag, with no ring in sight.
Khloe also hid her ring finger in a photo shared on her Instagram earlier this week.
Suspicious, right?!
Khloe and Tristan first started dating back in mid-2016.
In April, a cheating scandal erupted when video footage of the basketball player apparently cheating on Khloe with multiple women emerged. The news broke just days before the couple welcomed their first child True Thompson together.