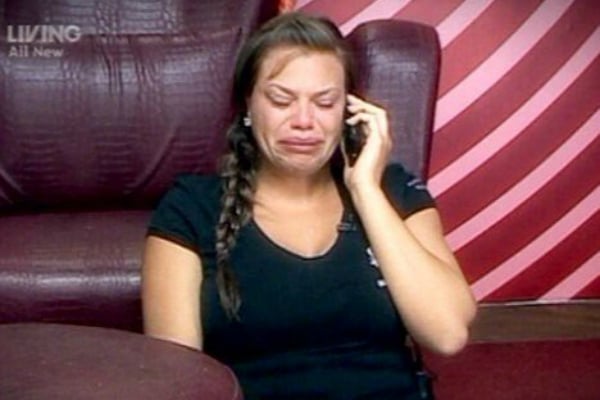 On day two of British reality TV star Jade Goody's appearance on the Indian version of Big Brother, Bigg Boss, she was called to the Diary Room.
The 27-year-old probably thought she was going to be given a fun task or asked a leading question about one of her fellow housemates.
Instead, she was handed a phone and told her doctor from back home in London was on the other end.
Watch the trailer for 'Jade: The Reality Star Who Changed Britain'. Post continues after video.
While cameras rolled, the mum-of-two was given devastating news. The results of medical tests she'd undergone before flying to India were in –  and she had cervical cancer.
In the third and final part of new documentary series 'Jade: The Reality Star Who Change Britain", it's revealed Goody had no idea she was being filmed as she sobbed, asking her doctor: "Are you sure someone's not lying or playing a joke on me?"
"I was very mad. I told the production: no camera, no sound," Goody's handler said in the documentary as the footage played out for the first time.
Before that, much of Goody's life had been lived in the spotlight. She'd made her first reality TV appearance on UK Big Brother in 2002, when she was just 20 years old.
Then, reality TV was still very new and no one had seen anyone like her before.
As well as rolling around in bed with fellow contestant PJ and getting naked during a drinking game, Goody became famous for her daft questions.
"Rio de Janeiro, ain't that a person?" she famously asked. "Do they speak Portuganese in Portugal? I thought Portugal was in Spain."