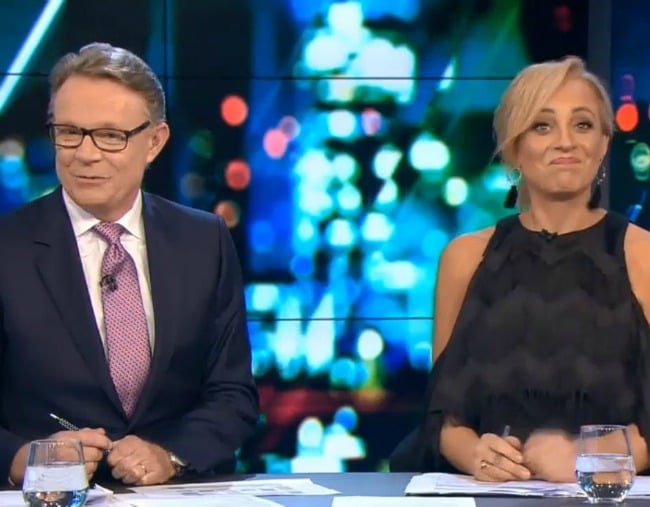 There's a basic protocol when it comes to television interviews that a guest will go on-screen, stay for their segment and leave.
It's pretty standard… unless you're Tom Gleeson.
Currently on a campaign to win Grant Denyer the Gold Logie Award for Most Popular Personality on Australian Television as host of the now-axed Family Feud, the comedian and host of The Weekly's 'Hard Chat' segment went on The Project to plead his case.
And just… stayed.
Wearing a T-shirt that said 'Vote Denyer 4 Gold,' the 44-year-old spoke passionately about his mission.
"I used to be angry at the Logies, because Denyer was voted for Gold for the popular personality on TV for a game show that has been axed due to low ratings on the third highest rating network and I thought this is idiotic," he said.
"Then I thought why get angry, when you can get behind the poor little bastard, so I thought let's get him the Gold Logie because it's perfect.
"Let's push the Logies to its most absurd extreme ever and give the Gold Logie to a guy that doesn't have a TV show. It's beautiful."
Speaking about his dedication, Gleeson said he would continue campaigning until the Logies this Sunday and implored The Project to help.
"I'm going to campaign all the way up to the red carpet," he promised. "I'm going to keep campaigning whether Grant wants me to or not."
"I need The Project on board because you've got reach, you've got social media reach.
"I want Waleed to sign back up to Twitter and say here's something we've got to talk about, Denyer for Gold."
Watch a clip of the awkward, but hilarious, segment here:
But rant and promotion finished, Gleeson continued to stay on the desk... despite the pleas from the hosts.
"You really need to go" said Carrie Bickmore... twice.
"You've got to go mate," added Peter Helliar.
Not budging, Gleeson just kind of remained on for the next segment with Aussie band, The Rubens... He even got lead singers Sam and Elliott Margin to admit their support for Denyer too.
All in a day's work?
DENYER 4 GOLD! DENYER 4 GOLD! DENYER 4 GOLD! DENYER 4 GOLD! #Denyer4Goldpic.twitter.com/s42LJdM1Ub

— Tom Gleeson (@nonstoptom) June 28, 2018
Gleeson first pledged to win Denyer the gold when the game show host appeared on Hard Chat, and after a few rounds of roasting him, Gleeson had a sudden change of heart.
He then launched a national campaign, with the hashtag #Denyer4Gold, which so far has earned the backing of celebrities such as Sandra Sully, Charlie Pickering and host of Studio 10 - Sarah Harris.
But we'll have to wait until Sunday to find out if all of his hard work will pay off.