1. The Wiggles share the first photo of Lachy and Emma since their split.
Hi kids! Today we're going to learn about how to model a respectful, mature breakup in the public eye. Can you say "Lachy and Emma"?
Yes, though The Wiggles' Lachlan Gillepsie and Emma Watkins called an end to their two-year marriage last week, they appear to be staying true to their intention to continue a close, civil working relationship.
A picture shared to The Wiggles' Instagram today captures the former couple smiling alongside each other at an event: "Consulting with educators from Macquarie University for the new Emma TV series to create some wonderful inclusive cultural experiences!" the caption read.
Announcing the split on Friday, the 28-year-old assured fans that though she and Lachlan "have chosen a different path to travel in our personal lives", they would continue to perform together.
"What we have discovered is that, more than ever, first and foremost we love and adore performing as Emma and Lachy in The Wiggles and having the privilege of celebrating this happiness with extraordinary families around the world," she wrote on social media.
"Please know that we are stronger than ever and we can't wait to see you at a show soon."
2. Everyone can calm down, Pink has announced her new show dates.
THANK GOD.
After being admitted to hospital earlier this week and cancelling multiple Australian shows, Pink has finally announced her re-scheduled tour dates.
Four of the 38-year-old's Sydney shows have been rescheduled to later dates and an upcoming Brisbane show has also been rescheduled to accommodate the changes in Sydney.
You can check out the changes here:
Sydney: Friday, August 3 show moved to Friday, August 24
Sydney: Monday, August 6 show moved to Monday, September 17
Sydney: Tuesday, August 7 show moved to Tuesday, September 18
Sydney: Thursday, August 9 show moved to Wednesday, September 19
Brisbane: Thursday, August 23 show moved to Wednesday, August 22
Fans of the pop star were left upset on Monday, when Pink's Sydney show was cancelled just an hour and a half before the doors to the venue opened.
I get that @Pink is sick but how are they allowed to cancel a show half an hour before doors open
We have family friends with us and it was her daughters first concert and now we are both hysterically crying and through my tears I'm trying to cheer up a heartbroken 5 year old

— Em (@nandoscarrotcat) August 6, 2018
What about us, waiting here @ Qudos arena????very incompetent????????‍♀️ can't believe she couldn't have the decency 2 cancel this morning not 2 hours b4 her concert,money,accommodations, time off work,babysitters,travel cost & the list goes on, pissed off with the late notice @Pink

— K8Y (@K8Y69) August 6, 2018
"I was discharged from hospital last night, and am following doctors order of liquids and rest," the mum-of-two explained.
"I need to be physically healthy and well in order to perform this show. I think all of you deserve the full show and me at my best."
3. More Bachelor in Paradise stars weigh in on Sam and Tara's public feud.

Tara Pavlovic and Sam Cochrane have each shared their version of their very public breakup on social media and in interviews.
And now their fellow Bachelor in Paradise alums have let us know what side they're on.
On Tuesday, Leah Costa posted a message of support to Sam on her Instagram story.
"Sending you bulk love and Fiji vibes @SamualCochrane," she began, before taking a swipe at Tara's supporters.
"Ignore the little people with the big opinions.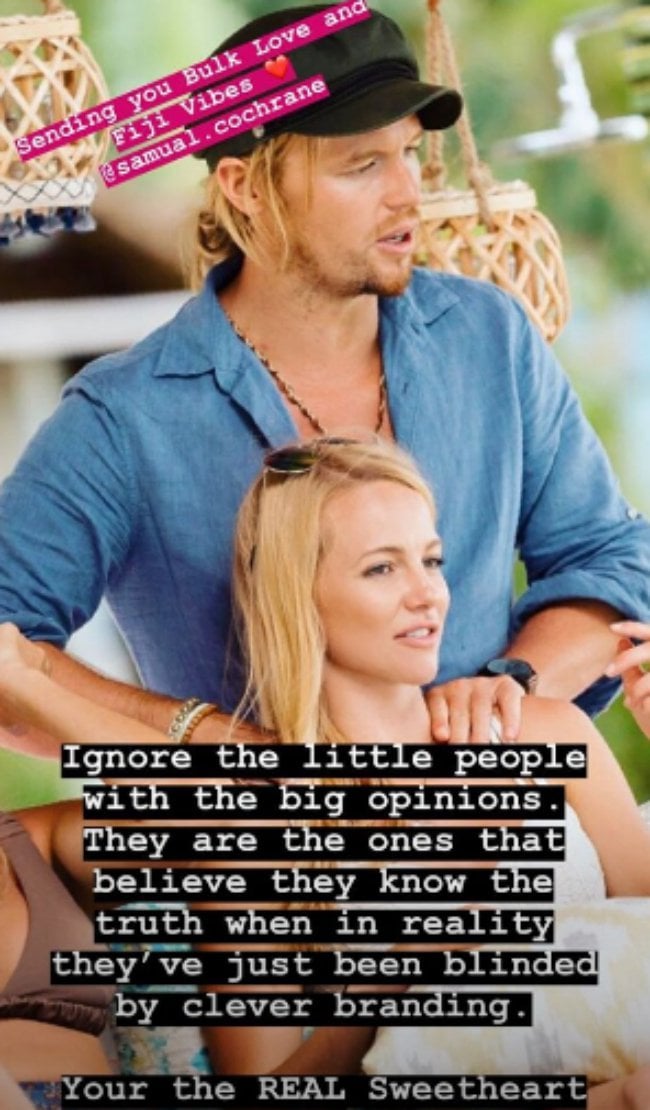 "They are the ones that believe they know the truth when in reality they've just been blinded by clever branding.
"Your (sic) the REAL sweetheart."
Jen Hawke also sent a supportive message to Sam.
"Sending you lots of love Sammy, you're a genuine and beautiful soul. Head up champ x," she commented on one of his Instagram posts.
Earlier this week, Elora Murger told the Daily Mail she thought Sam had made the right decision to end things with Tara.
"I think Sam and Tara had the pressure to try and make it work for a little bit and he made the right decision for his heart. He wasn't happy," she said.
"I went through a similar experience with an ex recently and it's just really s**t when a person is just not for you. It's hard to get out of, and once you're out of it, it does have to be a clean cut."
On Tuesday, former Bachelor star Sian Kelly shared clips to Instagram of Sam begging Tara to forgive him.
"Don't publicly humiliate my friend when we all know damn well how you feel about her," she captioned the post.
"I know what [Tara] has been through since she was little and over my dead body am I going to allow some petty little boy dare tarnish what she has worked so hard for and what she truly f**king deserves," she added.
The saga continues...
4. With just one cutting sentence, Kim Kardashian pretty much announced the end of her sister's relationship.

Kourtney Kardashian's relationship with Younes Bendjima is well and truly over, if the social media shade from her sisters is anything to go by.
Younes took to Instagram to deny speculation he was seeing someone else after he was photographed getting close with model Jordan Ozuna in Mexico.
"Once again you guys failed. I'm not attached to this 'life' so you can't touch me," he wrote of his Instagram story.
"I know who I am where I'm from and where I'm going and that bothers you. Only one opinion matter the one of my Lord. Have a wonderful day."
The Shade Room posted a screenshot of the story, and Kim wasted no time in calling him out.
"Nice pics from your 'boys trip'," she wrote. Burn.
And it's not just Kim he has to deal with!
Khloe commented on a The Shade Room screenshot of another of Younes' stories, writing "Alexa play 'heard it all before' by Sunshine Anderson."
You mess with one Kardashian, you mess with them all.
5. Madeleine West and Shannon Bennett have shared a photo addressing the "end" of their 13 year relationship.

Celebrity chef, Shannon Bennett, has addressed rumours of a split with his partner of 13 years, former Neighbours star Madeleine West, by posting a supportive photo of her to his Instagram.
Bennett, who appears on MasterChef as a judge, was seemingly a proud partner as he explained in the caption that West was reading one of her children's books from the Lily D, V.A.P series, to children at an event.
Bennett also mentioned that his restaurant, Vue de monde, would be hosting an upcoming event with Audi celebrating the books.
The post comes after Woman's Day reported on Monday that Bennett and West had separated approximately a month ago.
"Nobody knows what went wrong but whatever happened, it's sad. They have such a beautiful family," a source reportedly told the Woman's Day.
The couple have six children aged between three and 12; Phoenix, Hendrix, Xascha, Xanthe and twins Xalia and Margaux.