Cara Delevingne has undergone a radical hair transformation, snipping her long locks into a short pixie cut and dying it a faded pink.
After teasing that she was going to shave her head for her new role in the movie Life in a Year, the actress posted a photo of her new 'do to Insta this morning and fans are loving it.
"YOUR HAIR IS SO INCREDIBLE OH MY GOODNESS WOW I CANT EVEN PROCESS WOW OH WOW AHHHH SO AMAZING," wrote one excited fan.
"I dig the new look. Looks good on you," wrote another.
This is not the first new look the actress and model has tried this year, only last month she revealed a icy, platinum blonde bob.
The Suicide Squad actress posted a photo to her Instagram Story Thursday night of a heaping mass of hair on the floor, which had several fans convinced she went under the razor.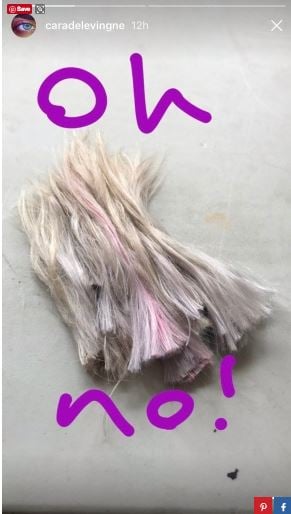 And in March, she told USA Today that she'll have to shave her head for the upcoming film, which also stars Jaden Smith.
So it's completely possible she could be easing her way into going under the razor, first with the bob, and now with this little pixie cut. I guess we'll just have to wait and see.
Stay tuned.