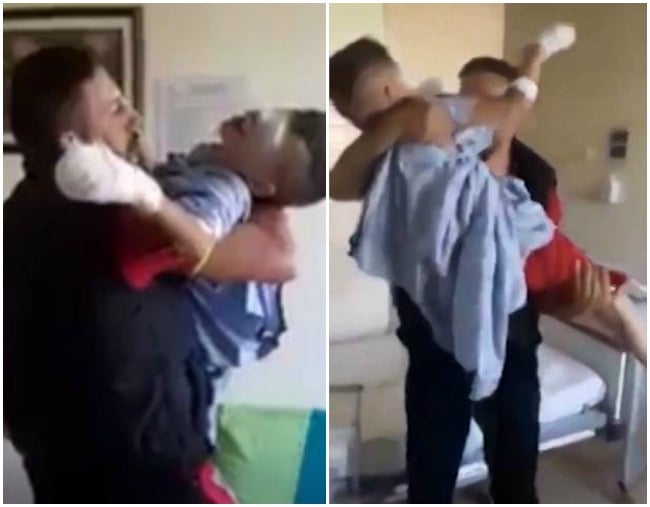 The sheer terror in a 10-year-old boy's voice as he wakes up to discover he was blinded is enough to make anyone weep.
It's the kind of terror that we, in Australia, are untouched by, but should not cast our eyes from.
The Syrian child, named as Abdul Moeen al-Hassan, reportedly lost his eyesight when a landmine exploded near his home in Syria. He was playing at the time of the blast, on the first day of Ramadan.
Abdul's family, originally from Homs province, was displaced by the war and ended up in Afrin, near the Turkish border, AJ+ reports.
It's understood that after he was wounded, Abdul was taken across to Turkey for treatment in hospital.
Abdul was being filmed as he woke up from an operation, and it's this heartbreaking video that has gone viral.
This Syrian father comforts his son who was blinded by a landmine explosion. pic.twitter.com/QeemtfRos3

— AJ+ (@ajplus) June 13, 2018
The child wakes up traumatised, screaming and yelling "Dad". His devastated father gently cradles him, trying to comfort his distraught son. But the boy's howls continue to pierce the room.
"What do you need?" Abdul's dad asks.
"My eyes… Oh dad, my eyes!" the boy screams.
Subsequent images show him with the bandages removed and it's believed he has begun to regain his vision thanks to medical treatment.
Earlier reports suggested he was injured by an airstrike from President Assad's forces. There are often conflicting reports from both pro- and anti-regime sides over who is responsible for such catastrophes.
But what we do know, is that this is a child who is a victim of war. Videos like this are difficult to watch, but they provide a much-needed reminder of the atrocities that are happening – and have been happening for too long – on the other side of the world.
And it is only a snapshot of the devastation. Abdul is one of the roughly 5.3 million children who are victims of Syria's seven-year civil war between government, ISIL and Kurdish forces.
Their voices need to be heard. They are children who are starving, who are afraid to frolic outside, who have been forced to flee their homes, who have witnessed the destruction of bombings and chemical attacks, and who have seen their loved ones die in front of them.
One young boy told Save The Children that "it feels like the end of the world".
Father holding his tow babies after they got killed by the #Chemical_Attack of #Assad today on #Khan_Shaykhon #AssadUsingChemicalweapons pic.twitter.com/KaD93dW2JE

— Asaad Hanna (@AsaadHannaa) April 4, 2017
Syria is the most dangerous place on the planet for a child to be, and there are families who are trying to escape for a better life. As of March, the number of refugees who had fled Syria reached 5.6 million. Children make up almost half of this figure.
Every child deserves to be safe and cared for, learning their times tables, reading fairy tales and playing tag.
There are ways you can help.
You can donate money to reputable charities and organisations channelling funds directly to the ground. CARE Australia's Syria Appeal is providing emergency food, hygiene kits, mattresses and blankets to thousands of affected families, while support for World Vision's relief fund and organisations like Welcome to Australia and the ASRC is much needed. Other options include UNHCR and the Red Cross Syrian Crisis fund.
You can also write to Prime Minister Malcolm Turnbull's office, Foreign Minister Julie Bishop, the Immigration Minister Peter Dutton and your local MP, letting them know that you want to live in a compassionate nation that welcomes people who are fleeing violence and persecution.