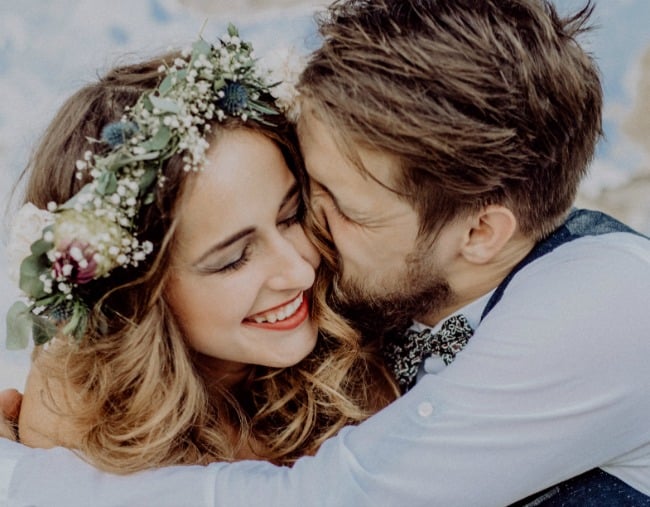 For everything Prince Harry, Meghan Markle and the Royal Wedding, visit our Royal Wedding hub.
Is it just us or is everyone getting married right now?
Shanina Shaik. The girl from the year below. Prince Harry and Meghan Markle. 
Everyone's doing it and it kind of makes you want to plan your own wedding, right?
Side note – how much is enough to put in a wedding wishing well? Post continues after video.
If that's the case and you're pouring over Pinterest and wedding magazines, beware.
Because according to Vogue, these nine wedding trends we thought were quite lovely are really, really not.
In fact, they're 'out' in 2018.
Sorry.
1. Flower walls
"These are done, finished . . . out!" Bryan Rafanelli of Rafanelli Events told Vogue.
Rightio then.
Never mind they look fresh and whimsical.
2. Place card walls
While you're at it, bin that place card wall. Basically, anything vertically attached to a wall is not very 2018 at all.
3. Champagne towers
Champagne towers are 'out' too.
Not because they don't look amazing in photos. But because they're not safe.
Safety shmafety.
4. Naked cakes
We don't really understand this trend but apparently naked cakes are cakes that aren't wearing any clothes (i.e. they don't have proper frosted icing on them.)
Laurie Arons of Laurie Arons Special Events says they are "far too casual and unfinished for most weddings." But what's most concerning is this lack of clothes causes cakes to dry out quicker.
No one like dry cake.
5. Mason jars
Yeah… we might agree with this one.
Mason jars are very 2013.
Unless they contain alcohol. In which case they can stay in 2018.
6. Rose gold
Rose gold has been the staple colour at practically every wedding in the last five years. Guaranteed.
But it's done now, says top wedding planner Mandy Weiss.
"Don't get me wrong, I love this elegant colour… but going all-in with rose gold can make your wedding feel dated."
She advises simply adding touches of rose gold rather than lashings.
Fine.
7. Twinkle fairy lights
This one can't be true.
But it is, because Laurie Arons of Laurie Arons Special Events says there are so many more elegant ways to light your reception, darling.
"Unless you're having a holiday-inspired December wedding, leave the twinkle lights for Christmas."
8. Photo booths
"Photo booths had their moment," Bronson van Wyck of Van Wyck reckons.
So having a designated area where you and your friends can have the time of your lives taking photos that you'll cherish forever is done. Damn.
9. Anything to do with the royal wedding
This is fair enough.
According to Mandy Weiss, only lameos will copy Prince Harry and Meghan Markle's royal wedding.
"You don't want your event to feel like an imitation of a high-profile wedding."
You're probably right, Mandy.
And one more for good measure…
10. Fun
Fun weddings where people enjoy themselves are also 'out'.
No one explicitly told Vogue that.
But considering we can't have our fairy lights, photo booths and champagne towers, we're just going to presume.
Would you keep any of these wedding trends that are apparently 'out'? 
The Out Loud crew go deep on everything that is happening in the world of Meghan Markle this week. From grey hairs to who she can't have at her wedding below.