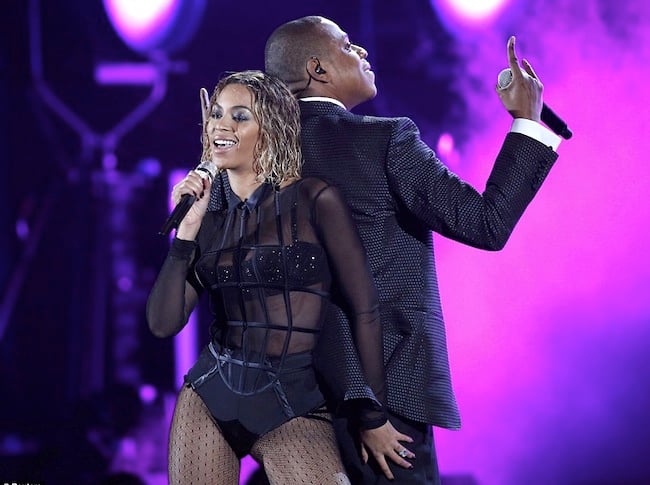 I'm upset with Beyonce. And it does not feel good.
It pains me to even think something anti-Beyonce, let alone write about it. She's a goddess, a feminist, an angel. But right now I am confused, hurt, and disappointed. Angry, even.
And this is why.
Last night at the Grammys, Bey and her husband Jay-Z performed their duet "Drunk in Love" together. It should have been absolute perfection: just the sexiest power couple in the universe gyrating on stage.
http://www.youtube.com/watch?v=-IE7P8AJRxw
But then Jay-Z rapped a couple of lines that ruined everything. In the third verse, he said this: "I'm like Ike Turner, turn up, baby, no, I don't play. Now eat the cake, Anna Mae. Said, Eat the cake Anna Mae!"
Beyonce echoes him, mouthing the words "Eat the cake, Anna Mae!"
Now, I've always sung that line as "Eat the cake, Anime" instead, thinking that for some reason Jay-Z really likes those adult Japanese cartoons, and also cake. But actually, it's a reference to domestic violence.
I learned this from Twitter which exploded with comments immediately after the lines were performed.
Backstory: Ike Turner was the abusive, domineering man married to the iconic singer Tina Turner from 1962 – 1976. Anna Mae is Tina Turner's real name. Simply put, Ike and Tina Turner were the Rihanna and Chris Brown of their era. Tina was the strong, beautiful singer who kept going back to an abusive husband. And this distressing narrative played out very publicly.
The phrase "Eat the cake, Anna Mae" comes from a famous scene in the biopic movie What's Love Got To Do With It, based on Tina's life. Angela Basset plays Tina and Laurence Fishbourne plays Ike – and it's confronting.
This scene really changed the way people thought of Tina and Ike's relationship – and, in a bigger sense, it portrayed with chilling accuracy what emotional, physical and verbal abuse can look like. Skip to 1:02 for the confrontation between Tina (purple top) and Ike (blue shirt).
If you can't watch the clip, this is what happens: Tina (AKA Anna Mae) is sitting in a diner with her husband Ike, her assistant, and another man. A couple of kids come up and ask for Tina's autograph, which flips Ike into a quiet jealous rage.
He starts making aggressive jokes about wanting to celebrate his famous wife, and orders an entire cake be brought to the table. He yells at her to eat the cake, but she doesn't want any. "Eat the cake, Anna Mae!" he says over and over with increasing force. "Eat the cake, Anna Mae!"
She refuses. And every time she says "no" you can tell it's a tiny act of rebellion against an aggressive spouse. Ike picks up a handful of the cake and smashes it – with his fist – into Tina's face.
When Tina's assistant speaks up to defend her, Ike throws her to the ground and abuses her. As the assistant runs out of the diner, with Ike hurling things at her, she yells back at Tina, "You're a dead woman if you stay with him!"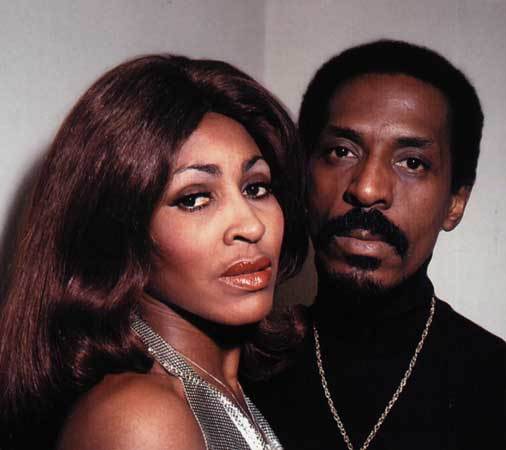 It's horrifying, especially if you've ever witnessed someone you love or know in a similar situation: trapped in an abusive relationship they can't leave but won't survive.
So, in pop culture, the line "Eat the cake, Anna Mae" is really evocative. It's become shorthand for spousal abuse.
Which brings us back to Beyonce…..
When Beyonce and Jay-Z both sang those exact words, in front of millions of people, Bey and Jay invoked the desperately sad story of Tina Turner. Why? Apparently, because it rhymes with the word "play".
This is where my total bewilderment sets in.
Why would Bey and Jay, seen by many as the music industry's greatest role models (she's a self-proclaimed feminist who campaigns for gender pay equality, he's condemned male rappers for using demeaning terms like 'bitch' and 'ho') invoke the experience of Anna Mae? Why make a flip reference to something as serious as domestic violence?
At what point did Jay-Z sit down and think it was a good idea to rap about being Ike Turner? And how could Beyonce, otherwise a feminist superhero, feature it on her self-titled album?
Ultimately, nobody is perfect. Not even Queen Bey. But it's hard to see this as anything other than hugely disappointing.
You call follow Kate Leaver on twitter @kateileaver.
[nggallery id= 463 template=carousel images=0]
Follow Mamamia on Facebook

At Mamamia absolutely everything is up for discussion: from pop culture to politics, body image to motherhood, feminism to fashion. We unashamedly cover what everyone is talking about today: whether that's stories which will make you laugh out loud, cover your mouth in shock, help you get informed or start you thinking about an issue in a different way and sometimes, we help you to just switch off the brain power from a few sweet minutes and kick back.