A sustained campaign of love on social media might to win back an ex-partner might sound romantic – but is it?
That's the question facing the 167,000 Twitter followers of Sydney man, 33 year old Michael Munday.
Mr Munday, a 33 year old IT expert, separated from his wife in 2014 after three years of marriage.
But rather than simply send flowers or suggest marriage counselling like many other spurned spouses, Mr Munday has gone to extreme lengths to win back his ex – by creating an international social media campaign using the hashtag #michaellovesmelissa,
Mr Munday has more than 167,000 followers on Twitter, where his account declares: "Dedicated to the love of my life, my wife Melissa. I'M SORRY."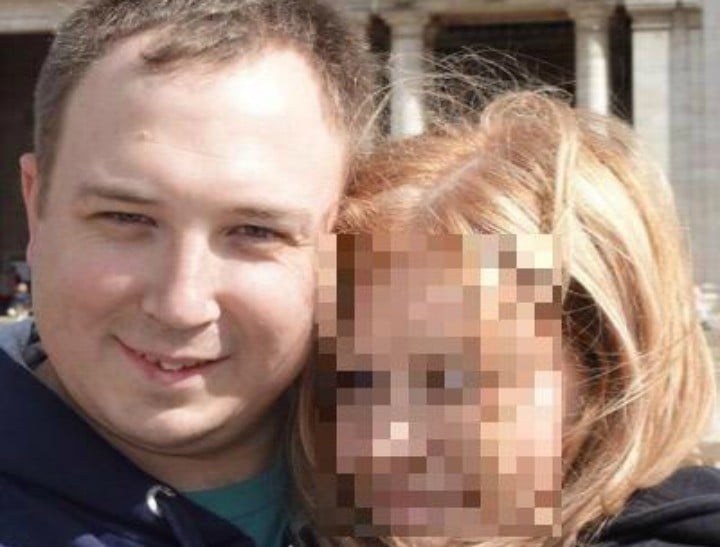 "The campaign was prompted to let Melissa know that I was sorry, and that this was not simply more words, but shows action," Mr Munday told Mamamia. "She deserved more than a simple apology."
He added he was apologising to her for hiding some financial difficulties from his wife after he became depressed and started gambling following a loss.
"I hope people can see this for what it is, an attempt at the world's biggest apology, for mistakes I made that led to hurting the person I care about most in this world," he said.
But despite his self-described benign intentions, a number of critics have described the campaign as "creepy" and "terrifying".
Some of Michael Munday's tweets. Post continues after gallery: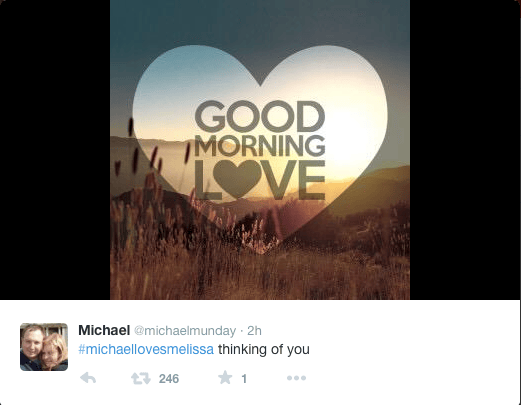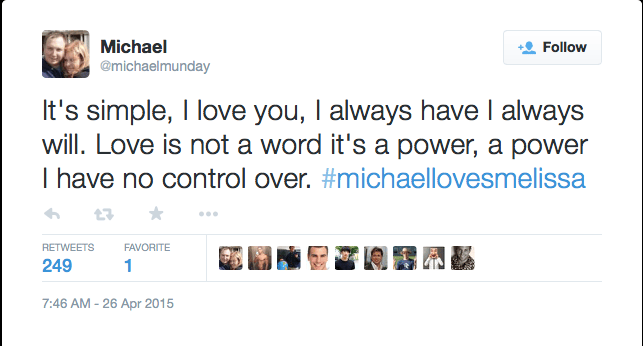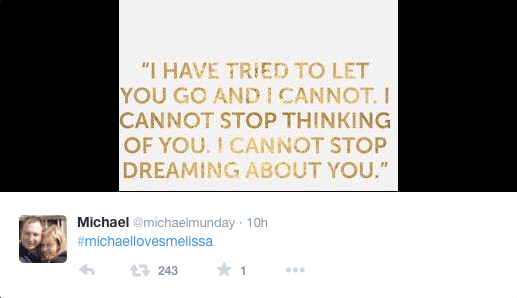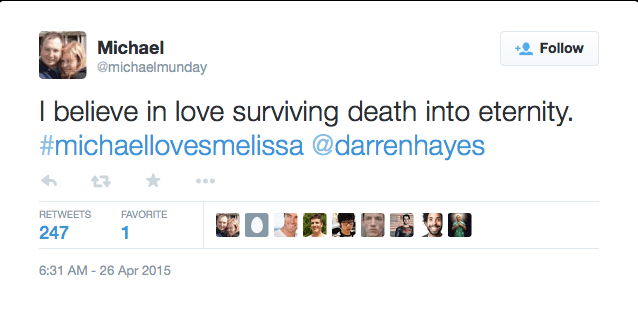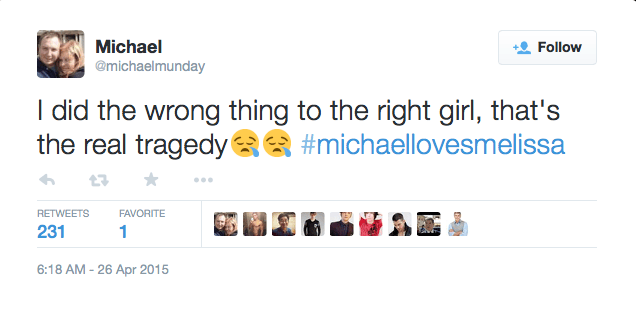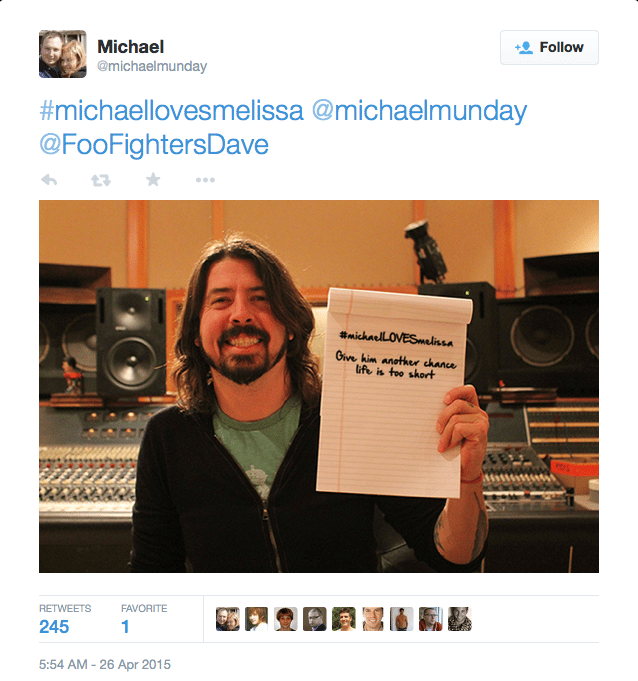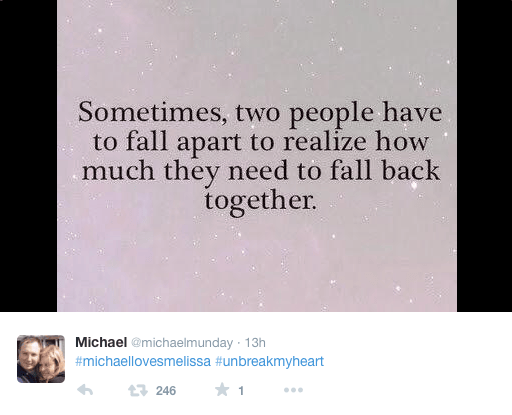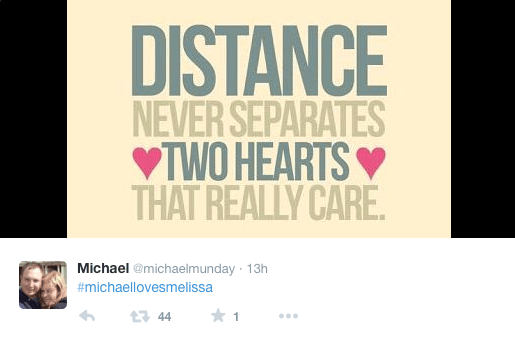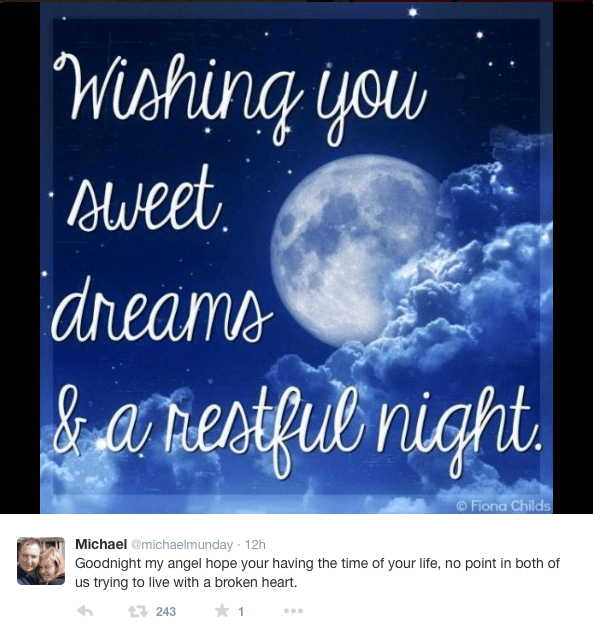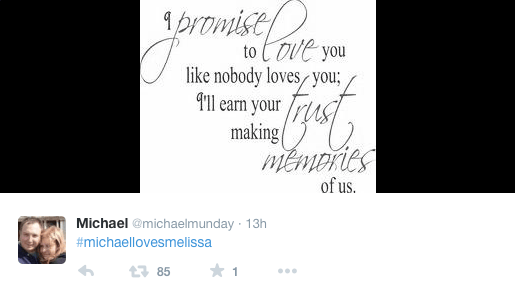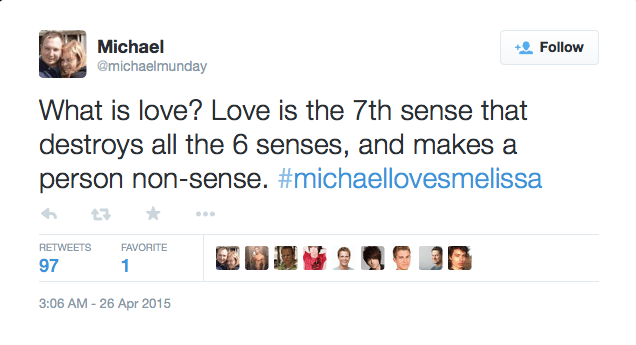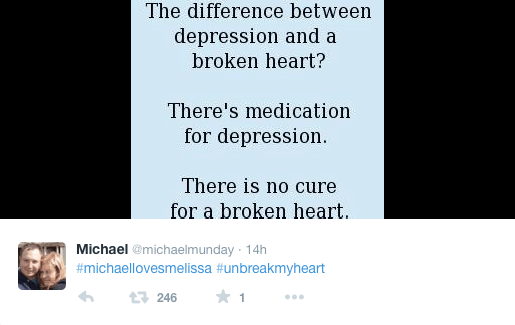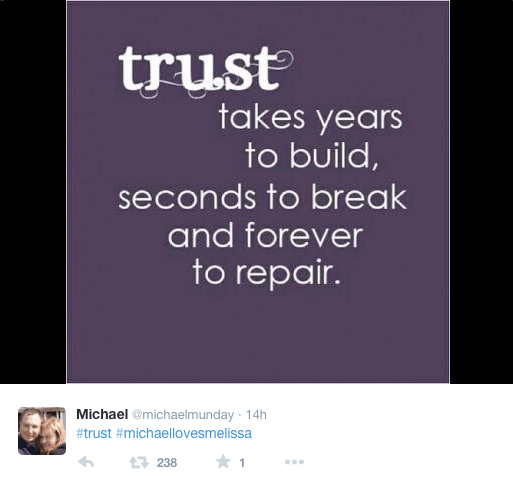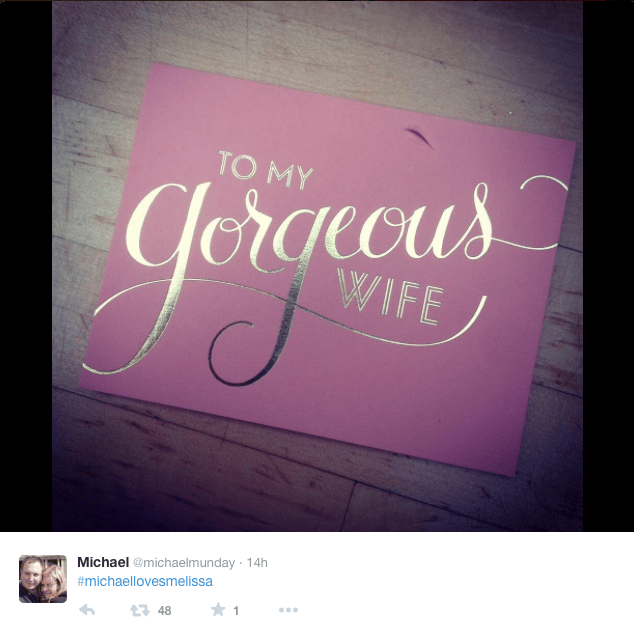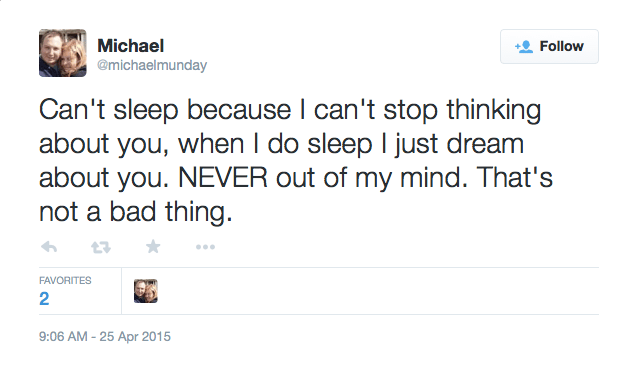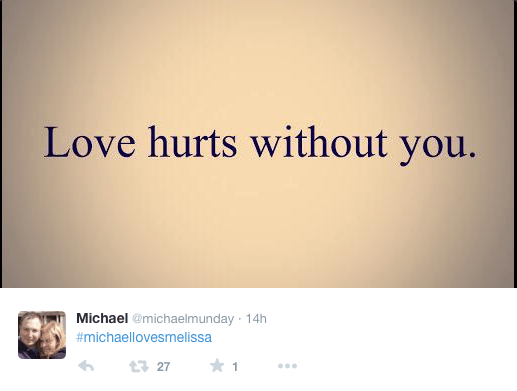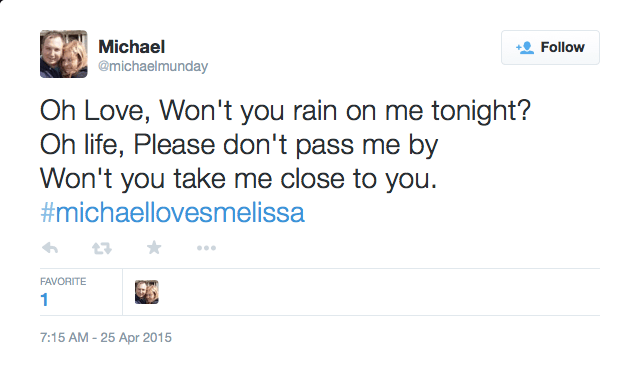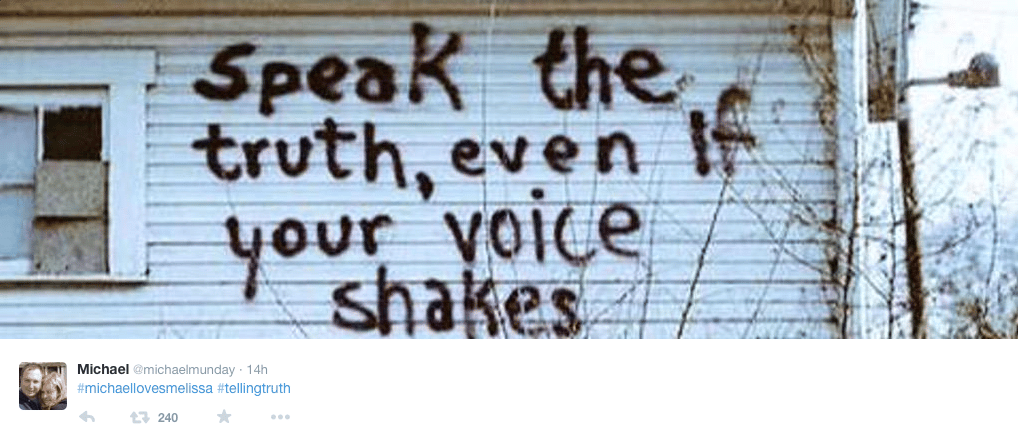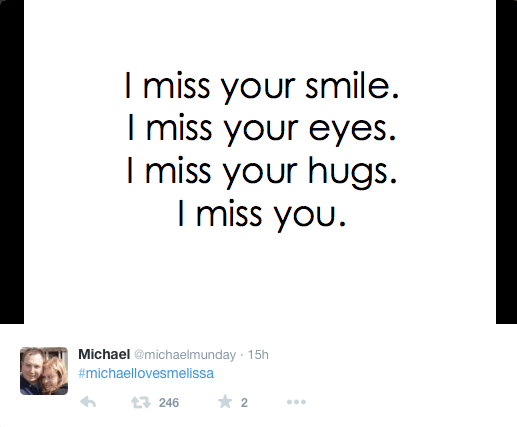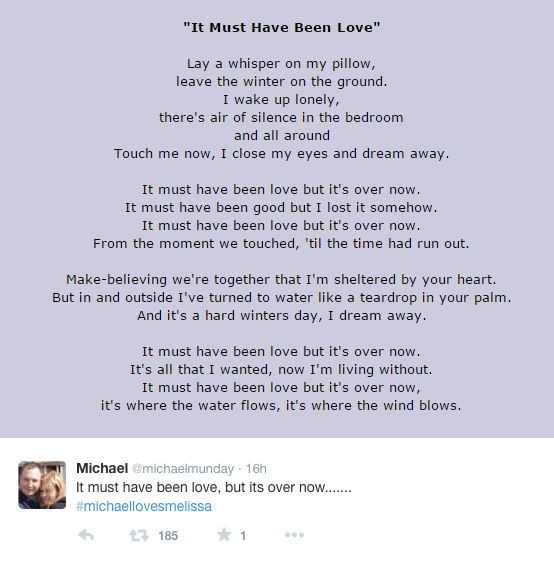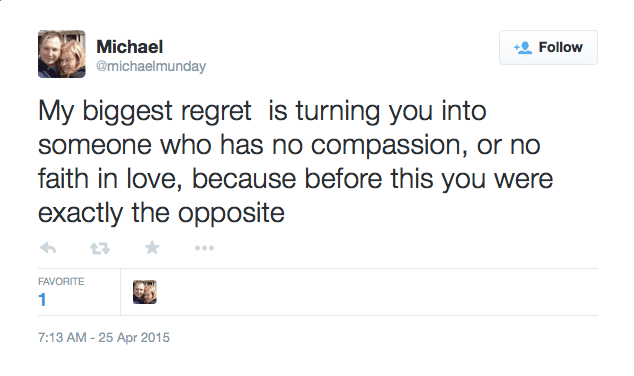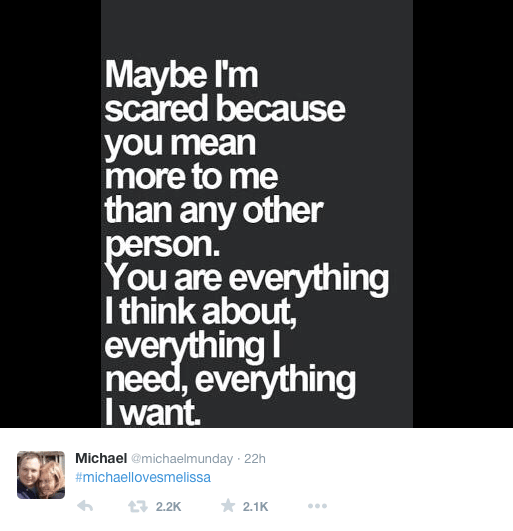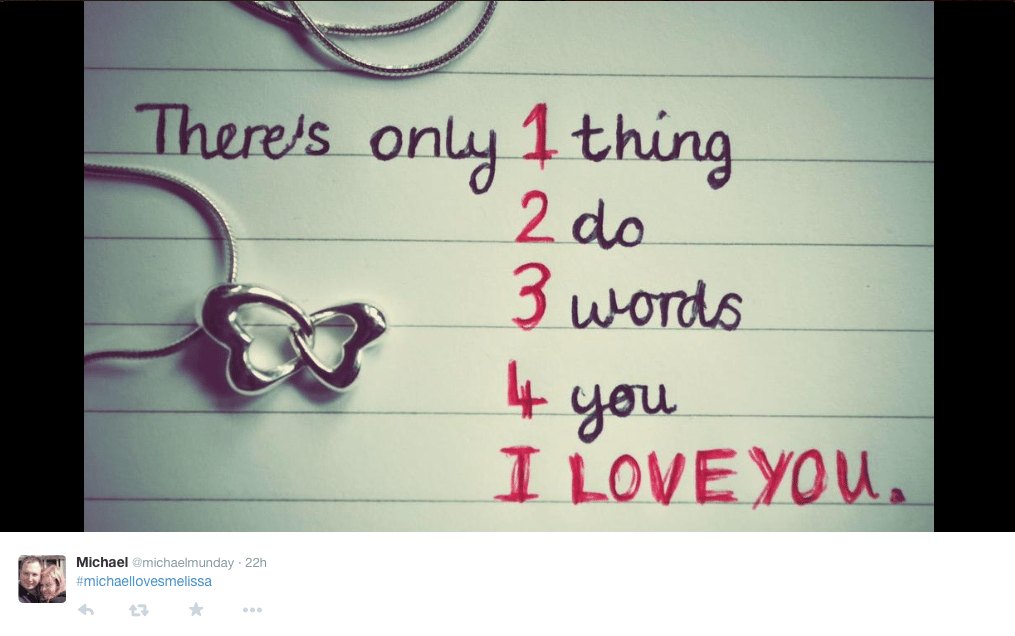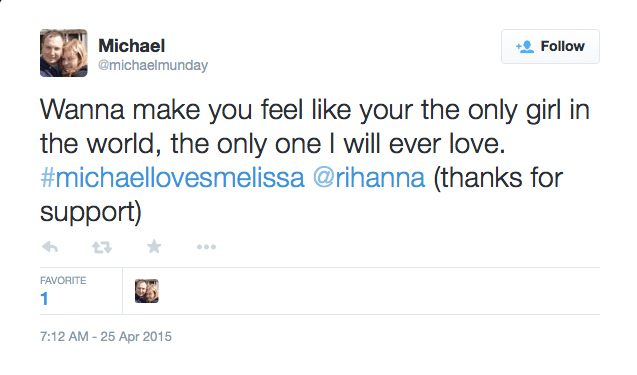 "Letting your ex-partner know you miss them is one thing, but starting a social media campaign to coerce them into dating you again is quite another," Dannielle Miller wrote on Twitter. "This is terrifying.
Facebook user Alison Sainsbury weighed in: "The 'girls spurns boy, boy stalks girl, girl thinks this is romantic' narrative is so wrong, and comes from a place of girls not being allowed to own their sexuality," she wrote.
"It doesn't seem romantic to me – it seems creepy & possessive" wrote Jacqueline Louise Jones.
Lee Lo wrote: "Coercion of a person into a relationship is exceptionally creepy".
Mr Munday acknowledged in an email to Mamamia that some people had called his "actions creepy, stalking, or inappropriate," but stressed they were a minority.
"If for one second I thought that this would have any negative effect on Melissa it would be stopped in a second. It is not and was never my intention to make Melissa uncomfortable, or feel coerced, and I know this is not the case," he added.
"Melissa is aware of the campaign. I hope to speak with her in more detail when the time is right, although being away from her is the hardest thing I have ever had to do, it's important to give her space and time to think about what she wants.
He added that he was surprised, thought, by the "overwhelming support" he'd received.
"I have had so many people reach out to me offering support. I have had the pleasure of hearing other peoples stories, and speaking with those in similar situations."
What do you think of the campaign? Romantic or creepy?
Do you have a news tip? Email us at [email protected]
[post_snippet id=324408]