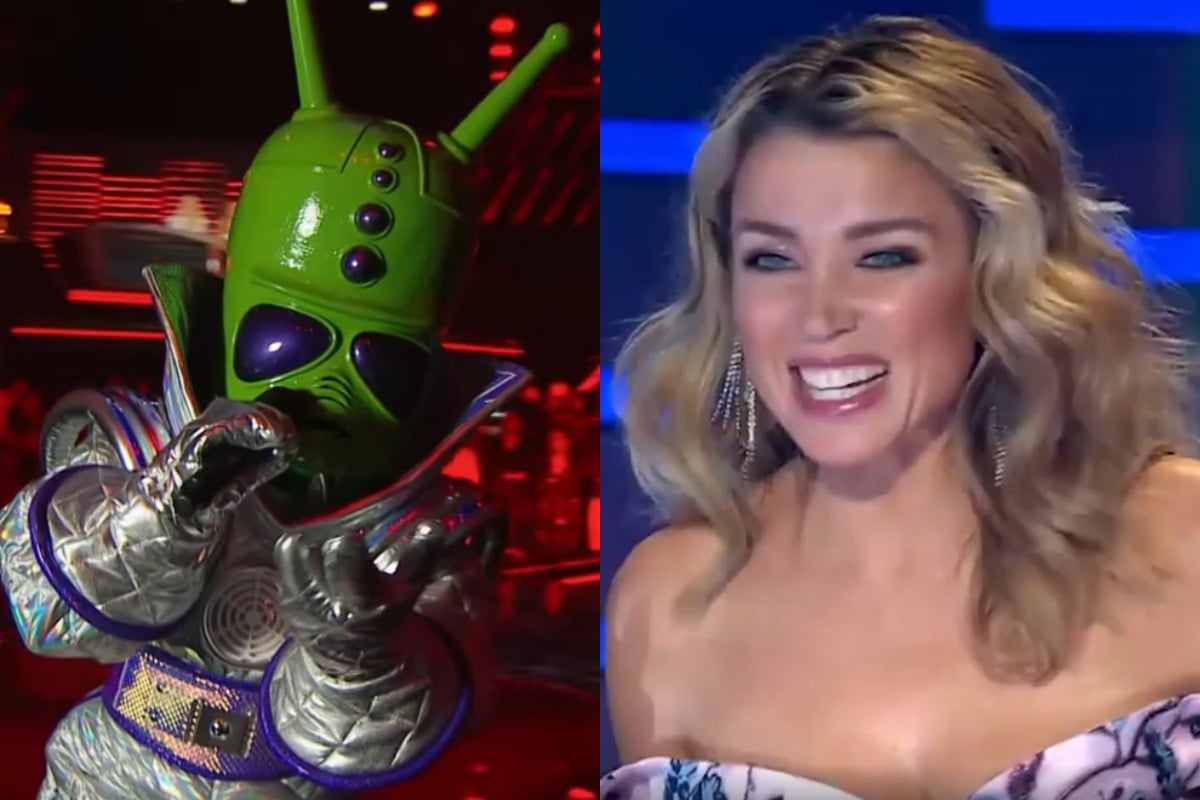 It's Monday night, which means we somehow found ourselves shamelessly watching Channel 10's reality show The Masked Singer, once again.
But just as we thought we were getting our heads around the nation's weirdest guessing game, Channel 10 decided to keep us on our toes and switch up the show's structure.
Instead of three head to head competitions, tonight's five contestants sung their hearts out in a battle royale to see which singer would receive the most votes.
The contestant with the least amount of votes from the audience and judging panel would face the ultimate dethroning and remove their mask.
Watch Alien's performance of 'There's Nothing Holding Me Back' by Shawn Mendes. Post continues after video. 
First up on the stage was Wolf, whose performance of Shawn Mendes' 'There's Nothing Holding Me Back' was a howling success. Lion followed with her unique cover of Billie Eilish's 'Bad Guy'. But it was Alien who had the audience dancing in their electrifying performance of  'Youngblood' by 5 Seconds Of Summer. Prawn was up next with his rendition of Queen's 'I Want to Break Free', which revealed a possible British accent. Robot brought the night home with the Aussie anthem 'The Horses' by Daryl Braithwaite.
After watching tonight's performances, which featured some disturbing back up dancing, it seems as though the show has somehow become…even weirder. As Hughesy so eloquently put it, "This show is off it's nut."
But onto the moment we've all been waiting for. The unveiling.
In the end, Alien surprisingly received the least amount of votes and was forced to reveal their identity. When the mask finally came off, it was none other than Aussie icon, Nikki Webster, who was correctly guessed by Dannii Minogue.
The 32-year-old mum of two is best known for her childhood performance at the Sydney Olympics opening ceremony and the her hit single 'Strawberry Kisses' which became the defining song of the 2000s. Considering her famous best friend in the music video was a robot, it's fitting that Webster's disguise was a futuristic creature that was out of this world.
Here's how the nation responded.
Lindsay during the commercial break #MaskedSingerAU pic.twitter.com/ZILJB6XpS8

— Dave ☁️☁️☁️ (@DavePollard98) September 30, 2019