It's happened. The worst thing to ever happen on Australian television.
(Well, apart from that time Sophie Monk sent James packing on The Bachelorette…)
Quelle horreur.
Two weather reporters on two completely different channels wore the same exact dress at the same exact time in the exact same place.
The two reporters were Channel Nine's Livinia Nixon and Channel Seven's Jane Bunn, who were both wearing a black floral dress by Anthea Crawford while filming their respective segments trackside at Caulfield Racecourse.
Somebody call Amber Sherlock and Julie Snook because this is bigger than the great 'Jacketgate' scandal of January 2017.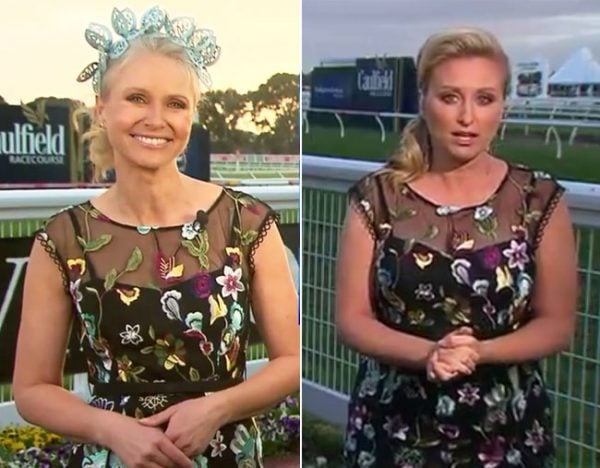 Most average Aussie viewers wouldn't have noticed the "frock fiasco" seeing as the two segments were airing on two different channels at the same time.
(Unless, of course, they are really into the weather and love watching all of the weather, all of the time. Hey, no judgement.)
But eagle-eyed media types were quick to snap - and tweet - images of the situation.
Sack your stylists, @LNixon9 @JaneBunn pic.twitter.com/dLJuYUG1Gy

— Dee Dee Dunleavy (@DeeDeeDunleavy) October 20, 2017
Damn. And I was going to wear that dress on the weather tonight! @JaneBunn @LNixon9 @9NewsMelb @7NewsMelbourne pic.twitter.com/40KJXpEcja

— Paul Higgins (@PaulHiggins) October 20, 2017
Others remarked that both ladies looked beautiful (agreed) and that there are much more important things to worry about in the world of Australian television (like this, perhaps):
The big issues huh?

— Darren C (@bigreddaz1973) October 20, 2017
They both look amazing!! ????????

— Jake Bozinovski (@k1ngb0y14) October 20, 2017
Didn't notice till I read it.
But hey they both look gorgeous.

— M (@MlsMichael) October 20, 2017
When it comes to live TV mishaps, there are obviously far, FAR more terrible things that can happen.
Like having a huge spider crawl all over you without even realising. Or getting sprung by a live TV cross when you're totally not expecting it.
And, after all:
Exactly.