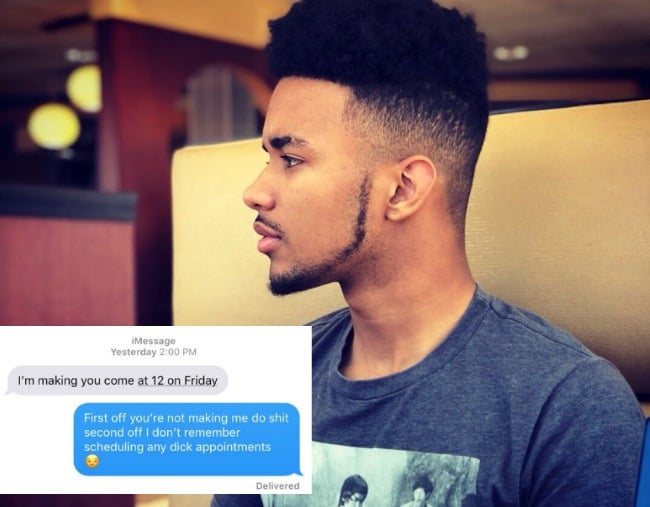 When Cory Hrobowski received a poorly-worded text from an unknown number, his instant reaction was to send back a rude text.
But little did he know, the person on the other end of the line was actually his boss.
"I'm making you come at 12 on Friday," the text from an unknown number read.
"First off you're not making me do sh*t second off I don't remember scheduling any d*ck appointments," Cory responded, thinking the sender was a 'random girl' referring to something sexual.
But when the random number responded, Cory realised he had made a big mistake.
"This is your boss I got a new number," Cory's boss replied.
"When I found out it was my boss, I was actually super nervous," Cory told Buzzfeed News.
The 19-year-old shared his awkward moment on Twitter earlier this week, asking his followers how to handle the incident.
Okay I've still yet to respond can someone tell me wtf I say to this ????

— Soon Enough. (@SznVibes) July 17, 2018
…which led to a number of interesting responses from Cory's followers.
"Sorry my dog took my phone"

— Dougie (@Dougie_dee) July 17, 2018
At this point only logical response is to tell her you was hacked

— Tae ☔️ (@Tae_hef) July 17, 2018
Quit your job at this point and move out of state

— Jas (@NaturallyJas_) July 17, 2018
Might as well ask for a raise while you're at it.

— Dr.Robocop ???? (@MooneyEsquire) July 17, 2018
But before Cory had a chance to respond to his boss, she wrote that she would be calling him to discuss his employment. Oops.
I never responded and she texted me last night and said "I'll be giving you a call tomorrow to discuss the terms of your employment with us"

— Soon Enough. (@SznVibes) July 17, 2018
I didn't answer when she called and I've come to the conclusion that ima prolly just show up on Friday and see how it goes ???? pic.twitter.com/9Eegtpf5BV

— Soon Enough. (@SznVibes) July 18, 2018
On Wednesday, Cory resigned from the web design company he worked for, telling Buzzfeed News that the company had become aware of his viral tweet, which now has over 85,000 likes and more than 30,000 retweets.
"I resigned due to the fact that Twitter blew the situation up," he said.
Be careful what you text, people.