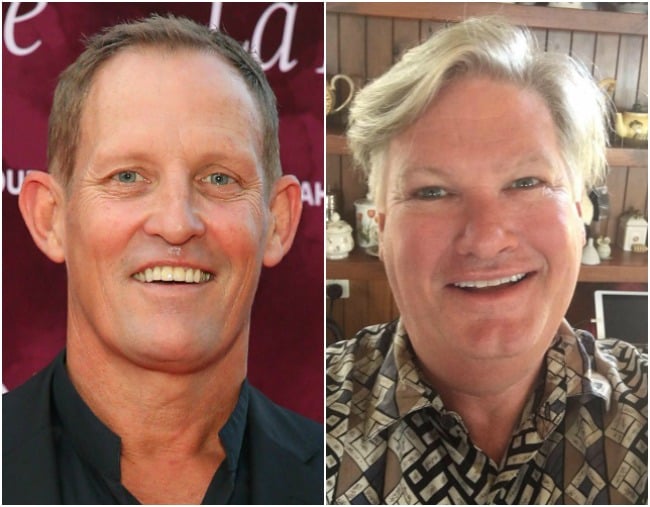 Theatre star Simon Gallaher has lashed back after Dancing With The Stars judge Todd McKenney spoke for the first time about how he went from being his boyfriend to his brother-in-law.
Speaking to former Big Brother contestant Ben Norris on his podcast Word For Word for Joy 94.9, the 53-year-old shared his unusual family history.
"It's weird isn't it? I don't think I've ever spoken about it publicly," he said.
"I'm sick of not talking about it."
McKenney dated Gallaher, a performer and musical theatre producer, in the '80s while they were working together on a musical production of Pirates of Penzance.
Many years after they broke up, he found out his sister, Lisa, went on to marry Gallaher. But he didn't learn this fact from the couple – instead, he was told by his co-stars on the set of Cats.
"She married my ex-boyfriend and is still married to my ex-boyfriend, but just has never mentioned it to me," McKenney said.
McKenney explained he wasn't even aware Gallaher and his sister knew each other at the time.
Now, Sydney Morning Herald reports Gallaher has furiously responded.
"I have only one thing to say. Todd McKenney is a Headline Whore. Shame on him. His sister on the other hand is the love of my life and wife of over 31 years. I love her to the end of the world," he wrote on Facebook on Tuesday night.
"NEWS OF THE DAY: I have just formed a special lobby group called BRING BACK CRAIG McLACHLAN!" he later added.
Lisa also reportedly admonished her brother, saying "my brother is being a douchebag. We all just have to duck the fall out now. Selfish, lying idiot."
McKenney replaced McLachlan in the role of Frank-N-Furter in the Rocky Horror Picture Show musical after allegations of sexual harassment were levelled against him by his co-stars.
McKenney said he and his sister have a "weird relationship", but said there are no hard feelings between them.
"If you're happy go for it," he said.
"They got married and have got three kids and I'm close to their kids."
McKenney said he'd been keeping the secret hidden from the media for years in order to protect his sister's children. However, now that they're adults, things are different.
"For the sake of them I haven't said it, but they're grown up now and I get on with them and they know the stories now," he said.