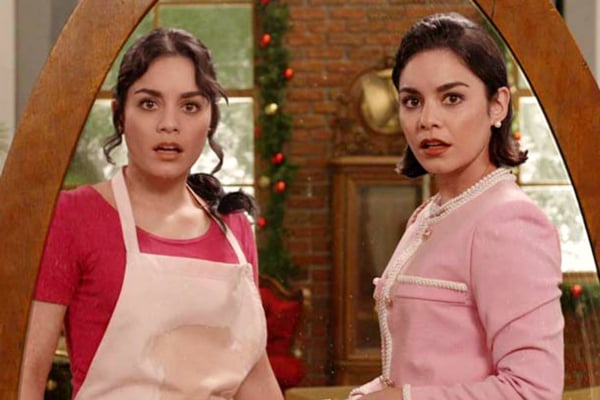 Netflix's cheesiest Christmas film of 2018, The Princess Switch, is getting a sequel, and in the festive name of mince pies and eggnog, we have never been so excited.
For those unfamiliar with the original film, American commoner Stacy (Vanessa Hudgens) and her business partner Kevin (Nick Sagar), are invited to the fictional city of Belgravia by the royal family to compete in a baking competition. It's here that she meets Margaret, the Duchess of Montenaro (also Hudgens), who upon realising that they look exactly the same, asks Stacy to switch lives in the weeks leading up to her wedding to Prince Edward (Sam Palladio). As fate would have it, Stacy falls in love with Prince Edward, and Margaret ends up confessing her love to Kevin, and the whole film turns into a royal wife swap (kinda).
As a Christmas film it ticked all of the boxes – Christmas baking, love squares, and a rags-to-riches story line – and as fate would have it, their narrative continues.
Need a refresher? Here's the trailer for Netflix's The Princess Switch. Post continues below.
First reported by The Hollywood Reporter, the sequel, titled The Princess Switch: Switched Again, reunites our doppelgangers with a twist: there's a third Hudgens on the loose.
Here's how they described the plot:
The follow-up, titled The Princess Switch: Switched Again, will take place as Duchess Margaret (Hudgens) unexpectedly inherits the throne to Montenaro and hits a rough patch with Kevin.

It's up to her double, Stacy (also Hudgens), to save the day before a new look-alike, party girl Fiona (Hudgens again), foils their plans.
Dammit Fiona.
According to the publication, the film is set to begin production next month in the UK, and is slated for a 2020 release. And while this means it won't be here in time for Christmas (a massive missed opportunity in our books) we'll take all the cheesy Christmas film content we can get.
But don't just take our word for it, the internet is also getting very excited for our next Vanessa Hudgens hit, and same guys, same.
Vanessa Hudgens has found her niche

— ????????????????. (@truthinprose) October 29, 2019