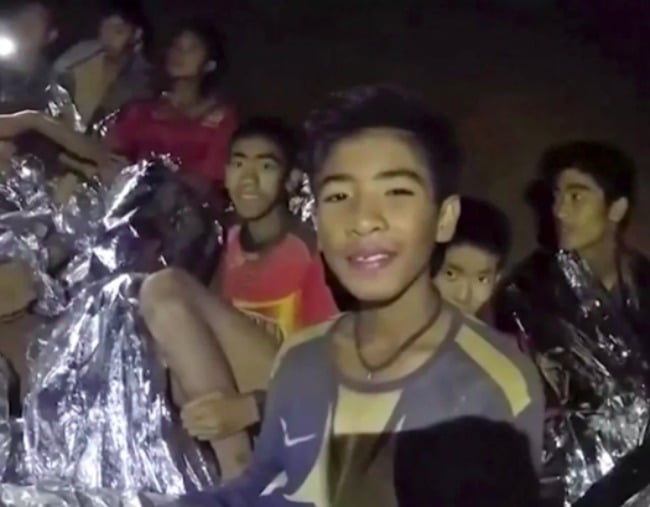 With AAP. 
The soccer coach trapped in a cave with 12 Thai boys has apologised to their parents in the first letter he and the team have sent out through divers, in which the boys say they are doing well and missing their families.
Rescuers say they will not immediately attempt an underwater evacuation because the boys have not yet learned adequate diving skills.
However, if heavy rains start again, divers will try to take the boys out right away, Chiang Rai Governor Narongsak Osatanakorn says.
The same day saw a disheartening setback with the death of a former Thai navy SEAL diving in flooded passageways to deliver oxygen supplies.
"To the parents of all the kids, right now the kids are all fine, the crew are taking good care. I promise I will care for the kids as best as possible. I want to say thanks for all the support and I want to apologise to the parents," wrote 25-year-old Ekapol Chanthawong, the coach of the Wild Boars soccer team.
One boy writes: "I'm doing fine but the air is a little cold but don't worry. Although, don't forget to set up my birthday party."
Sydney Morning Herald reports that other letters said, "they want to go straight to their home," and that they asked their teachers for not too much homework.
According to SMH, one boy, Nattawut "Tle" Takamsai, 14, said: "I miss Mum, Dad and [unclear] too. I love both of you. Don't worry, I can take care of myself".
Another 14-year-old, Ekkarat "Bill" Wongsookchan, wrote: "Mum and Dad, don't worry that I [am] missing for two weeks. I will help you at the shop soon."
THREAD: Officials have published short letters the boys trapped in a northern Thailand cave wrote to their parents. They're at once heartbreaking and a reminder of how young they are. It's unclear if they know how risky their eventual evacuation will be. #ThaiCaveRescue

— Matt Rivers (@MattRiversCNN) July 7, 2018
Tun:
Mom and Dad,
Don't worry, I am ok. Please tell brother Yod to prepare to take me to eat fried chicken. Love you.

— Matt Rivers (@MattRiversCNN) July 7, 2018
The boys in the #ThaiCaveRescue were asked what they want to say to others. Their replies:
-Don't worry, everybody is healthy
-We really want to go out and eat so many types of food
-When we get out, we want to go home right away
-Teacher, don't give us a lot of homework

— Matt Rivers (@MattRiversCNN) July 7, 2018
The boys, aged 11 to 16, and their coach went exploring in the cave after a soccer game June 23.
Monsoon flooding cut off their escape and prevented rescuers finding them for almost 10 days.