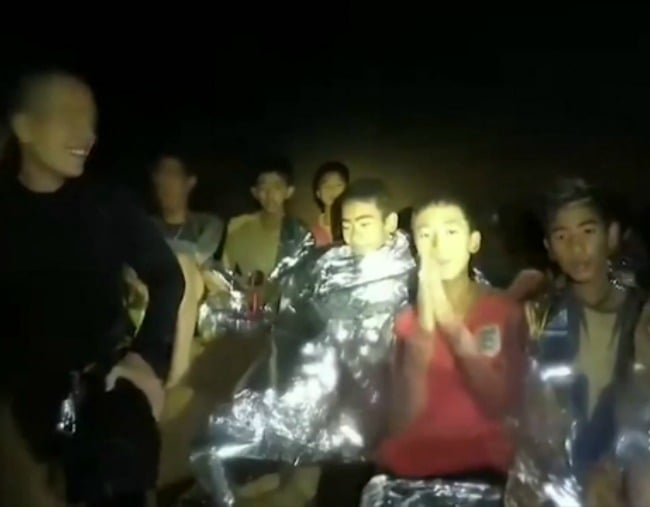 The Thai official overseeing the rescue of a young soccer team trapped in a flooded cave says the 12 boys and their coach may leave the complex cave system in stages.
Chiang Rai provincial governor Narongsak Osatanakorn said that "all 13 may not come out at the same time".
He added: "If the condition is right and if that person is ready 100 per cent, he can come out."
Authorities are evaluating their readiness each day and if there is any risk, will not proceed, he said.
Earlier, the Thai football teammates said they are healthy in a newly released video.
The team are seen sitting with Thai navy Seals in the dark cave with their visibly skinny faces illuminated by the beam of a flashlight.
The boys, many wrapped in space blankets, take turns introducing themselves, folding their hands together in a traditional greeting and saying their names and that they are healthy.
The video lasting about a minute was recorded some time on Tuesday and was posted on the navy Seal Facebook page on Wednesday morning.
The boys, aged 11-16, and their 25-year-old coach disappeared after they went exploring in the Tham Luang Nang Non cave in northern Chiang Rai province after a football game on June 23.
The teammates, who were trapped inside when heavy rains flooded the cave, were found by rescue divers late on Monday night during a desperate search that drew assistance from experts around the globe, including Australia, and British divers Rick Stanton and John Volanthen who were the first rescuers to reach the group.
Authorities said the boys, who had also been shown on Tuesday in a video shot by the British divers, were being looked after by seven members of the Thai navy Seals, including medics, who were staying with them inside the cave.
They were mostly in stable condition and have received high-protein drinks.