Excuse me, but I'm cranky.
I'm cranky because I've had knotty hair since I left the womb and only last week did someone utter the words to me: "Tangle. Teezer."
At first, when I saw I'd been recommended a $22.99 hairbrush, I scoffed a little. I was used to buying the cheapest brush from Coles and then yelling when the handle broke off a week later.
"How different can a hairbrush be?" I thought to myself. It just has bristles and a handle (or sometimes… not) and then two hours later your hair is full of knots again.
But then I calculated how much money I had definitely wasted on things like conditioning masks, detangling sprays and crappy combs that had not at all made my hair easier to manage.
So, I jumped online and bought the goddamn hairbrush.
Once it arrived I did lots of bragging about my $22.99 hairbrush because it made me sound a) rich and b) like I was the type of person who knew what they were doing when it came to 'beauty' and things of that nature.
My sister called me an idiot before obviously stealing it and remarking that it was magic.
That's when I trialled it and holy goodness gracious.
IT WAS MORE THAN A HAIRBRUSH. IT MADE ME LOOK LIKE I'D JUST BEEN TO THE HAIRDRESSER AND GOT A $40 BLOW DRY.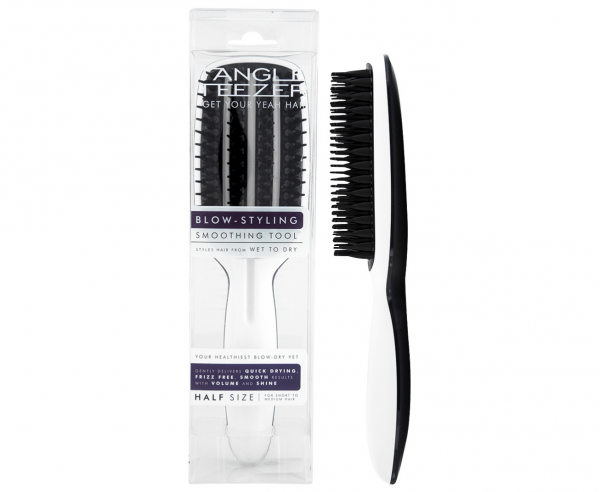 To be clear, I have absolutely no idea how to blow dry my hair. None. I just wave it around a little until it's not dripping wet anymore. That manoeuvre people do with the brush and the hair dryer and the pulling and the tension is just something I've never understood.
But with my magic brush, you just sort of brush your hair from underneath and dry... over the top... and it looks perfect.
According to the website, it delivers a "quick, smooth and gentle blow-dry thanks to the innovative teeth that create free flow tension with no pulling or dragging... they're fabulous at removing frizz and leave the hair with naturally smooth volume."
YEAH. What they said. It does that!
I got precisely three compliments about my hair the day following my Tangle Teezer purchase, and when I got home, there was not one single knot in all of my hair. 
 I am bloody obsessed and could not recommend highly enough to anyone who is sick of having to whip their hairbrush out in the middle of the day because you fear you may be beginning to look unhinged.
You can buy the Tangle Teezer Blow-Styling Smoothing Tool Half Size on Mamamia Shopping for $22.99. 
You can also choose from a whole range of Tangle Teezer products, including the Original Wet and Dry Detangling brush ($18.99) or the Ultimate Professional Finishing Hairbrush ($19.99)
Just FYI - this post isn't paid for. It's just a very enthusiastic endorsement.