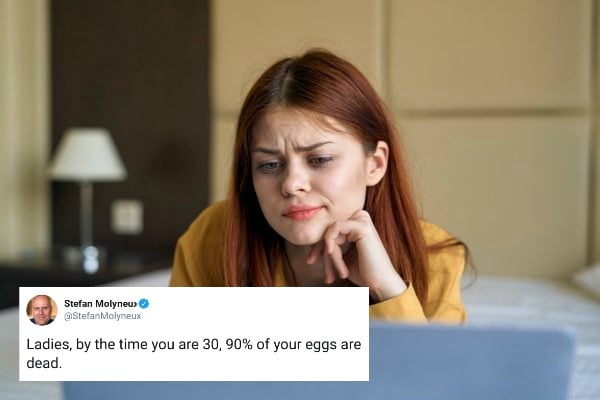 Ahh.
Isn't it just the best when men with penises give fertility advice?
So helpful and great. We wish they would do it more often.
Luckily, Stefan Molyneux, a far-right Canadian YouTuber who is known for his white supremacist views, has stepped up to the plate this weekend to offer us some tips.
Watch: the facts on fertility. Post continues after video.
You see, Stefan has just reminded us that we are merely baby making vessels who become dried up, useless walls of flesh by age 30 with nothing but our career success to live for in our sad, baby-less lives. In fact our eggs are drying up as we type this because we forgot to listen to Mother Nature. Silly us!
Behold:
"Ladies, by the time you are 30, 90% of your eggs are dead. Get married young, have your babies, THEN have your career. You have 40 years to work if you want to, you only have a short time to have children. Listen to Mother Nature – she loves you and wants you to be happy. :)"
Ladies, by the time you are 30, 90% of your eggs are dead.

Get married young, have your babies, THEN have your career.

You have 40 years to work if you want to, you only have a short time to have children.

Listen to Mother Nature – she loves you and wants you to be happy. :)

— Stefan Molyneux (@StefanMolyneux) July 30, 2019