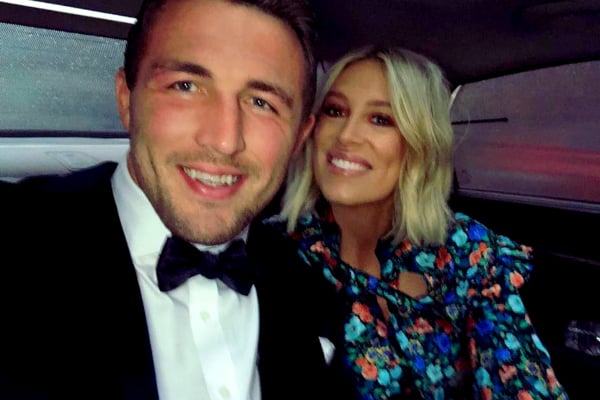 Three years after their Bowral wedding in the NSW's Southern Highlands, Sam and Phoebe Burgess have reportedly separated.
Initially it was an Instagram photo shared on Christmas Day by Sam's sister-in-law that sparked rumours of a marriage breakdown. The 30-year-old was in attendance without his wife, who had given birth just two weeks earlier to a baby boy.
When Phoebe later changed her Facebook photo from a photo of her and the Rabbitoh's player at their wedding, to a solo picture of herself, the Sydney Morning Herald used it as more evidence of the break up.
Now, however, reports in the Sunday Telegraph say Phoebe and Sam Burgess' marriage was strained from their wedding day.
Tensions between the Burgess and Hooke families began to show when Phoebe's father, Mitch Hooke, reportedly told Sam's brother, Luke Burgess, to 'shoosh' during his best man's speech.
The publication also reported a fight between Sam, his friend and Roosters player, Luke Keary, and Phoebe's brother-in-law, Gene Fairbanks, who is a retired rugby union player.
Apparently the disagreements from the wedding celebrations also caused the couple to cancel their 'recovery session' which had been scheduled for the following day.