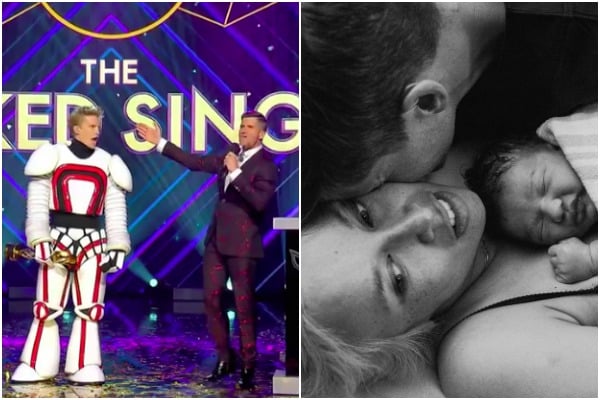 Last night in probably the most predictable final of all time, we unmasked Gorgi Coughlan, Rob Mills and Cody Simpson on The Masked Singer Australia. 
But the fourth reveal of the night was anything but predictable.
Osher Günsberg had just orchestrated the unmasking of Monster and Wolf and was backstage in the ad break having a wee, when he decided to have a quick peek at his phone.
Here's the reveal of the winner Robot. Post continues after video.
His wife Audrey had flicked him a text – she had gone into labour.
Ever the professional Osher walked back onstage, unmasked the winner of the show Robot (aka, Simpson) and then in his words "drove VERY safely home and to the hospital".
Osher revealed the behind-the-scenes tid-bit on Twitter last night while watching the final, no doubt with his beautiful son Wolfgang or "Wolfie" who is now eight weeks old in his arms.
FYI when we shot this, in this ad break I snuck backstage for a wee, checked my phone and saw a message from my wife that she'd gone into labour.
I went back inside and shouted take it off for Robot, then drove VERY safely home and to the hospital… #MaskedSingerAU

— Osher Günsberg (@oshergunsberg) October 21, 2019