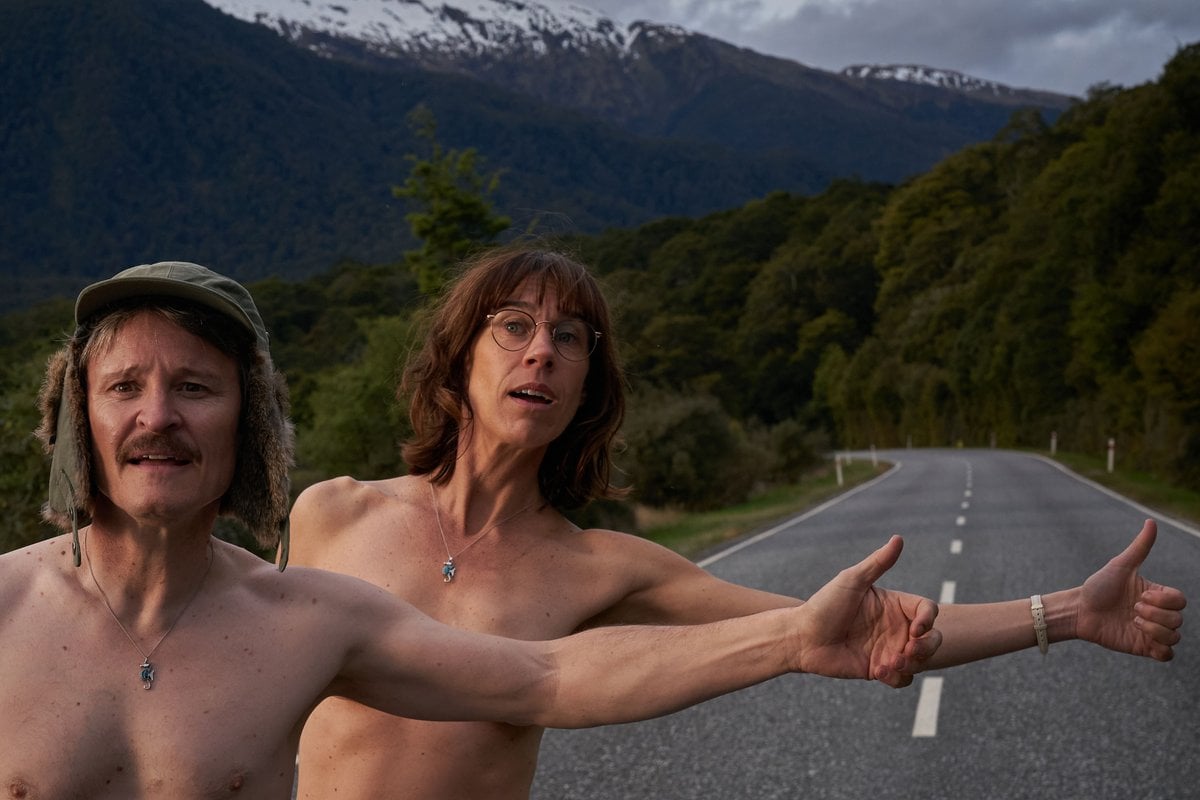 The first trailer for the new Stan Original Film Nude Tuesday is here, promising an absurdist comedy adventure starring a series of beloved comedians and actors.
The story kicks off when middle-aged suburban couple Laura (The Breaker Upperers star Jackie van Beek) and Bruno (Stan Original Series The Tourist star Damon Herriman) realise their marriage is in trouble. It's looking like it might not be able to be saved, and they are deciding whether to cut their losses and call it quits. 
They are then gifted a remote couples' retreat for their anniversary and decide that, even though things are looking bad for their future, it's time to give their relationship one last shot.
Laura and Bruno then make their way to an idyllic sanctuary nestled in the mountains, where they are uncomfortably forced to enter a world of laughter workshops, tantric dance, sexual liberation, and emotional animals. 
All masterminded by a charismatic guru named Bjorg Rassmussen (Flight of the Conchords star Jemaine Clement).
Take a look at the trailer for the new Stan Original Film Nude Tuesday.
A series of new temptations from the retreat then start to take hold of them, and they are pushed to the brink, forced to decide what it is they really want out of life and how far they are willing to go in their quest to change their relationship. 
Nude Tuesday is directed by Armagan Ballantyne (The Strength of Water) from a screenplay by Jackie van Beek and based on a story by van Beek and Ballantyne. The film is produced by Emma Slade for FireFly Films (The Justice of Bunny King) and Virginia Whitwell and Nick Batzias for Good Thing Productions (Stan Original Film Nitram).
One of the most innovative parts of Nude Tuesday is that it is told in a made-up language, meaning that multiple versions of the film will be released on Stan – with a Stan exclusive version subtitled by acclaimed Australian comedians Celia Pacquola (Rosehaven) and Ronny Chieng (Ronny Chieng: Speakeasy), and another version subtitled by British comedian Julia Davis (Nighty Night), which will be released in cinemas.