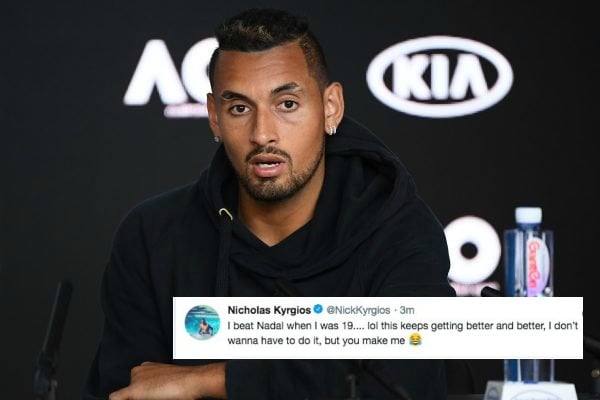 For a sport so steeped in tradition, beloved by the royals and with etiquette central to its foundations, tennis is notorious for producing some of the brattiest sportsmen in the athlete world.
One blinding example of which being Nick Kyrgios – known for his on-court tantrums, outlandish comments, questionable behaviour on social media and overall, well… bad attitude.
Kyrgios' rap sheet of no-filter comments and unwavering air of petulance has handed him a reputation he can't shake. The most infamous example of which being his 2015 slut-shaming comment about Croatian player Donna Vekic, Stan Wawrinka's girlfriend at the time.
The negative commentary surrounding 23-year-old Kyrgios is never-ending.
…In all but the reports of his talent.
He is, indisputably, a star player.
He's currently the fourth highest-ranked in Australia, has one of the most powerful serves in history, and is, though painful as it is to admit, a pleasure to watch.
Kyrgios is also only the third player, after Dominik Hrbaty and Lleyton Hewitt, to have beaten Roger Federer, Rafael Nadal and Novak Djokovic in their first meetings.
And as his latest social media activity proves, he never wants us to forget it.
After Alex de Minaur - Australian ranked number one, world number 29 and this Australian Open's tipped favourite to beat Nadal, went down against the tennis great in straight sets at the Australian Open on Friday night, the NT News praised the young Aussie's spirit and determination.