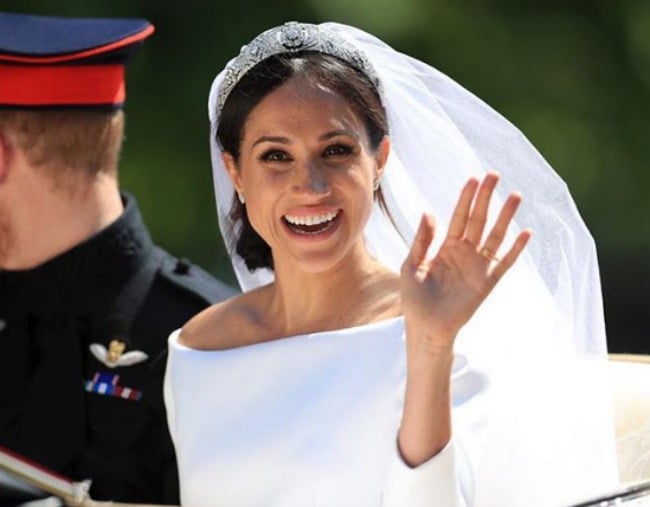 It's been nearly two months since the royal wedding, and we're still in awe of Meghan Markle's natural makeup look on the big day.
The 36-year-old newly crowned Duchess of Sussex looked effortlessly flawless, and now her makeup artist is sharing the secret to her glowing skin.
Speaking to Good Morning America, as reported by ABC News, Meghan's longtime makeup artist Daniel Martin described her wedding day look as "lit from within".
"It wasn't about a trendy makeup. It wasn't about a lot of eye, or a lot of lip," he told Good Morning America.
"It was about her, and her being confident."
And while there's no denying marrying a real-life prince probably played a huge part in achieving that enviable glow, she also had a bit of help from Martin and his very capable hands.
Martin said the main thing with Meghan's wedding day look was to make sure her freckles were still showing, so he went light on the foundation and concealer, saying he only "spot treated" her skin.
"So instead of using it all over her face, I used it only where I needed to balance out any redness or uneven skin tone," he told GMA.
"And that was when you're able to see her freckles come through."
Martin said he kept Meghan's eye makeup equally low-key, using a chestnut eye shadow and false lashes on just the outer corners of her eyes, which he called "little wings" for her eyes.
He skipped the makeup brushes, and blended with his fingers, while following the natural "shape of her eye".
He said he finished her eye look with a chocolate brown eyeliner, describing her overall makeup on the day as "completely natural".
"We wanted it to just be her," he explained to GMA.
"She's a person who is very comfortable in her own skin. So she doesn't need to wear a lot."
Martin said Meghan's relaxed makeup look was reflective of the overall day, saying the morning of the wedding was "very chill".
"We had breakfast. Guy, her dog was with us. We were playing around with him," he added.
"It was a very chill morning… her mum was there, which was amazing."