Another day, another Kylie Cosmetics product launch.
Last month, it was a collection of eyeshadows, lipsticks and highlighters 'inspired' by the birth of her first daughter, Stormi.
This month, it's a brand new line of blushes with some… pretty darn raunchy names.
Don't get us wrong, we're more than used to our beauty products bearing some pretty odd monikers. Two of beauty giant NARS' best-selling products are called 'Orgasm' and 'Deep Throat', respectively, and in December, Rihanna announced a new shade of "moody brown" lipstick she proudly named 'PMS'.
Khloe Kardashian wants us all to look as thin as possible in selfies, and we say bollocks to that. The Mamamia Out Loud team discuss. Post continues after. 
But 20-year-old Kylie, who has been on our television screens for more than 10 years and who almost has as many Instagram followers as big sister Kim, sells most of her products to a younger target market.
As in, teenagers. Teenagers who will now want to wear blush in shades like 'Barely Legal', 'Hot and Bothered', 'Virginity' and 'X-Rated'.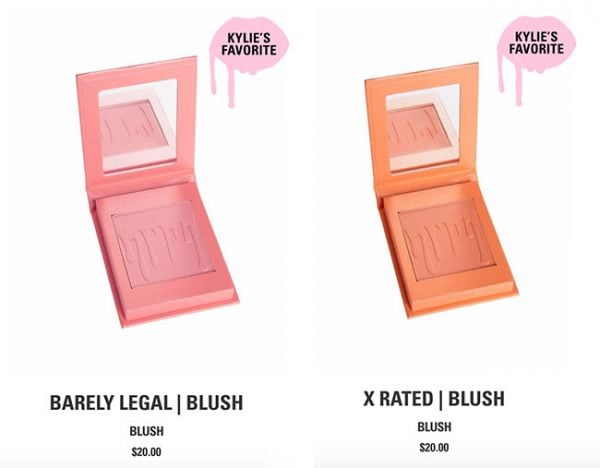 Even some of Kylie's most loyal fans have taken issue with the unnecessarily sensual names of her products:
Seriously @KylieJenner, choose better names for your products. You have 12+ year old fans! "Barely Legal" "Virginity" ????

— Girl About Toon (@GirlAboutToon_) March 21, 2017
Kylie's blushes are: 'virginity' 'x rated' and 'barely legal' she is like selling her lack of a childhood in makeup form do what you will

— Ki (@SmileyKileyK) October 22, 2017
When you have millions of teenage fans who look up to you, what do you name your new blushers? 'Virginity' 'Barely legal' and 'X-rated' of course ????
Really? @KylieJenner. You literally couldn't think of ANY other names to give them? pic.twitter.com/sNvDeFJHkx

— Rachel O'Kelly (@mrsrachelokelly) March 14, 2018
Kylies new blushes which are aimed to her tween/teen market, are called HOT AND BOTHERED- X RATED-VIRGINITY-BARELY LEGAL.
Wth is wrong with her? Seems she's getting desperate for att. & any way to get her name out there,even at the expense of her young fans is ok. Disgusted

— Elizabeth Yorkshire (@ElizabethThee) March 14, 2018
Some compared one product name - Barely Legal - to Kylie's former relationship with rapper Tyga, which was rumoured to begin in late 2014, when Kylie was just 17 years old. By comparison, Tyga was 25.
The blush names are a far cry from those used for Kylie's other products, like her signature lip kits. Some are named after her famous sisters (like Koko), while others have more 'innocent' names like Posie K, Pumpkin and Ginger.
Kylie has not yet commented to the controversy surrounding the new product names.
On the latest episode of Out Loud we discuss everything from commitment ceremonies to school canteens to cricket...
Shout out to all Dads.
Here at Mamamia we are always looking for ways to make Mamamia even better. Dads, we need you to help us do that by filling out this quick 15 min survey for us. Click the button below for your say.

Want to win some skin care goodies? Like to have your opinion heard?
Take our short survey now for your chance to a win a skin care pack.