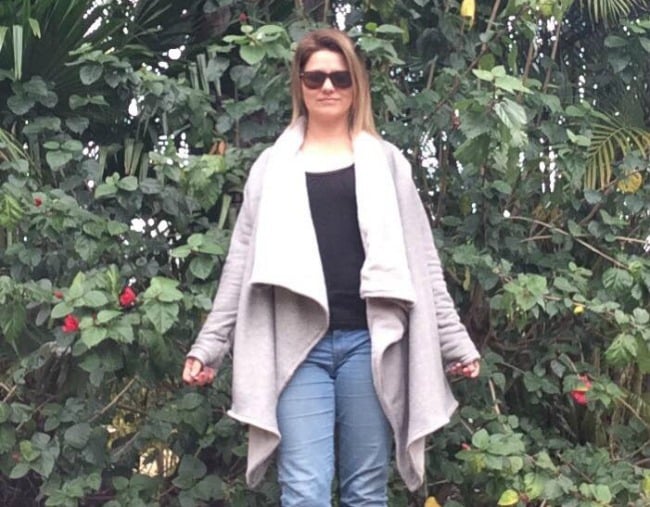 When Brisbane mum-of-three Kirsty Young sat freezing at her son's soccer training, she came up with a genius idea to stay warm.
"I joked to another parent that I was going to rock up the week after with a blanket and a hole cut in it so I could just sit under it and still watch the soccer," Kirsty told Mamamia. 
Spotting her favourite pink Kmart blanket at home, Kirsty wondered whether she could actually make a cardigan out of a blanket and still look fashionable.
And with that idea, Kirsty managed to turn a cheap blanket into the most stylish, snug cardigan we've ever seen.
You've probably seen the popular blankets Kirsty used to make her cardigan. The soft touch blankets, which come in a number of colours including grey, pink and black, are just $16 at Kmart.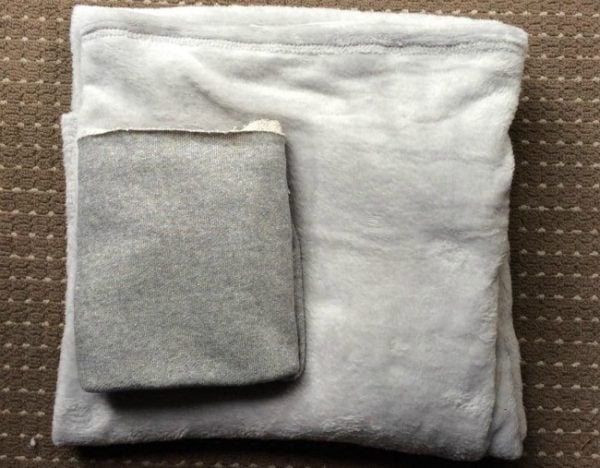 To make her cardigan, Kirsty used one of her old cardigans as a template. "I folded it in half and traced around the bodice and then traced around the sleeves," Kirsty told Mamamia. 
She also added some extra fabric around the front section of the cardigan, so she could wrap it around her body to keep warm and added a cowl neck style.
"I cut the same pieces from my blanket material as I did my outside material and then I sewed the bodice together and then added on the sleeves."
While the lining of the cardigan was made up by the Kmart blanket, Kirsty purchased the cardigan's outside material, a $19 a metre grey knit, from Spotlight.
The end result – a super soft and stylish cardigan for no more than $50.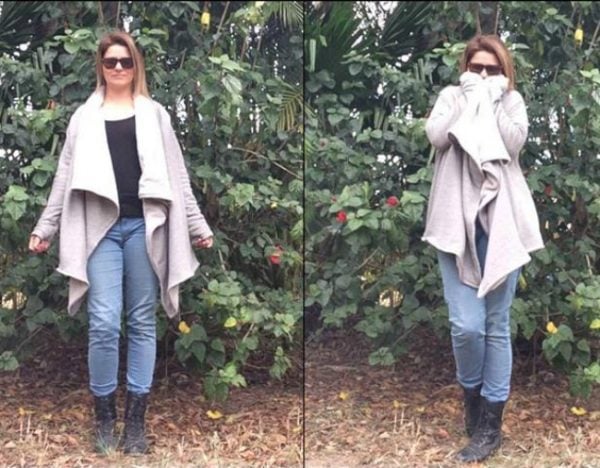 "It feels so soft, it fits me perfectly, it looks amazing and it actually keeps me warm," Kirsty said. "I can wear a singlet underneath and be completely toastie."
Kirsty's post about her Kmart hack in Kmart Home & Hacks gained a lot of attention. Her post has been liked over 700 times with some women commenting that they would buy the cardigans if Kirsty sold them.
Although Kirsty hasn't had any formal sewing training, she does have a knack for it. She learnt how to sew under her grandmother's guidance as a child and through YouTube tutorials.
"It's so easy to learn new techniques these days with the internet at your fingertips," she said.
But Kirsty's Kmart cardigan hack isn't her first unique sewing creation.
"I have been upcycling things for a while... I like to be pretty frugal with things," Kirsty said. "One of my favourite sayings is waste not want not."
Last year, she even made matching Christmas Day outfits for herself and her daughter out of a Finding Nemo quilt cover set.
She's also made keepsake bags, headbands, skirts, shorts and a crotchet bear.
Have you ever tried making your own clothes? Let us know below.