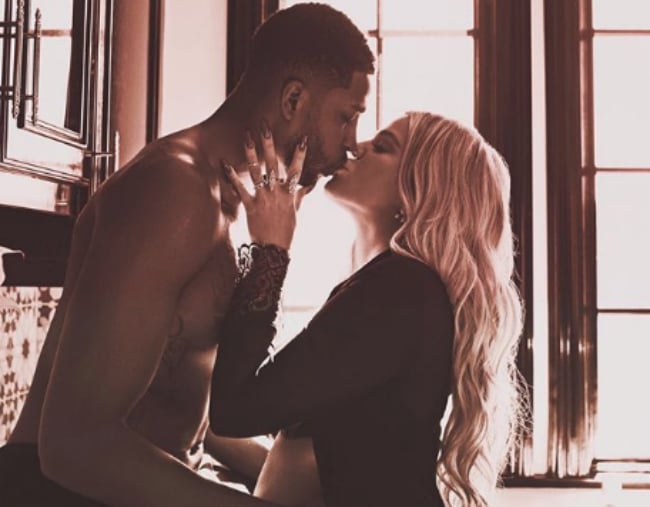 1. Khloe Kardashian has responded to a fan who criticised her for staying with cheater Tristan Thompson.
Khloe Kardashian is not here for people's thoughts and opinions on her relationship with Tristan Thompson.
As reported by ELLE, a fan tweeted at Khloe criticising the way she handled her 27-year-old partner's cheating scandal, which broke just days before she gave birth to their first child together, daughter True, two months ago.
According to the fan, who goes by the name 'Queen Persia' on Twitter, she was "disappointed" Khloe had decided to stay with her "wasteman" boyfriend after encouraging other women to step away from similar situations in the past.
Khloe, 34, had some choice words of her own, firmly telling Queen Persia she had "no knowledge" of what goes on behind closed doors.
She did admit it's been hard getting their relationship back on track though, saying it had taken an "enormous rebuilding… to even coexist".
I love, adore & root for @khloekardashian but I'm so disappointed she stayed with that wasteman Tristan. she preaches about women knowing their self worth and when to walk away but when it's time to walk the walk, she's a hypocrite ????

— Queen Persia ???? (@ChicBitchxo) June 25, 2018
Not exactly Queen Persia, you have no knowledge of what goes on in our household or the enormous rebuilding this takes to even coexist. I'm proud of my strength. I appreciate your opinion and I hope you hold that same opinion to everyone else who has stayed in situations.

— Khloé (@khloekardashian) June 25, 2018
In the end, they did manage to patch things up, with Queen Persia telling Khloe she was just being a "protective" fan.
"I love you for that and girl trust me don't I understand!!! I appreciate you," responded Khloe.
Moving right along…
2. Rebel Wilson has been ordered to repay a whopping $4.1 million to Bauer Media.
Things have backfired enormously for Rebel Wilson.
After initially successfully suing Bauer Media for defamation, the 38-year-old actress has now been ordered to repay $4.1 million of the money she was awarded, including $60,316.45 in interest.
As reported by Daily Mail, Victoria's Court of Appeal made the ruling, after her record payment of $4.7 million in September was slashed to just $600,000 earlier this month.
The Pitch Perfect actress had claimed that a series of articles published by the media company made her out to be a liar, which had led to a loss of earnings for her.
But Bauer successfully appealed the ruling, claiming there was no evidence she suffered financially as a result of the articles.
Wilson has also been ordered to pay 80 percent of Bauer's appeal legal costs.
Ouch.
3. There's a rather upsetting reason Jaxon from Love Island won't tell anyone his birth name.
So, apparently Jaxon Human from Love Island isn't really called Jaxon Human.
Shocking, we know.
Speaking to The Fix, the 24-year-old reality star said he changed his name so as not to be associated with his father, who he's estranged from.
Although the name 'Jaxon' isn't actually what's printed on his birth certificate, he said everyone in his life has been calling him that for the last five years.
But Jaxon wouldn't actually say what his real name is.
"I don't really want to say [what my birth certificate name is] because I have sort of a relationship with my father in that name, and I don't really speak to my father anymore," he told The Fix.
"He obviously wasn't a big part in my life."
Jaxon did say he's in the process of changing his name legally, so it probably won't be too long before 'Jaxon Human' is the name on his birth certificate after all.
4. Speaking of Love Island… two male contestants have been accused of having 'secret girlfriends' back home in Australia.

Two of the most infamous male contestants of Love Island Australia have been accused of having secret girlfriends at home, following the amateur sleuthing of social media users on the popular Love Island Australia memes Facebook page.
A photo of Eden Dally, AKA the guy who proposed to asked Erin to be his girlfriend, was slammed after a photo of him with another woman outside the villa was released.
The photo, which is apparently from the 31st of March, just days prior to the show starting, shows Eden with his arms around a woman and kissing her on the cheek.
And now, just days after he told Tayla he loved her in the villa, Grant Crapp has been 'exposed' by social media users, too.
The meme-style image features two photos of Grant cuddling up with another woman, and a comment from an Instagram user who wrote: "No joke! His girlfriend is my cousin! They live together and they were still 100% together when he went on the show he was just going in there to promote himself and his fitness brand royal apparently!!!!"
While we can't vouch for the screenshots' authenticity, we do want to send out a thank you, internet sleuths, for doing some digging.
5. Oh boy. Meghan Markle made people very mad simply for the way she sat beside the Queen.
When Meghan Markle and Prince Harry attended the Queen's Young Leaders Awards, horror ensued.
No, she didn't blow her nose too loud, walk ahead of the Queen or make an outfit faux pas, and we can report that her hair was perfectly coiffed. Instead the 36-year-old was caught… crossing her legs while sitting.
We know. Someone alert the Princess Crimes Committee ASAP.
Sadly, social media commentators immediately picked up on Meghan's 'improper' sitting, with tweets coming in fast that Meghan failed to adopt the 'Duchess slant,' which is (apparently) the only way royal women are allowed to sit.
"She's not yet mastered the 'Duchess slant' I see!" wrote Twitter user, ScreamNevermore.