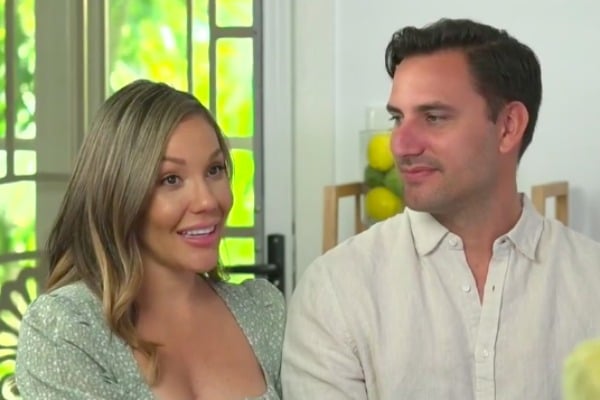 Last year Davina Rankin was the most hated woman in Australia, but 18 months on the former Married At First Sight contestant is loved up and ready to meet her daughter who is weeks away from being born.
Speaking to A Current Affair on Tuesday night, Davina says she's the happiest she's ever been after settling down with Jaxon, who she's actually known for seven years after meeting on the dance floor of a Brisbane nightclub.
"It was 3 o'clock in the morning on the dance floor, a little bit of a kiss, a 'pash and dash' and that was it. Through mutual friends we rekindled on and off and then we well and truly hit it off after MAFS aired," Jaxon told the show.
Here's a snippet of Davina's interview on A Current Affair. Post continues after video.
"I've always had a soft spot for Jax, he's always been that guy on my radar. He's always been someone I've been really nervous around. As soon as we started actually dating he was just everything," Davina said.
"We've just bought our first home, we have a baby girl on the way, I am so content right now."
Luckily for Davina, Jaxon didn't actually watch his now girlfriend on MAFS, he was in Bali for a few months and missed the whole thing.
"Which is fantastic," Davina laughed.
On the show, Davina was painted as the season's villain and she received extreme backlash and trolling from fans during and in the wake of it airing.