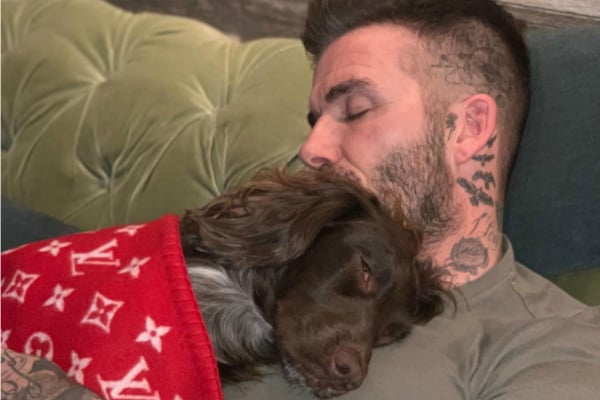 Celebrity pets live a very charmed life.
Case in point: the canine companion of the Beckham clan, Olive Beckham, who might just be the luckiest Cocker Spaniel ever.
Victoria Beckham recently shared a very adorable Instagram photo of her husband, David Beckham, snuggling with Olive in a red blanket. A very exxy red blanket.
The covering in question was from a very exclusive collaboration between Louis Vuitton and street wear brand Supreme and while the label's standard monogram blanket will set you back $1,770, if you want the exact blanket as the Beckhams, you'll have to shell out upwards of $11,000 AUD for the equivalent on Ebay.
That's not all the luxury their pup enjoys. When their owners are busy, they've employed the services of celebrity pet trainer, Barry Karacostas, who, according to The Sun, charges the family £30-an-hour ($54 AUD an hour) to accompany Olive on park runs, interval sprints, and stair climbs.
Now that's one pampered pooch.
Apart from Olive Beckham's designer bedding, here are four other instances where celebrities have splurged big on their pets.
Paris Hilton's two-storey dog mansion.
The hotel heiress ensures her 10 pooches get nothing but the best and that includes a two-storey miniature replica of her very own mansion, complete with air conditioning, heating, designer furniture, and a chandelier.
And on that note, we're feeling very poor right about now.