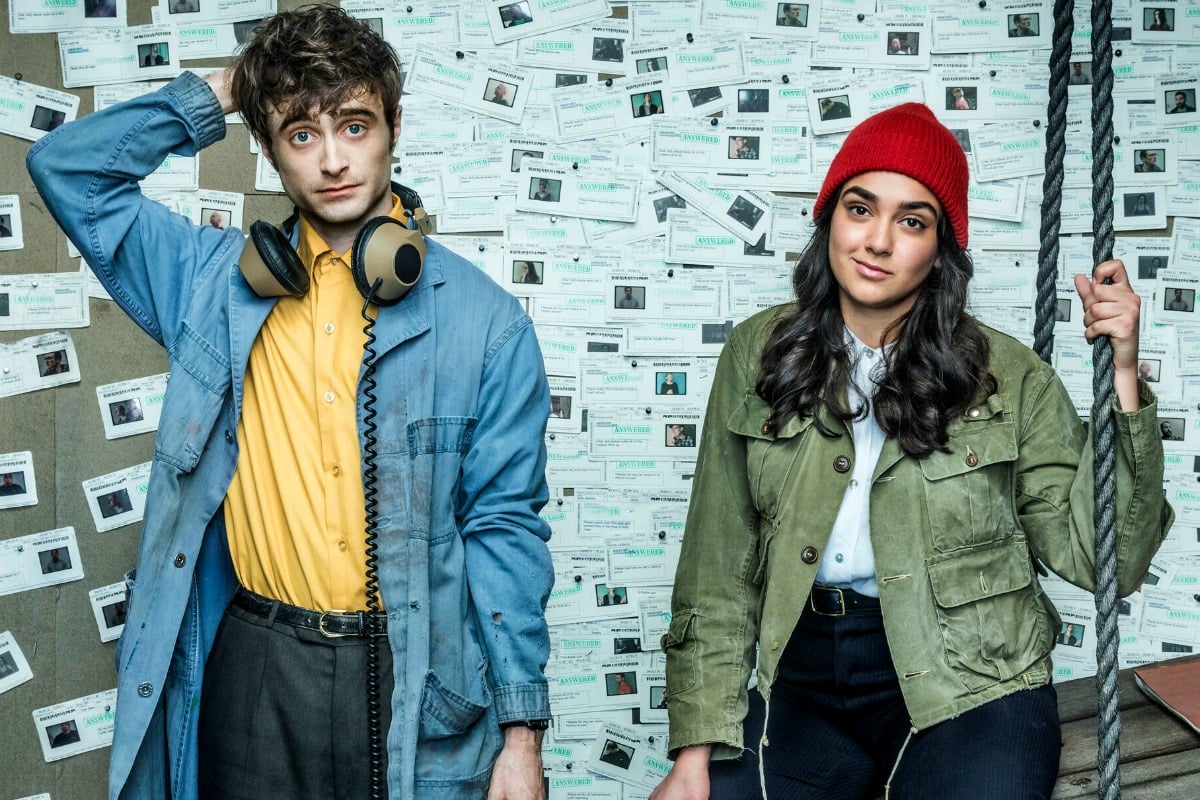 I'm no doctor, but my best piece of advice for people who are in need of a quick pick-me-up is to settle down with a brand new, feel-good TV show.
And what better than a TV show set in (a kind of terrible) heaven?
Miracle Workers is the brand new comedy series premiering tomorrow, Wednesday 13 February, on Stan, and with its talented and eclectic cast, sharp writing and intriguing premise, it just might be what the doctor ordered for anyone still finding themselves in a New Year's slump or fighting off true crime fatigue.
The seven-episode limited series is a workplace comedy set in heaven (called Heaven Inc. in this case) and focuses on low-ranking angels Eliza (played by Australian actress Geraldine Viswanathan) and Craig (played by Harry Potter star Daniel Radcliffe) who find themselves joining together to save the world after their boss God (played by Steve Buscemi) has a bit of a work/life crisis and decides to shut down his business…effectively ending the world and all of humanity.
The heavenly new series can best be described as a cross-between The Good Place and 30 Rock, wrapping together questions of morality and the afterlife with humorous depictions of office woes, such as sub-par middle management and awkward HR interviews, all shown through a celestial lens.
Daniel Radcliffe's Craig is a low-level angel working away in the Department of Answered Prayers (although he only picks the simplest ones to answer, like helping people find their lost keys) while Geraldine Viswanathan's Eliza is a strong-willed angel who stands up to a sulking and chaotic God instead of quietly accepting a job transfer out of heaven.
In order to save the world, Craig and Eliza make a bet with God that they can answer a seemingly impossible prayer by helping two humans, Laura and Sam (played by Sasha Compere and Jon Bass), fall in love.
Of course, it doesn't take the unlikely duo long to realise they've picked perhaps the worst prayer of all to try and answer.
Watch Miracle Workers star Geraldine Viswanathan chat to Mamamia about her heavenly new comedy series and working with Daniel Radcliffe.
For actress Geraldine Viswanathan one of the highlights of working on Miracle Workers was starring alongside Steve Buscemi and Daniel Radcliffe, adding that "I never knew how much I needed to see Buscemi play God until I heard about this show."
The 23 -year-old actress, who scored her international breakout role in the hit comedy Blockers opposite Leslie Mann, Ike Barinholtz and John Cena, told Mamamia that Miracle Workers is less of an exploration of religion or faith and more a funny exploration of a dysfunctional heaven.