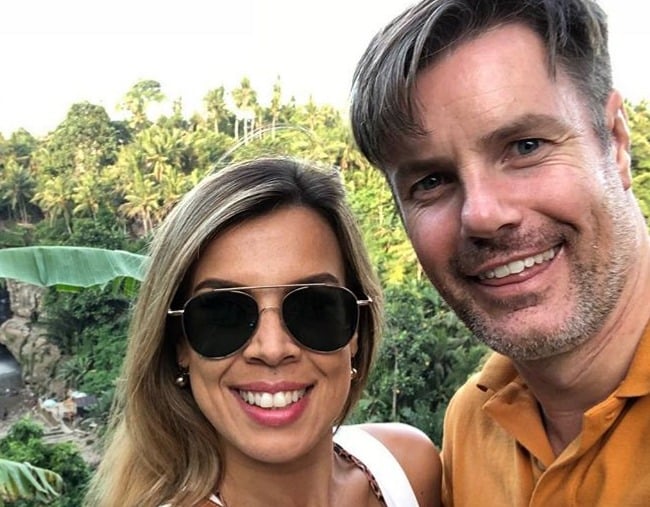 Pour yourself a mango daiquiri and take a seat pls.
We need to discuss a matter of national significance.
You see, the last remaining Married At First Sight couple may no longer be together.
Carly Bowyer and Troy Delmege were matched with different people on the show, but were spotted canoodlin' in a park while the show was still airing.
At the final, final, very final dinner party they announced to the rest of the contestants that they were together.
But now, only a few months later, it seems they could be finito.
On Monday, a "source" that was quite possibly Nasser ¯\_(ツ)_/¯, told the Daily Mail their relationship was "over".
"He officially moves back to Sydney in two weeks," said the source. "They sleep in separate rooms and have for three months."
The "source" says Troy's inability to find work has contributed to their relationship breakdown.
"He hasn't even tried to get work [in Melbourne]. He hasn't sent out a single application. He wanted a job in media and is convinced it will happen."
The couple are still "Instagram official" and Carly posted a photo of them together on Sunday.
However, a few weeks ago, the 32-year-old shared a photo from a charity event held at Melbourne's The Emerson Rooftop Bar and Club.
In that photo, she was alone.
While this isn't enough to close the case of whether or not she is still with Troy, her responses to fans questions in the comments might be.
Stopping short of actually confirming she and Troy are still together, the marketing manager replied to comments saying she was "having a laugh about it all because it's so stupid" and that "we have lives outside each other!"
A few days earlier some very detail-orientated fans spotted a clue in one of Troy's Instagram photos that led them to believe the couple have broken up.
Posting a cute couple selfie, comments immediately accused the 36-year-old of posting an old photo, and it all had to do with Carly's teeth.
Over a month ago, Carly posted on Instagram that she got porcelain veneers which evidently whitened and brightened her teeth. But in Troy's Instagram pic, they aren't quite as pearly white as her post-veneer smile and therefore proved that the photo was taken a while ago.
Fans were quick to voice their suspicions.
"This is an old pic, I thought you had work done to your teeth???" commented one suspicious fan.
"This is an old photo. I actually don't think they are still together," wrote another.
"Is that an old photo @troydelmege? Are you guys still together? I hope so," commented a third.
Troy later told Kyle and Jackie O that the throwback photo was a result of not being able to find a nicer more recent one ¯\_(ツ)_/¯.